17 Best Pickleball Training Aids
As I have played pickleball more and more over the past four years, I have found pickleball training aids to really be a plus for improving my game. I have used these training aids not only on my own but also in clinics and pickleball camps that I have attended.
With more than 4.8 million people playing pickleball in the US as of 2022, it is one of the fastest-growing sports in America. What I have found, there is always a desire to work on your skills and refine aspects of your game. You simply want to get better. Pickleball training aids allow you to do just that.
With courts popping up all over, in parks, rec centers, community facilities, and even players' own backyards, the interest in training aids for pickleball is rising fast. I didn't come to pickleball from tennis, so I wasn't aware of the various practice aids that tennis players have used to hone their skills.
There are pickleball training aids that are very similar to tennis training aids and some that are more purpose-made for the game of pickleball. We are going to review the top 17 pickleball training aids in post.
Some of these training aids for pickleball are so simple they are brilliant, and others are high-tech, AI-oriented training tools and apps that are used across not only pickleball but other sports as well.
Whether you are a beginner or an advanced player, there is something on this list to help you up your game and skills. Let's get to the list. We will then go through each one in detail.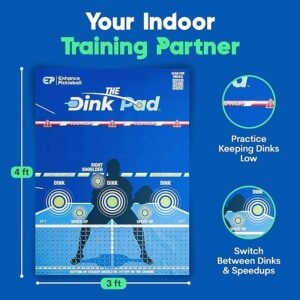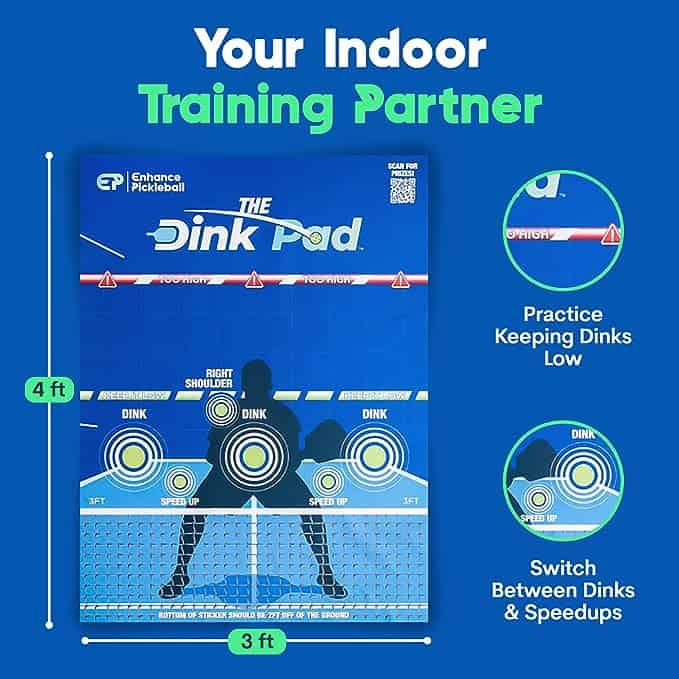 17 Best Pickleball Training Aids That Will Improve Your Game
All of the items listed below are available on Amazon:
1. Franklin Sports Sweet Spot Training Pickleball Paddle
2. Pickleball Sweet Spot Trainer
4. Dink Pad ; Runner-up: Huntarmour Dink Pad –
5. Sports Tutor Multi-Twist Ball Machine
6. Portable Pickleball Rebounder Net
7. Oncourt Offcourt Backswing Solution
8. Vizual Edge Training – Monthly Subscription
9. Virtual Reality – VR Pickleball Games – Free to Paid
10. Portable Pickleball Net (various) – Oncourt Offcourt
11. Serving Practice Targets – Cones & Spot Markers – various
12. Pickleball Lead Tape – various
13. Line Markers – various
14. Footwork Ladder
15. CoachMyVideo – Free to paid
16. Two-tone pickleball balls (6)
17. Hoverphenix Pickleball Set w/ 4 Paddles, Balls & Net For Driveway
These are 17 of the best training aids for pickleball. Some of them can be used alone or with others on the list. Whether you choose one of several, you can't go wrong. They will all help to improve your game.
1. Franklin Sports Sweet Spot Training Pickleball Paddle

Introducing the Sweet Spot Trainer Pickleball Paddle by Franklin Sports. It's your ultimate practice buddy to perfect those swings.
This mini paddle is a game-changer in terms of developing your hand-to-eye coordination relative to hitting the sweet spot on the paddle. It is difficult but effective.
This mini paddle zeroes in on sweet spot precision, just like your regular paddle. Crafted with premium T700 carbon fiber, it's all about control and spin. Whether working on your forehand or backhand shots, it forces you to learn better court positioning.
The 16MM thick paddle core mirrors high-end ones in weight and feel. Plus, an elongated handle lets you work on two-handed shots. Nail that sweet spot for powerful shots on the court.
2. Pickleball Sweet Spot Trainer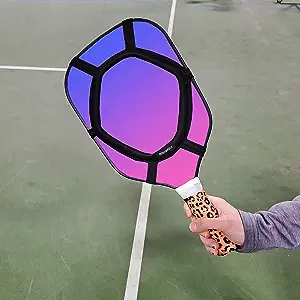 The Sweet Spot Trainer is a training aid for pickleball that is similar in concept to the Franklin Sweet Spot Pickleball Paddle. It is designed to fit over any paddle.
It lets you know when you have hit off-center as the ball takes a definite trajectory when you hit toward the outside of the paddle. You can improve your strikes and strokes with this trainer.
It does not review as highly as the Franklin Sports Sweet Spot Paddle. However, if you are on a budget, this will do the job.
3. Pickleball Arrow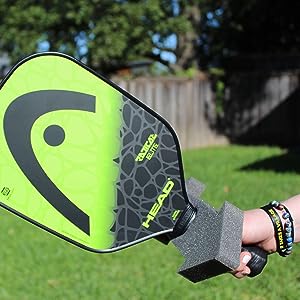 The Pickleball Arrow is another pickleball practice aid that is made by Oncourt Offcourt. It is a bit funny looking. But it does work. You don't know how many times I have hit a ball too far to the right or left out of the court because of how I was holding my paddle face during the stroke.
This really lets you focus on ball placement. You can see exactly where you are aiming the paddle. A funny thing, the ball tends to go where the paddle face is aimed.
If you want to improve the accuracy of your shots and ball placement, this simple and affordable pickleball training aid will really up your game.
4. Dink Pad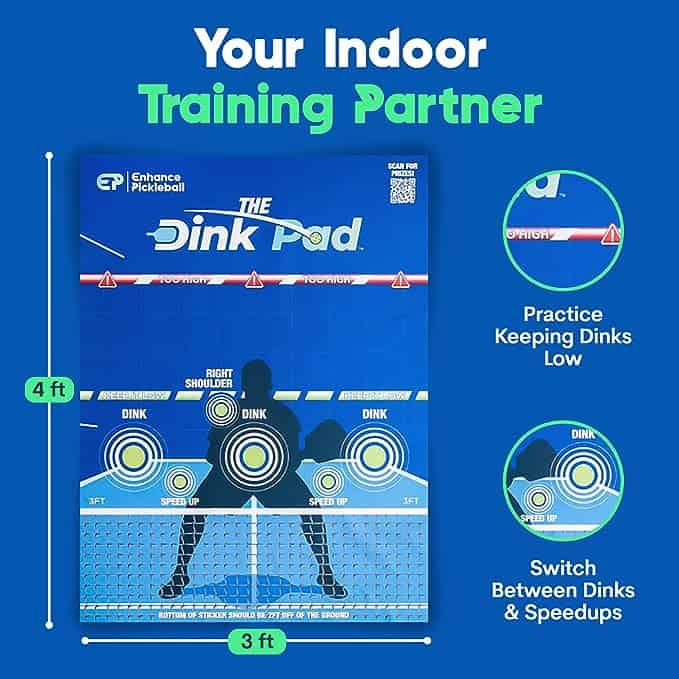 The Dink Pad is another great pickleball training aid. This is great for solo practice. You can attach it to any wall, in the house, garage, or outside, and off you go. I have practiced dinking and groundstrokes with tape on the wall and a box above the tape line for accuracy training.
The Dink Pad is a great way to have a visual aid that allows you to see exactly where to hit the ball consistently.
The width is important. Given you are protecting a half-court space of 10 feet, the 3-foot width allows you to practice shots coming at you from different angles. It also allows you to practice fast hands. The harder you hit the ball, the quicker you need to be to return it.
Budget Option: Huntarmour Dink Pad. This is a very similar pickleball training aid. It is roughly half the price and gets very good reviews. This is also a great option.
5. Sports Tutor Multi-Twist Ball Machine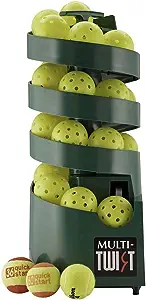 Sports Tutor is the number one leading brand for ball machines. Both for tennis training aids and pickleball training aids. This machine is excellent for solo pickleball practice or with a partner.
You can adjust the ball depth from 12 to 20 feet, simulating serve returns, drives, and mid-court shots.
It holds 28 balls, and at just 11 pounds, you can take it anywhere. This, coupled with a portable pickleball net and court line markers, make this a great training aid for pickleball.
It uses size D batteries (6) and has a 3-year warranty.
6. Portable Pickleball Rebounder Net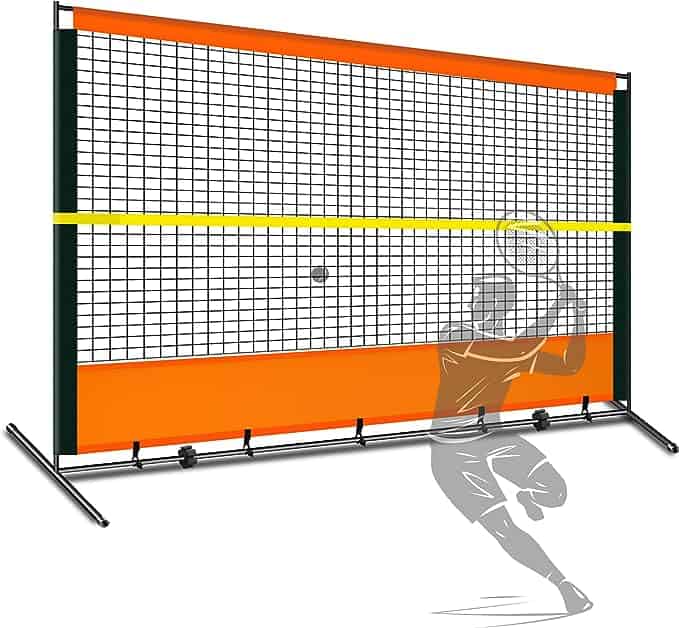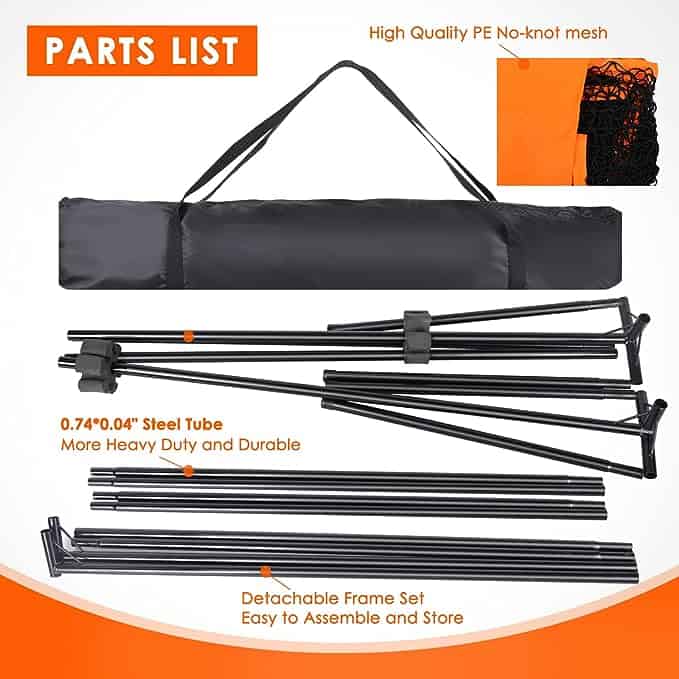 The pickleball rebounder net is a super pickleball training aid. The net is 12 feet wide and has a built-in net line to simulate a real pickleball environment. I like this a bit better than the Dink Pad because it has a wider training area.
You can adjust the yellow net line up or down, allowing you to set it at regulation height for a pickleball net.
Think of all the practice angles and shot variety that you can do with this net. It allows you to practice at pace and at varying degrees of difficulty.
It is solidly built. The mesh material is 4200 Oxford cloth, and it has a steel tubular frame with feet for stability. It has rubber pads on the feet, so you can use it on any floor. It is portable. You can disassemble it, and it comes with a carry bag.
So whether you are practicing in your backyard, in a parking lot, at a community court, in a driveway, or on a quiet street, this is a great training aid.
7. Oncourt Offcourt Backswing Solution
The Backswing Solution is a training tool that has been used in tennis for some time and is now being used in pickleball. It really helps you with proper form and stroke mechanics. This training aid for pickleball focuses on four basic shots.
Ready Position: If you want to play pickleball better, then you need to learn a proper ready position. This pickleball training aid will help you develop the perfect stance for volleys and groundstrokes. A solid foundation for your tennis journey.
Volleys: Volleying at the net is one of the key components of the game. You lose time every time you take too big of a backswing. The Backswing Solution keeps you in check for precision. Elbows forward, no more excessive backswings on volleys.
Groundstrokes: Say goodbye to wrist strain. The Solution guides against extreme wrist angles, fostering fluid, potent groundstrokes.
Returns: Compact backswing, immense power. The Backswing Solution develops proper use of your legs. Learning this compact backswing can really take your game to the next level.
It is proven through tennis, now becoming a staple in pickleball training.
8. Vizual Edge Training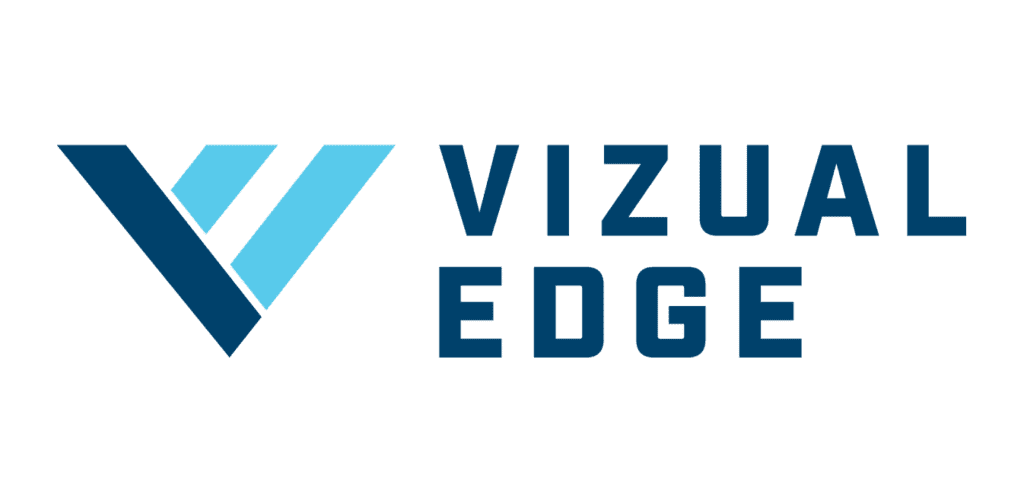 The Vizual Edge training aid is an amazing piece of technology. It is a program you run on your tablet or laptop, and it has a variety of visual training exercises that develop your hand-eye coordination. It trains on the following:
Convergence – objects coming closer and closer
Divergence- objects getting farther and farther away
Depth Perception
Alignment – random positions on the court
Tracking
I have been training with Vizual Edge and have noticed a significant improvement in my focus and my ability to recognize the position of the ball more quickly. You take an initial assessment, then you train, and you retake your assessment every week to monitor progress.
There is planned training for you which consists of 6 exercises. There is open play where you can train on any of the elements. Finally, there is pre-game training. This is a series of exercises you do before games or matches.
This is definitely a cutting-edge pickleball training aid and one that I highly recommend.
9. Virtual Reality – VR Pickleball Training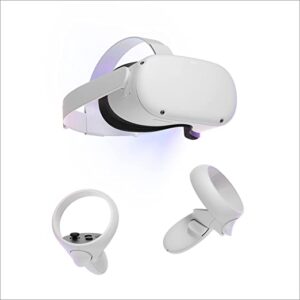 VR technology can simulate pickleball courts and provide a realistic training environment. These pickleball training aids can be particularly useful for beginners or players who want to practice specific scenarios without needing a physical court.
VR training allows you to fine-tune your shots, practice footwork, and work on strategy in a controlled and interactive environment.
The ability to repeat actions and receive instant feedback helps you to refine your technique and improve decision-making.
Virtual reality also allows simulation matches against virtual opponents of varying skill levels, providing valuable practice and challenging gameplay. By leveraging the power of VR, pickleball, these games/training aids can elevate your game, increase your confidence on the court, and transfer these learned skills to real-world pickleball courts.
Our article on VR Pickleball Training goes through in detail the various virtual reality games and the features of each.
11. Portable Pickleball Net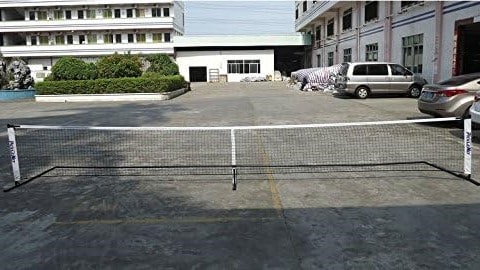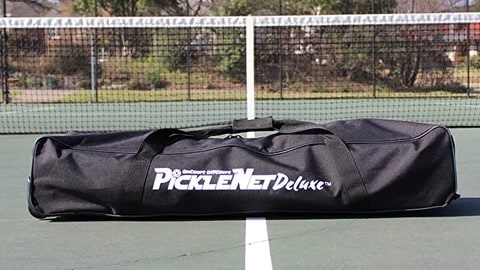 Portable pickleball nets are excellent pickleball training aids. One like this you can set up anywhere. With a set of court line markers, you can have a portable play and training area.
If you add a pickleball ball machine, either the one we reviewed above or a larger capacity pickleball machine, you can practice solo, with a partner, or play doubles.
12. Serving Practice Targets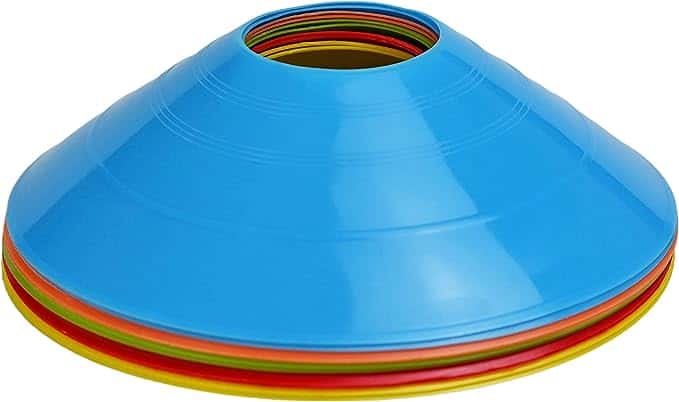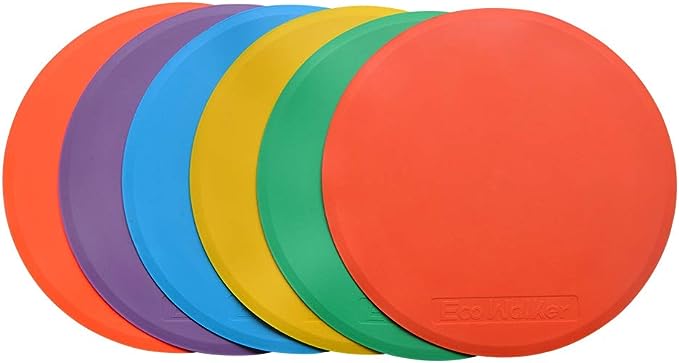 Cones and spot markers are great training aids. You use them on the court and position them to practice various shots and placement.
In almost every clinic I have been in, we used these training aids. You place these targets anywhere on the court that you want to practice your shot or dink placement. Then during your drills, your goal is to aim for them and consistently hit them.
Cones have been used, as an example, to practice deep serves and deep returns. You place them near the back of the court, about 2 feet inside the line. And your goal is to hit beyond the cones.
13. Pickleball Lead Tape
Pickleball lead tape is a great pickleball training aid. Not only can you use it to weigh your paddle down to give you more power on your shots in normal play, but it also can help you generate more swing force on your shots during training and practice.
You can use lead tape as a training aid by applying it to the 11 and 1 positions. This simulates a heavier paddle weight in the head of the paddle. This can improve stroke mechanics and also helps you develop quick hands.
13. Line Markers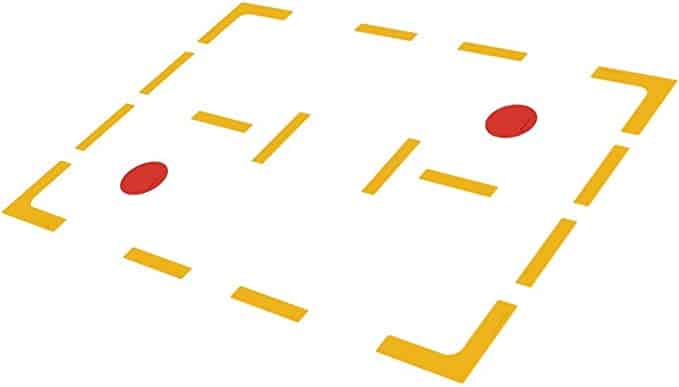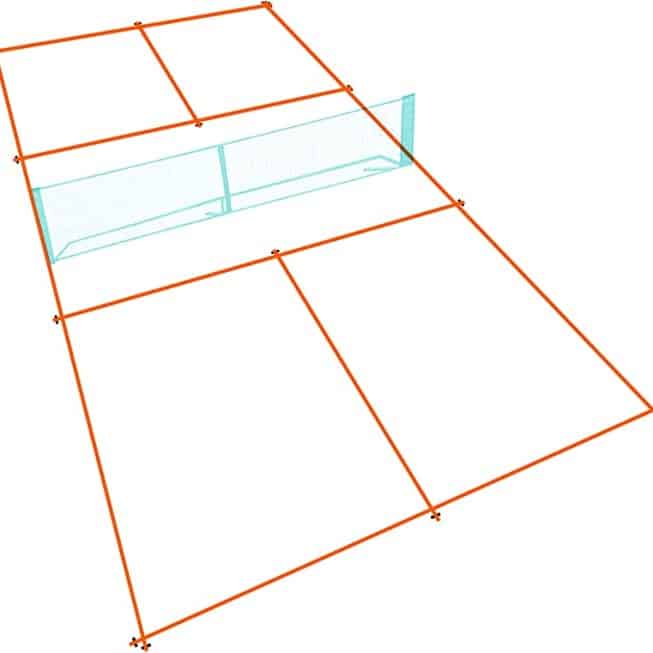 If you have a driveway, a quiet street, or a parking lot, these line markers are great training aids. You can set them up, and off you go. If you have a portable net, that is great. Several portable nets are available for all budgets. There are options available from under $50 to over $300. If you want to practice solo, you can use the ball machine listed above, or there are excellent larger portable pickleball ball machines available.
14. Footwork Ladder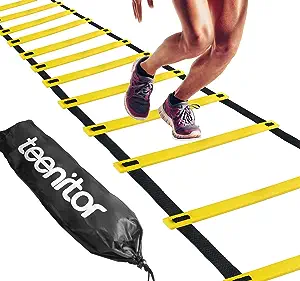 The footwork ladder is used in many sports. Pickleball is no exception. It is a great training aid. A picture is worth a thousand words. Please look at this video below on how to use a footwork ladder to improve your skills on the pickleball court.
15. Coach My Video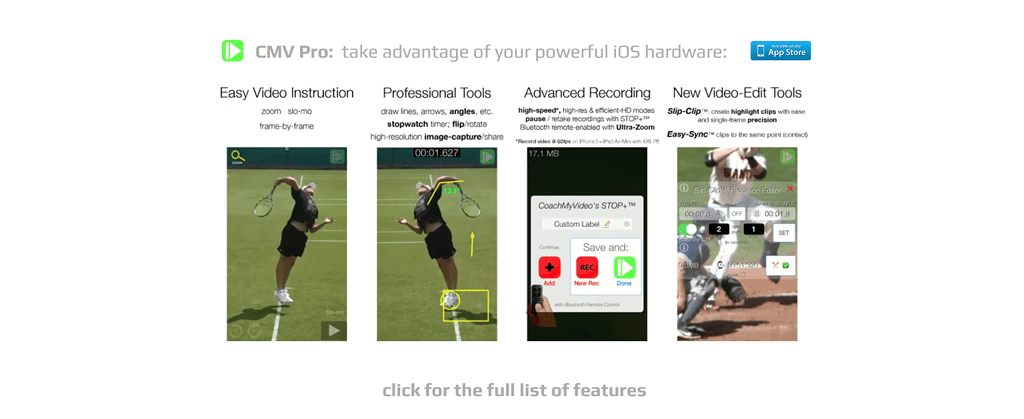 CoachMyVideo is a sports training platform that helps you analyze and improve your performance. It offers a variety of features, including:
Video recording and analysis: You can record videos of your practices and games and then use CoachMyVideo's analysis tools to slow down the footage, draw lines, and add annotations. This helps you identify areas where you need to improve.
Video sharing: You can easily share videos with your coach or training.
Communication tools: CoachMyVideo also offers a variety of communication tools, such as chat, messaging, and email. This helps you stay connected.
CoachMyVideo is a great tool for players of all levels. It's easy to use and affordable, and it offers a variety of features that can help coaches improve their athletes' performances.
Here are some additional details about CoachMyVideo:
It is available on both desktop and mobile devices.
It supports over 100 sports.
It has a free plan and paid plans starting at $19 per month.
It is used by coaches from all over the world, including the NFL, NBA, MLB, USTA, and more.
16. Two-Tone Pickleballs – Spin Training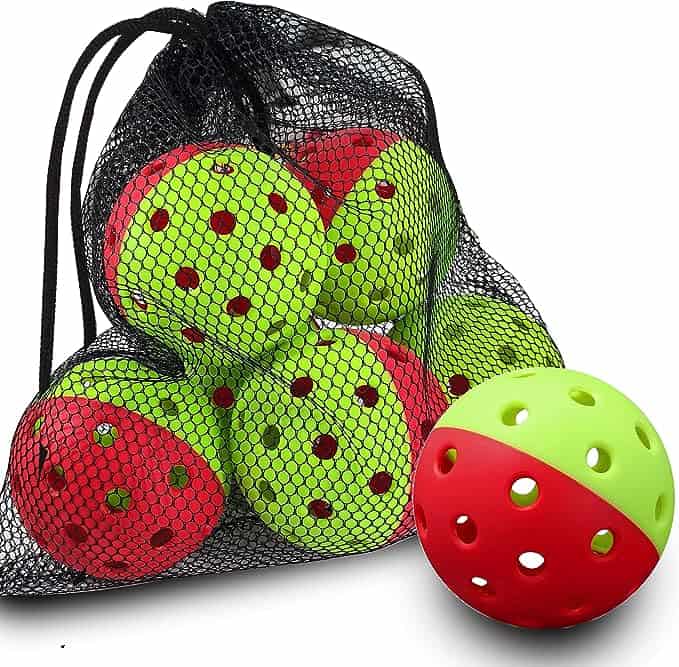 Two-tone balls are great for training spin. This lets you see which way the ball is spinning when it comes over the net so you can learn to adjust your returns based on the spin type.
They also allow you to practice putting spin on the ball, top spin, backspin, and more.
17. Portable Set With Net, Paddles and More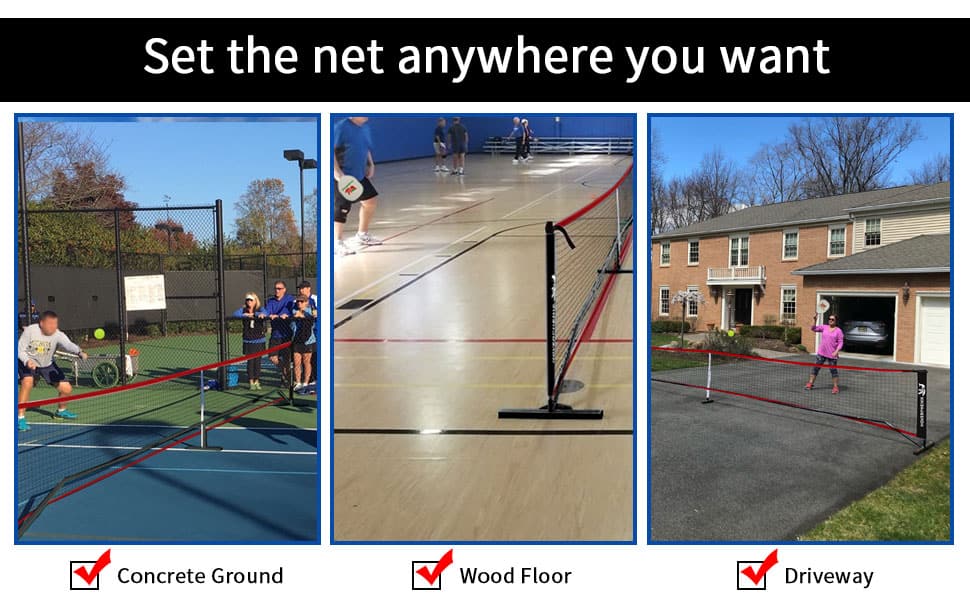 Complete Regulation Size Hoverphenix Portable Set with Net, Paddles, Balls and more is a great all-in-one training tool. Carrying bag included. Set it up anywhere. Additional models come with line markers. The ultimate to take your training anywhere.
Frequently Asked Questions?
What are the must-have pickleball training aids?
There are two that are worth the investment. The first is a dink pad. While simple, this does allow you to really practice volleys and consistent placement of your shots. It also allows you to practice quick hands at the net. The harder you hit the ball toward the dink pad, the harder and faster it comes back to you.
The second is the sweet spot trainer. This may look a little weird, but it really works. Using this training aid not only improves your paddle positioning on each stroke but also your body positioning, which are both essential. You get a great feel for where you need to be on the court.
Are drills really necessary?
If you are serious about improving your game, then yes, they are necessary. Doing a variety of drills improves your consistency tremendously. It also gives you confidence in your gameplay. If you look at the top Pros, they drill daily. Lea Jansen, ranked #2, hits up to 500 a day.
What paddle does Anna Leigh Waters use?
Anna Leigh Waters uses the Paddletek Bantam T5 Pro pickleball paddle.
Can you play pickleball without a net?
You can certainly practice without a net, but it is better if you play with a net. There are several portable nets for all budgets, with nets starting around $45 on up that you can buy.
You can set them up in your driveway or on a quiet street. There are also portable line markers and kits that are ready made so you just put them down, or you can draw lines with chalk or use painter's tape.
What paddle does Tyson McGuffin use?
Tyson McGuffin uses a signature Selkirk Vanguard Power Air Invikta pickleball paddle.
Featured Image: Image by rawpixel.com