AGPTEK and TOZO S2 Smartwatches: Which is Best?
The AGPTEK and TOZO S2 are two of Amazon's best-selling smartwatches under $45 that are iOS and Android compatible. The AGPTEK has 52,000 reviews and the TOZO S2 has 11,000.
Which one of these two smartwatches comes out on top in the battle of AGPTEK and TOZO S2. Read on to find out why the TOZO S2 gets a slight nod over the AGPTEK.
Our Top Pick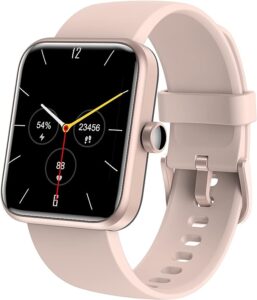 AGPTEK and TOZO S2
Smartwatches have become a must-have gadget. I can't go anywhere where I don't see a someone with a smartwatch. They are no longer just for telling time.
They have evolved into a multi-functional device that monitors your health, manages your mobile notifications, and even serves as a fashion accessory.
This blog post will take you through what smartwatches are and compare two popular models – the AGPTEK and TOZO S2. We will review their features, ease of use, and their pricing to help you make an informed decision.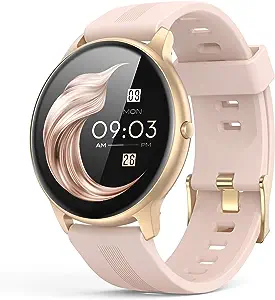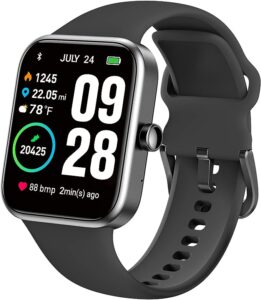 The AGPTEK and TOZO S2 Smartwatch Showdown: Who's Got the Edge?
With numerous brands vying for a piece of the smartwatch market choosing the right one can be daunting. There are hundreds of them to choose from. The AGPTEK and TOZO S2 are among the top contenders, each boasting unique features and advantages at very affordable prices. But which one has the edge? Let's find out!
The Role of Smartwatches in Today's Tech-Savvy World
Smartwatches have literally changed the way we interact with technology. They have become an extension of our smartphones. They let us stay connected and informed without needing to constantly check our phones. Smartwatches have become a part of our daily lives, from tracking our fitness levels and sleep patterns to controlling music and receiving notifications.
Display And Design
Taking a Look at AGPTEK and TOZO S2 Display and Design
AGPTEK is known for its sleek and stylish smartwatches. While the specific design can vary based on the model, most AGPTEK watches boast a modern, minimalist design that appeals to all.
As for the display, AGPTEK watches typically feature a high–resolution screen that offers crisp and clear visuals.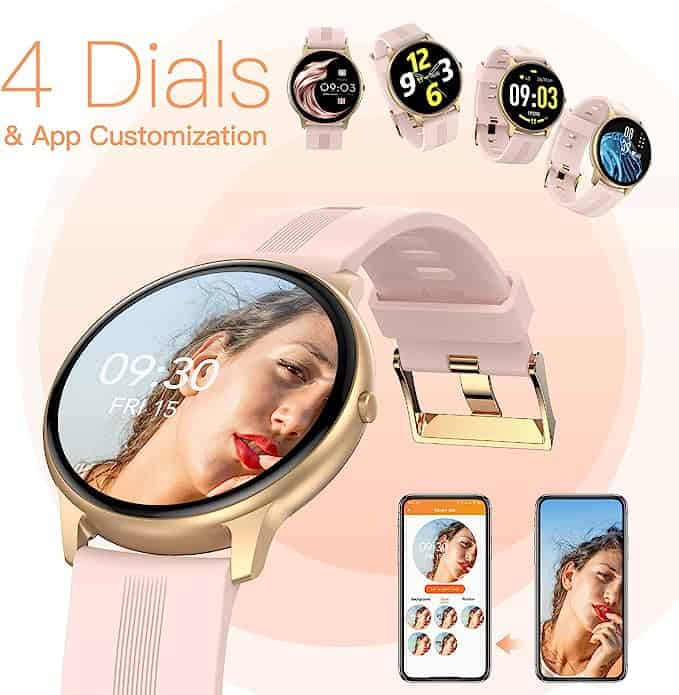 The Aesthetics and Screen Quality of TOZO S2
The TOZO S2 is a trendy smartwatch with a modern design. Its 1.69-inch large HD color touchscreen boasts a 240*280 resolution, ensuring smooth operation, excellent color saturation, and reproduction.
The TOZO S2 smartwatch also allows you to personalize it with multiple customized watch faces, allowing you to create your own stylish smartwatch.
Comparing the Visual Appeal and Functionality
When comparing the visual appeal and functionality of AGPTEK and TOZO S2, it boils down to personal preference. Both smartwatches offer a sleek design and a high-quality display. However, the TOZO S2 stands out for its larger screen and customizable watch faces.
Health and Fitness Tracking
AGPTEK and TOZO S2 Approach to Health and Fitness
AGPTEK smartwatches come equipped with various health and fitness tracking features. Although the specific features can vary based on the model, most AGPTEK watches can monitor your heart rate, track your sleep patterns, and record your daily steps.
Some models may include additional features like a calorie counter or a distance tracker.
TOZO S2's Fitness Features
On the other hand, the TOZO S2 takes health and fitness tracking to another level. It accurately monitors your heart rate in real time and provides you with a detailed analysis of your sleep quality by y recording your sleep patterns.
Additionally, it automatically records daily steps, distance, calories burned, and active minutes. Plus, it can measure your blood oxygen saturation, helping you understand your physical state better.
Evaluating the Efficiency of Health Monitoring Functions
While both AGPTEK and TOZO S2 offer comprehensive health monitoring functions, the latter has a slight edge. TOZO S2's ability to measure blood oxygen saturation gives it an added advantage, as this feature can provide crucial insights into your overall health.
Battery Life and Charging AGPTEK vs. TOZO S2
AGPTEK's Battery Performance and Charging Solutions
AGPTEK smartwatches are known for their long–lasting battery life. Depending on usage, most models can last several days on a single charge. They usually come with a convenient charging solution, such as a magnetic charging cable or a charging dock.
How TOZO S2 Stacks Up in Terms of Battery Life and Charging
TOZO S2 impresses with its large battery capacity (300mAh) and low power consumption design. It can last about 10 days in the auto–monitoring mode for heart rate or 7 days in the instant detection mode. Furthermore, it boasts a 5ATM waterproof rating, meaning you don't need to worry about wearing it while swimming or sweating out.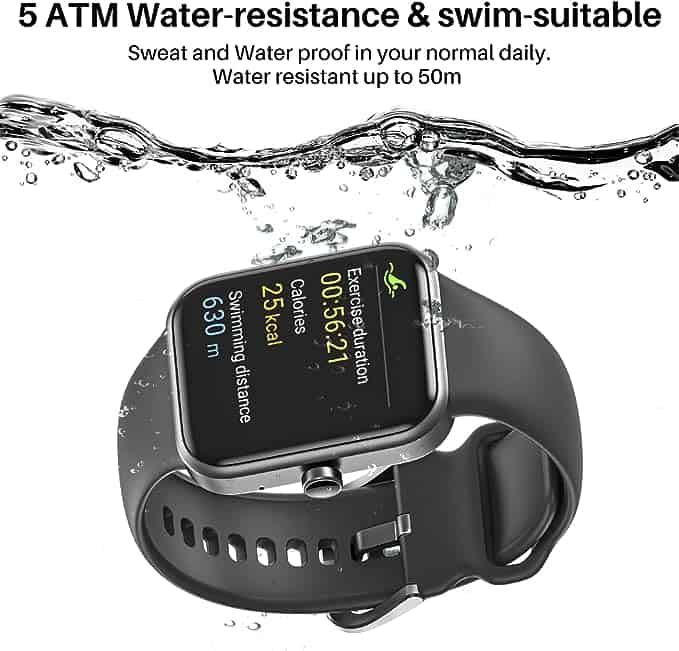 Which Watch Lasts Longer and Charges Faster?
While both AGPTEK and TOZO S2 offer impressive battery life, the specific performance can vary depending on usage. However, the TOZO S2 has a slight advantage with its larger battery capacity and waterproof design.
User Interface and Compatibility of AGPTEK and TOZO S2
The Ease of Use of AGPTEK's Interface and Its Compatibility with Devices
AGPTEK smartwatches are designed with user–friendliness in mind. Their interfaces are intuitive and easy to navigate, making it simple for users to access various features and settings. Regarding compatibility, most AGPTEK watches can connect with iOS and Android devices via Bluetooth.
Exploring TOZO S2's User-Friendly Interface and Device Compatibility
The TOZO S2 offers a user–friendly interface with full-screen touch and hand-sliding functionalities. Connecting the watch to the TOZO Fit app via Bluetooth allows you to control the music player, view local weather updates, and utilize the mobile search function. It is compatible with most iOS, Android, and Bluetooth smartphones.
Comparing Ease of Use and Compatibility
Both AGPTEK and TOZO S2 offer user-friendly interfaces and broad device compatibility. However, the TOZO S2 gains an extra point for its additional features, like controlling the music player and viewing local weather updates once connected to the app.
Special Features of AGPTEK and TOZO S2
Unique Features of the AGPTEK Smartwatch
Each AGPTEK smartwatch model comes with unique features. Some models may offer music control, smartphone notifications, and even stress tracking. However, the specific features can vary based on the model.
What Makes TOZO S2 Stand Out: Additional Features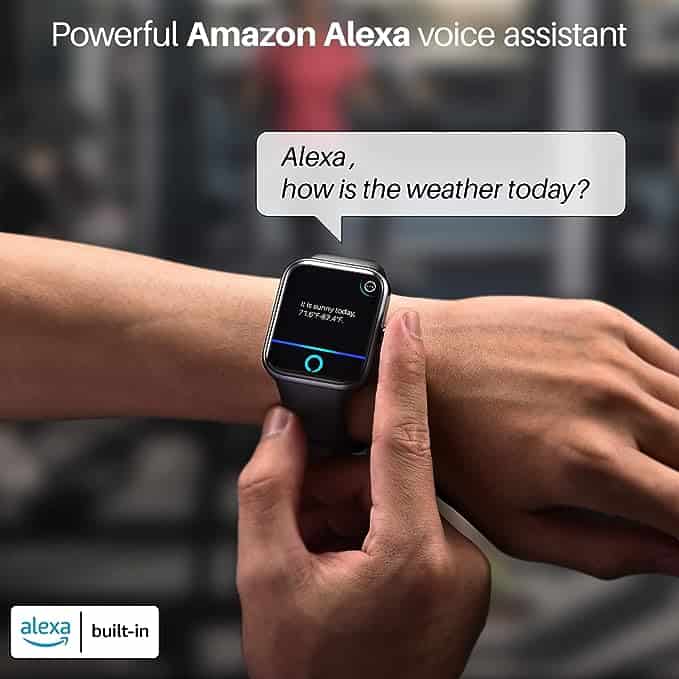 The TOZO S2 comes packed with additional features that set it apart. One such feature is the built-in Alexa. You can ask questions, play music, check the weather, set alarms and timers, and more just by speaking to your watch. It also supports mobile search functions when connected to the app through Bluetooth.
Assessing the Extra Perks and Payoffs of AGPTEK and TOZO S2
While both smartwatches offer a range of unique features, TOZO S2's built-in Alexa gives it an edge over AGPTEK. This feature improves the user experience by allowing voice commands for various functions, thus increasing ease of use and convenience.
Which smartwatch heart rate monitor is most accurate?
AGPTEK and TOZO S2 both have user–friendly interfaces that allow users to access their heart rate data easily. They also provide real–time feedback, displaying the heart rate readings on the screen and providing alerts for abnormal heart rates.
Users can customize their heart rate monitoring settings, such as setting target heart rate zones for different activities. Both smartwatches also offer the ability to sync heart rate data with mobile apps for further analysis and tracking.
Heart rate accuracy is an important feature to consider when looking for a smartwatch. GPTEK and TOZO S2 both have heart rate monitors, but they use different technologies to measure heart rate.
AGPTEK uses green LED light to detect your pulse, while TOZO S2 uses an infrared sensor.
Both of these technologies are accurate, but the TOZO S2 has been proven to be more accurate in studies.
Therefore, if you are looking for a smartwatch with an accurate and comfortable heart rate monitor, then the TOZO S2 is a great choice.
AGPTEK and TOZO S2 Pricing and Value for Money
AGPTEK's Pricing Tiers and What They Offer
AGPTEK offers smartwatches at various price points. There is something for everyone. Despite their affordability, AGPTEK watches don't skimp on features, offering comprehensive health tracking, sleek designs, and long-lasting battery life.
TOZO S2's Price Points and Their Benefits
The TOZO S2, priced at $39.99, offers a wealth of features like heart rate and blood oxygen monitoring, sleep tracking, fitness tracking, and built-in Alexa. Considering the feature-packed nature of this smartwatch, it offers excellent value for money.
Determining the Best Bang for Your Buck
AGPTEK and TOZO S2 both offer excellent value when it comes to value for money. However, considering the added features offered by TOZO S2, such as built-in Alexa and blood oxygen monitoring, it provides slightly better value for the price.
Customer Support and Warranty for AGPTEK and TOZO S2
AGPTEK's Customer Support and Warranty Policies
AGPTEK provides reliable customer support to assist with any issues or queries. The company also offers product warranty policies, although the specific terms may vary based on the model and location.
TOZO S2's Approach to Customer Care and Warranty
TOZO offers free product support over the phone on eligible purchases for up to 90 days. Additionally, the TOZO S2 smartwatch is eligible for return, refund, or replacement within 30 days of receipt, further reassuring customers.
Weighing the Proactiveness and Responsiveness of Customer Service
Both AGPTEK and TOZO place a high emphasis on customer satisfaction, offering reliable customer support and warranty policies. However, TOZO's 90-day free product support over the phone and 30-day return, refund, or replacement policy gives it a slight edge in customer service.
Which smartwatch for women is good?
AGPTEK and TOZO S2: Summing Up the Smartwatch Face-Off
In the battle of AGPTEK vs. TOZO S2, both smartwatches put up a good fight. Both offer sleek designs, comprehensive health and fitness tracking features, and long battery life and are priced reasonably.
However, the TOZO S2 has a slight edge with its additional features like built-in Alexa, blood oxygen monitoring, and superior customer support and warranty policies.
Choosing the Best Smartwatch: Our Verdict
While both AGPTEK and TOZO S2 are excellent choices, our verdict leans slightly towards the TOZO S2 due to its additional features and superior customer support. However, the ultimate decision should be based on individual needs and preferences.
Summary of Pros and Cons: AGPTEK and TOZO S2
AGPTEK
Pros:
Sleek, minimalist design with a high-resolution display.
Comprehensive health and fitness tracking (heart rate, sleep patterns, daily steps).
Long-lasting battery with efficient charging solutions (like magnetic charging).
Intuitive interface compatible with both iOS and Android.
Offers features like music control, smartphone notifications, and stress tracking (specific features may vary by model).
Reliable customer support with varying product warranty policies.
Cons:
Heart rate monitoring uses green LED light, which might be slightly less accurate than infrared.
Some features like built-in voice assistants (like Alexa) are missing.
Specific features and designs may vary based on the model, which might confuse some buyers.
TOZO S2
Pros:
Large 1.69-inch HD color touchscreen with customization options.
Advanced health and fitness tracking, including blood oxygen saturation.
Impressive battery life (up to 10 days in certain modes) and 5ATM waterproof rating.
Full-screen touch interface with added functionalities when connected to the TOZO Fit app.
Built-in Alexa for voice commands and functionalities.
Accurate heart rate monitoring using infrared technology.
Priced at $39.99, offering substantial features for the price.
Strong customer support with a 90-day phone support and a 30-day return or replacement policy.
Cons:
Might be seen as slightly bulkier due to its larger screen, depending on personal preferences.