5 Best Florida Pickleball Resort Vacation Destinations
Perfect Blend of Recreation and Relaxation
Discover the top 5 Florida pickleball resorts, offering the perfect blend of sport, relaxation, and the state's sun-kissed charm. This blog post guides pickleball enthusiasts and vacationers alike, delving into Florida's booming pickleball scene with its picturesque landscapes and welcoming climate.
Whether you're a casual player or a seasoned pro, these resorts provide an unrivaled experience with opulent lodging, first-rate amenities, and thrilling tournaments. Come on this exciting adventure as we discover the booming Florida pickleball scene and make lifelong memories amidst palm trees, sandy beaches, and friendly competition.
Prepare to serve fun and make the most of Florida's finest pickleball adventures!
Here are 5 Top Pickleball Resorts in Florida
Sundial Beach Resort & Spa, Florida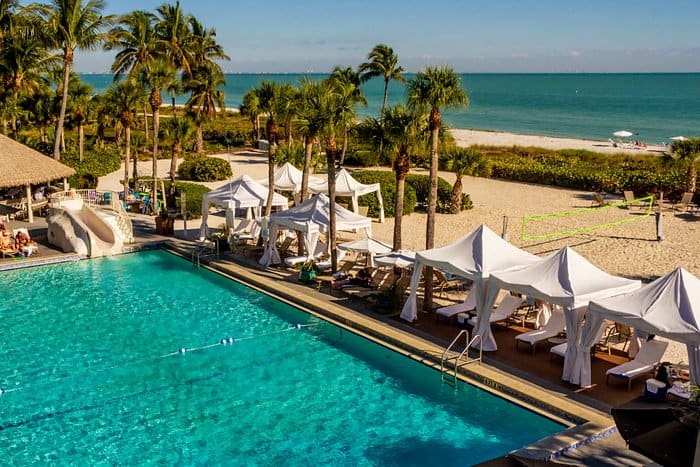 Situated on the picturesque Sanibel Island along the southwest Gulf Coast of Florida. you'll find the exquisite pickleball courts, offering a splendid backdrop of the island's renowned beaches and breathtaking waterfront views of the Gulf of Mexico.
Pickleball at Sundial Resort & Spa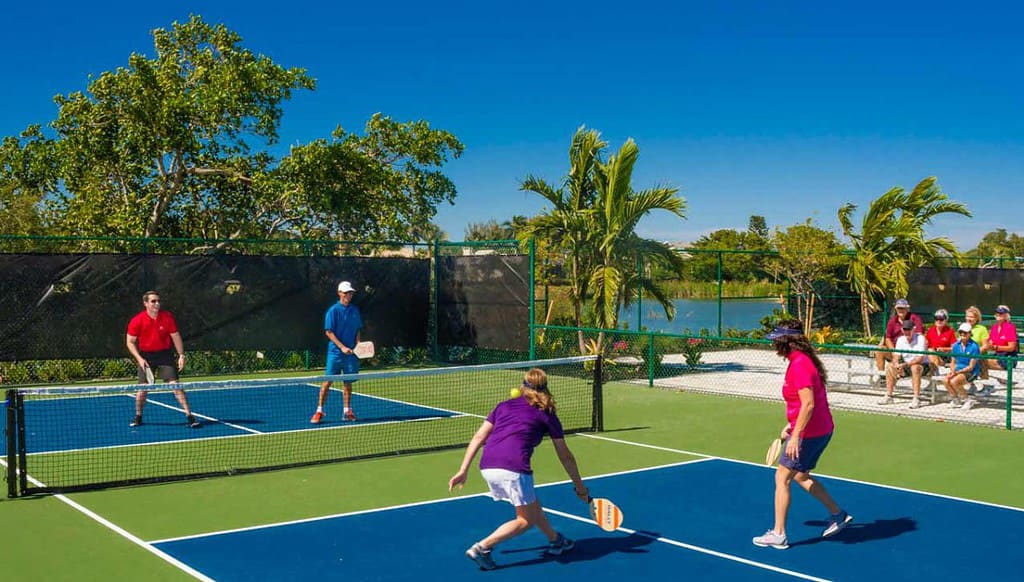 These courts are nestled within the Sundial Beach Resort & Spa, Florida, a delightful destination accessible to resort guests and the general public throughout the year.
Among the exciting offerings at this resort are the Dial It Up camps, a fantastic three-day pickleball extravaganza taught by 5.0 pros. Participants enjoy top-notch lessons and receive attractive accommodations, resort vouchers, amenity access, and a delectable breakfast buffet to complete their experience.
For those seeking a more festive atmosphere, Sundial's Dial it Up Pickleball Festival promises a fun and social ambiance and ample opportunities to engage in thrilling pickleball matches.
Florida's Sundial on Sanibel Island offers twelve Plexicushion courts with stadium seating in a scenic lake-front setting. Their active pickleball program includes 3-day Sundial It Up Camps, tournaments, round robins, clinics, and festivals under the direction of IPTPA-certified pros.
Open to the public, the courts also welcome daily open play, with membership options ranging from daily passes to annual access. It is a perfect Florida destination for pickleball enthusiasts of all levels.
Regardless of age or skill level, the resort caters to everyone's needs with its diverse lessons and camps. So, whether you're a novice or an experienced player looking to enhance your skills, you'll have the privilege of learning from the resort's esteemed teaching staff, composed of USPTA Elite Pro and IPTPA-certified instructors. A truly enriching pickleball destination awaits you at Sundial Beach Resort & Spa on Sanibel Island in Florida.
Pickleball court reservations are necessary for all play sessions. Resort guests can secure court reservations by visiting the Rec Shack or by contacting Racquet Sports Manager Josh Jeffcott at 239.395.6037 or via email at [email protected].
To facilitate finding play partners, the resort extends an invitation to reserve time during the daily "Open Play" from 9:00 am to 11:00 am (available exclusively to Sundial Pickleball Members and Resort Guests due to limited availability) and also from 3:00 pm to 5:00 pm daily (open to all).
To learn more about resort pickleball, call 239 395 6037.
The Boca Raton Resort, Florida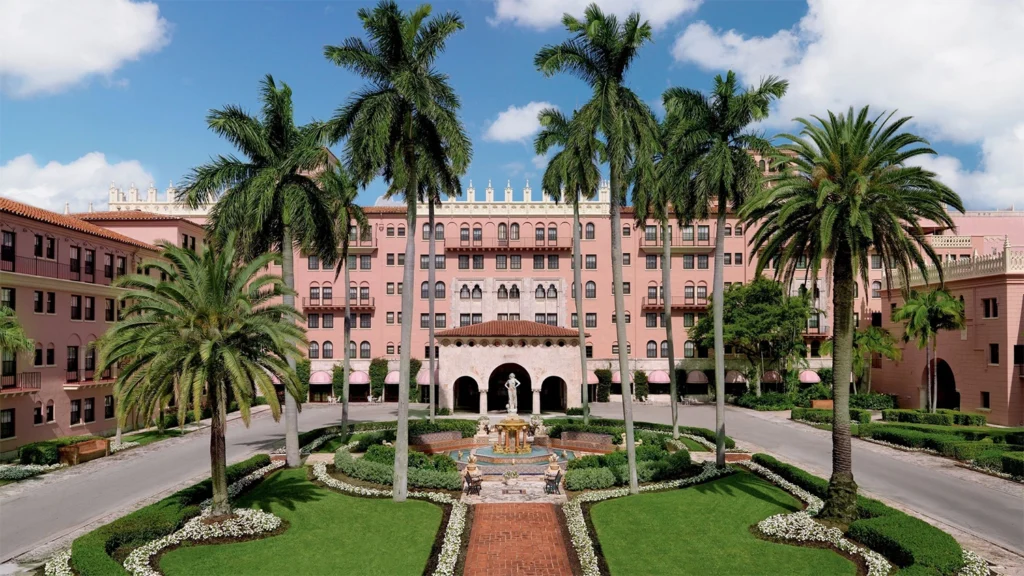 The Boca Raton Resort in Florida is an enchanting oasis in the picturesque coastal town of Boca Raton, Florida. Nestled along the pristine shores of the Atlantic Ocean, this luxurious resort offers a perfect blend of sophistication and relaxation for its guests.
The resort's architecture exudes classic elegance, and the lush surroundings and lovely gardens contribute to the tranquil and welcoming atmosphere.
With an array of accommodation options, from elegant rooms to spacious suites and private bungalows, guests are treated to the utmost comfort and modern amenities. Indulge in world-class dining experiences at the resort's fine restaurants, each offering a delightful fusion of flavors crafted by talented chefs.
This Florida resort boasts a lavish spa with an extensive menu of treatments and therapies for ultimate relaxation and rejuvenation. Whether lounging by the pool, strolling along the pristine beach, or enjoying golf at the resort's championship courses, guests can immerse themselves in a world of tranquility and luxury at The Boca Raton Resort, Florida
Pickleball at Boca Raton Resort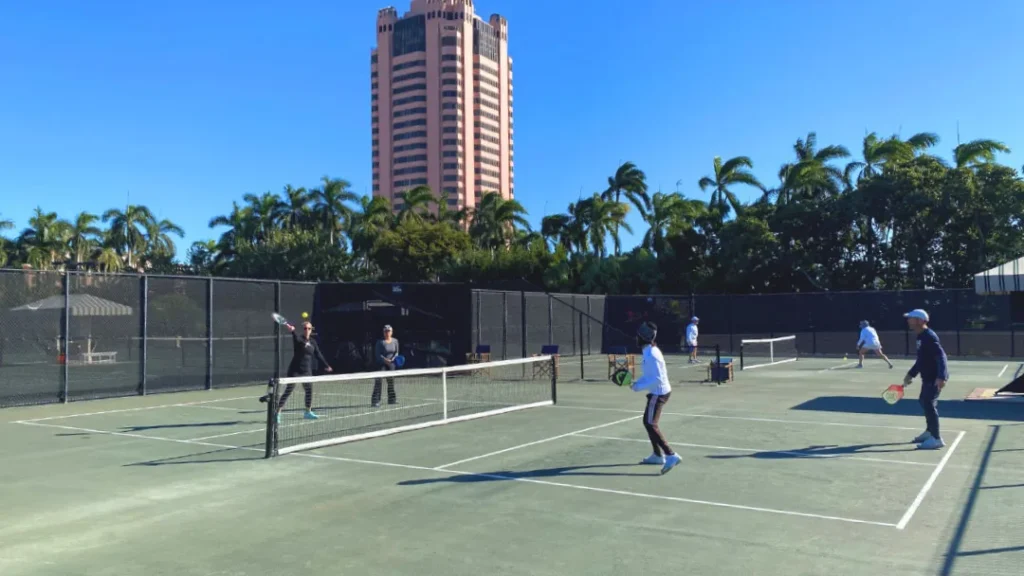 Experience the thrill of Pickleball at this great Florida pickleball resort destination as guests are invited to explore one of the fastest-growing sports worldwide. Under the guidance of their very own WTA Professional and Certified Pickleball Instructor, Nikki Roth, they can learn the game on the resort's six Hydro-Grid courts. One of Florida's best pickleball vacation destinations.
For those eager to get started, the resort offers Weekly Clinics every morning and evening, excluding Fridays, where participants can grasp the basics of Pickleball in one-hour sessions for a fee of $70 per person. Reservations are essential, ensuring guests secure their spots for this exciting activity.
For a more personalized approach, guests can take Private Lessons with Nikki Roth, which cater to individuals at any skill level. These one-on-one coaching sessions can accommodate up to two people and are available in 30-minute and 60-minute durations, priced at $60 per person and $120 per person, respectively.
The resort invites guests to enjoy Pickleball daily from 8:00 am to 12:00 pm and 4:00 pm to 8:00 pm for just $25 per person, promising an unforgettable experience in the world of Pickleball. Take advantage of this opportunity to embrace the sport and create lasting memories during their stay at the resort.
The Resort at Longboat Key Club, Florida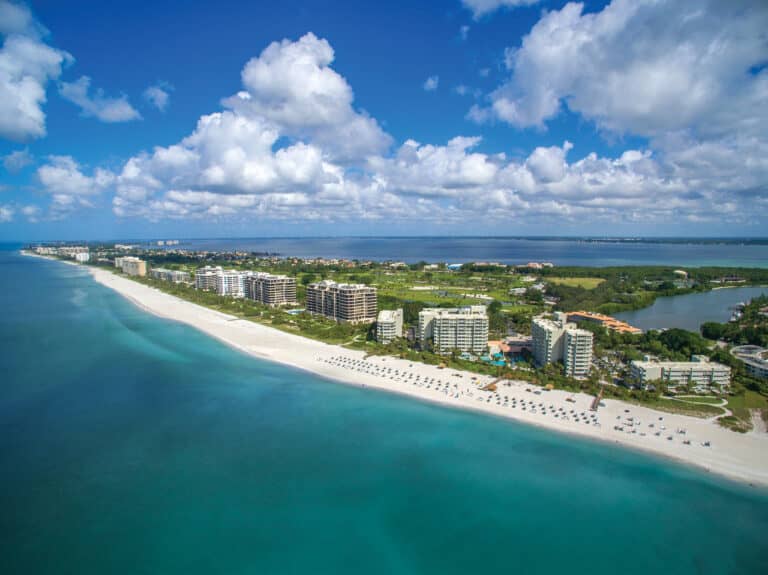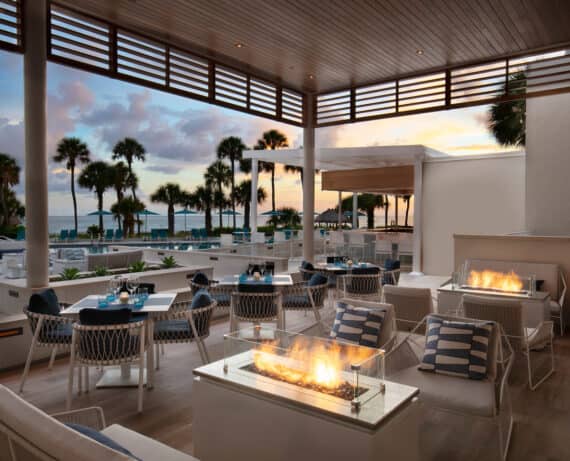 Nestled on a secluded barrier island along the Gulf of Mexico, The Resort at Longboat Key Club in Florida offers a breathtaking retreat spanning an impressive 410 acres of pristine landscape, including lush lawns and immaculate white sand beachfront accentuated by authentic Old Florida boardwalks.
For a truly luxurious stay, guests can choose from 226 well-appointed guest rooms and suites, just a short drive from downtown Sarasota's upscale shopping, museums, and theaters.
The resort offers an exceptional experience with access to five distinctive restaurants and lounges, as well as 45 holes of championship golf, an acclaimed Tennis garden, a full-service spa, and a variety of water sports equipment for aquatic adventures. Moreover, the resort hosts numerous wellness events and provides an array of family-friendly activities to ensure an unforgettable experience for every guest.
Pickleball at Longboat Key Club Resort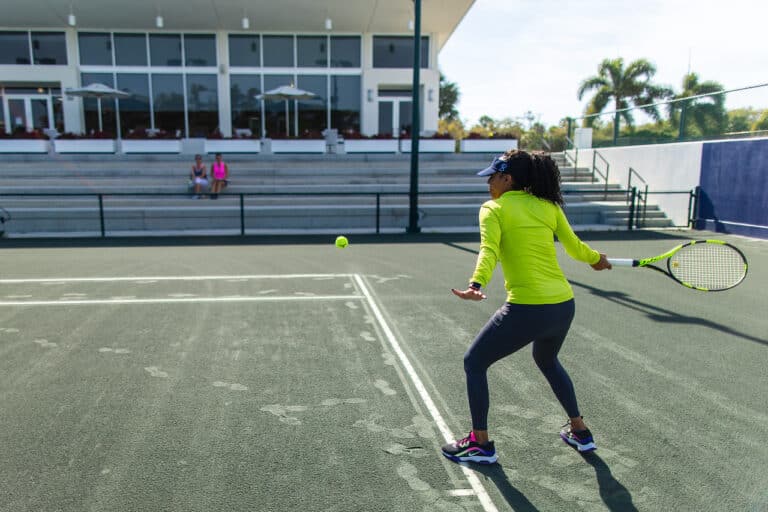 The club at this fabulous Florida pickleball resort destination, welcoming members and resort guests presents various opportunities for pickleball enthusiasts. They offer regular clinics tailored to beginner and intermediate players, providing valuable instruction and skill development.
Additionally, the club offers private lessons for those seeking personalized coaching. Due to pickleball games' shorter duration than tennis matches and ease of rotation, open play sessions are also available, allowing players to spend much more time on the court
The club's skilled pickleball pros actively organize games and plan to establish leagues for the sport once the new courts are ready for use.
Guests are invited to immerse themselves in the resort's tennis oasis, which boasts 20 exquisite courts. To elevate players' skills and take their game to new heights, the resort offers private lessons for both tennis and Pickleball.
Experienced instructors are available daily, providing one-on-one sessions for personalized attention and tailored guidance to enhance technique and strategy. Pickleball lessons are offered based on availability during the weekdays, allowing guests to delve into this exciting sport under expert instruction. This is one to have on your shortlist if you are visiting Florida
Omni Amelia Island Resort, Florida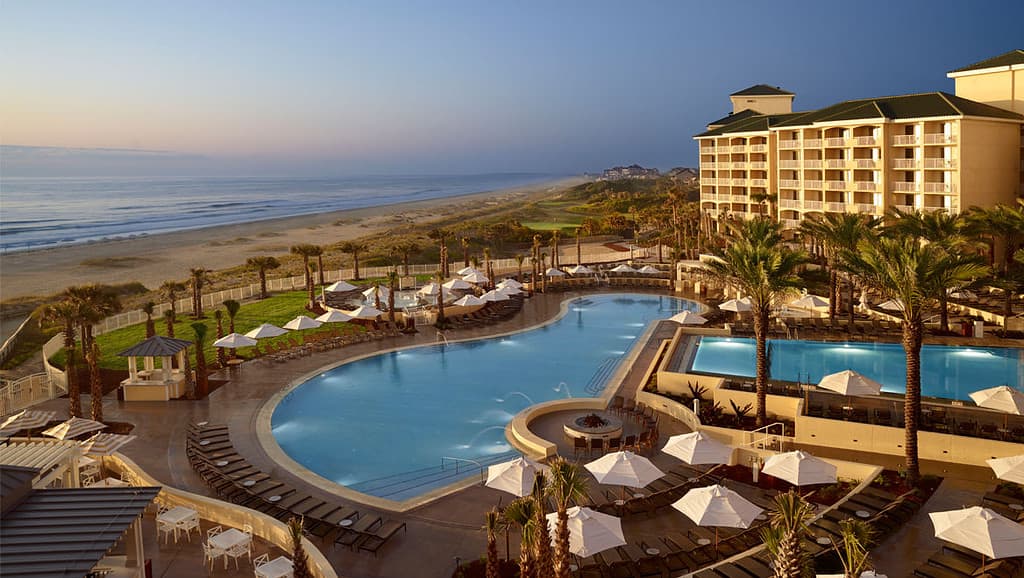 Nestled along the sparkling beaches of Amelia Island in Florida, the Omni Amelia Island Resort beckons guests with a wealth of lavish amenities.
The resort boasts a full-service luxury spa, inviting indoor and outdoor pools, and two remarkable 18-hole championship golf courses. With eight delectable dining options onsite, guests can savor various culinary delights. This is one of Florida's favorite destinations.
The Nature Center offers a range of outdoor activities, including kayaking, paddleboarding, Segway tours, cycling, and guided walking tours, providing the perfect blend of adventure and relaxation.
Each room in the resort offers a delightful retreat, complete with a flat-screen cable TV, a functional work desk, and a furnished balcony or patio for unwinding amidst the captivating surroundings.
Air-conditioned accommodations also provide Egyptian cotton linens, ensuring a restful stay and a private bathroom for added convenience. For those seeking an enhanced experience, select rooms boast upgraded amenities such as additional living space, indulgent spa baths, and well-equipped kitchens, promising the utmost comfort and indulgence.
A fully equipped fitness center awaits fitness enthusiasts, complete with an 18-yard indoor lap pool for invigorating workouts. The resort also caters to business needs with ample onsite meeting space and business facilities. Guests can immerse themselves in various activities, including engaging nature tours, invigorating fitness classes, and a vibrant kids club, ensuring an enjoyable and memorable stay for all.
Cliff Drysdale is thrilled to introduce Pickleball as one of its exciting offerings. The resort proudly features seven pickleball courts nestled amidst a canopy of majestic oak trees, providing a picturesque and inviting setting. The resort hosts many clinics for newcomers and experienced players to cater to all skill levels.
Pickleball at Amelia Island Resort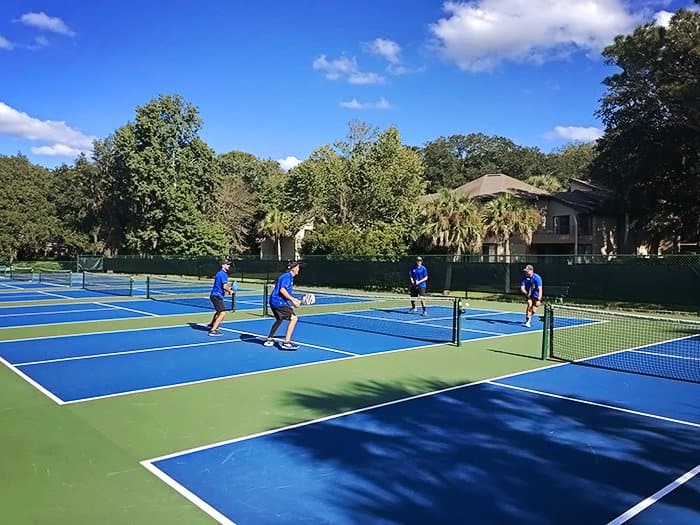 Pickleball, a delightful blend of tennis, ping pong, badminton, and racquetball, offers a fast-paced and enjoyable experience. Its easy-to-learn nature makes it an ideal sport for individuals of all ages while providing an excellent workout. Guests can look forward to engaging in this captivating activity at Cliff Drysdale.
Experience the excitement of Pickleball at this exceptional Florida resort with the comprehensive Pickleball 101 and Pickleball 201 programs. On Mondays, Wednesdays, and Saturdays from 9:00 to 10:00 am, guests can join Pickleball 101 to learn the fundamentals of the game while meeting new people and having fun.
Continuing the pickleball journey, Pickleball 201 takes place on the same days from 10:00 to 11:00 am, offering participants an opportunity to enhance their skills in dink shots, volleys, serves, strategy, and point play, building a strong foundation for their game.
Pickleball Match Madness, held on Tuesdays from 9:00 to 10:30 am and Saturdays from 11:00 am to 12:30 pm, focuses on match and gameplay. The expert pro pairs players for 90 minutes of coached round-robin play, allowing them to develop their match play skills while receiving valuable feedback on points and refining their pickleball strategy.
For those seeking to begin their pickleball journey, the resort offers Beginner Pickleball Match Madness on Thursdays from 9:00 to 10:30 am. This class is ideal for beginners who want to experience match play and develop their basic strategy.
The pro will pair players for 90 minutes of coached round-robin play, providing an excellent starting point for those who have participated in drill clinics and wish to explore competitive play. Take advantage of these fantastic opportunities to elevate your pickleball skills and enjoy the thrill of the game at the resort!
Hawks Cay Resort, Florida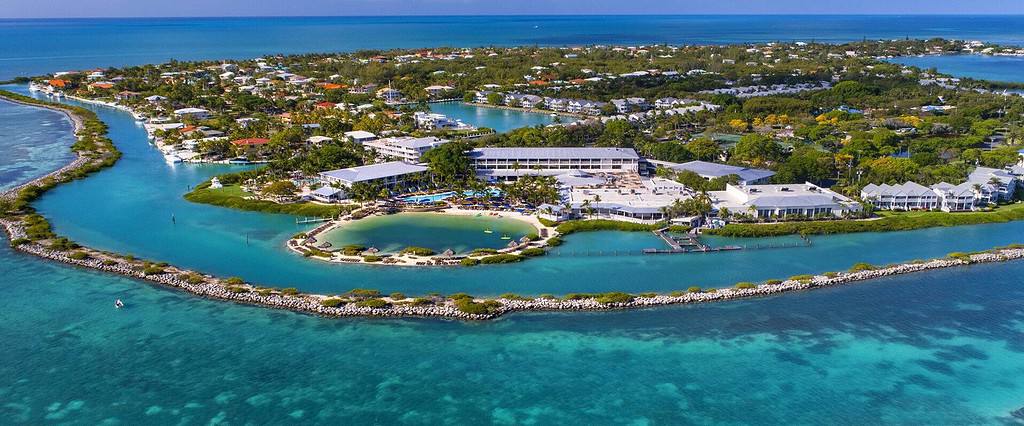 Hawks Cay, a sought-after resort destination in the Florida Keys, has unveiled its latest addition of eight pickleball courts at the esteemed Cliff Drysdale Tennis Center, expanding its repertoire of onsite activities and amenities for the pleasure of its guests. These courts are now open for play, reflecting the resort's commitment to providing a world-class facility and entertainment options to enhance guests' experiences.
Sheldon Suga, the resort's vice president and managing director, expressed, "The new pickleball courts embody our ethos of staying at the forefront of emerging trends to offer guests a holistic resort experience. We strive to continuously update our facilities and provide our guests with diverse and enjoyable activities to bask in the Florida Keys' sun."
Acknowledged as one of the fastest-growing sports in the Western Hemisphere, Pickleball is a captivating fusion of tennis, ping pong, and badminton. Played on a badminton-sized court, the game employs paddles slightly larger than ping pong paddles and a perforated polymer ball, resulting in a fast-paced sport that demands strategic moves.
Pickleball at Hawks Cay Resort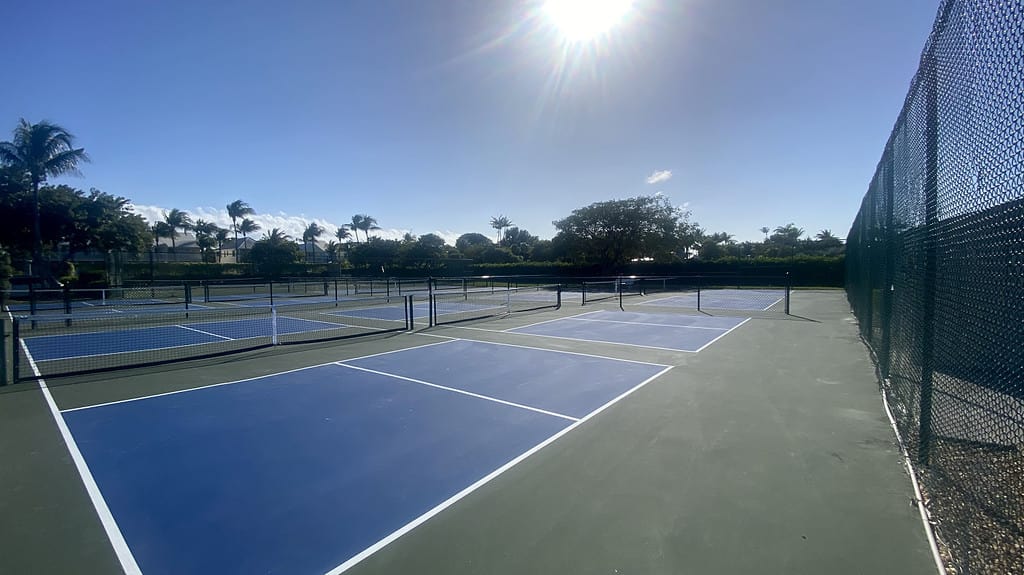 Matt Kirkham, the resort's director of tennis, shared, "We have witnessed the increasing popularity of Pickleball over the years. The decision to add eight new pickleball courts can be attributed to valuable guest feedback and our unwavering commitment to exceed our guests' expectations, both on and off the court."
At the resort, guests can hone their shot-making skills and refine their strategy with drills and live ball games organized by the esteemed Cliff Drysdale Tennis Program. Experienced players can enjoy spirited singles or doubles matches with friends, with equipment rental available from the same program if needed.
For those eager to reserve the use of the pickleball courts or book a pickleball lesson with the seasoned pro Matt Kirkham, they can easily reach out to Cliffs Drysdale Tennis via (305) 743-7000 or email Matt Kirkham directly at [email protected].
Additional Articles of Interest
Frequently Asked Questions