17 Best Pickleball Drills for Solo Players, Singles & Doubles
Pickleball continues to grow in popularity. Per a CNBC article, there are close to 4 million people playing pickleball. That is fantastic! What differentiates casual players from those wanting to play more competitively is their investments in training, such as drills and equipment.
As a pickleball player and league captain, I can't stress enough the importance of incorporating pickleball drills into your training routine. In pickleball, like any other sport, consistent practice doesn't merely make perfect—it makes it permanent. In this guide, we'll explore pickleball drills for beginners through to advanced players to help you raise your game to new heights.
As the name suggests, drills are designed to 'drill' in skills and techniques related to a particular sport. Pickleball is a fast-moving game that takes elements from tennis, racquetball, and table tennis. It requires a distinct set of skills to excel.
I drill 2-3 times a week using the drills below. This has made a significant improvement in my game. At first, I didn't think they were necessary and that I would just get better by playing more. While I have improved the more I've played, drills have accelerated this progress substantially and helped me become more consistent on the court.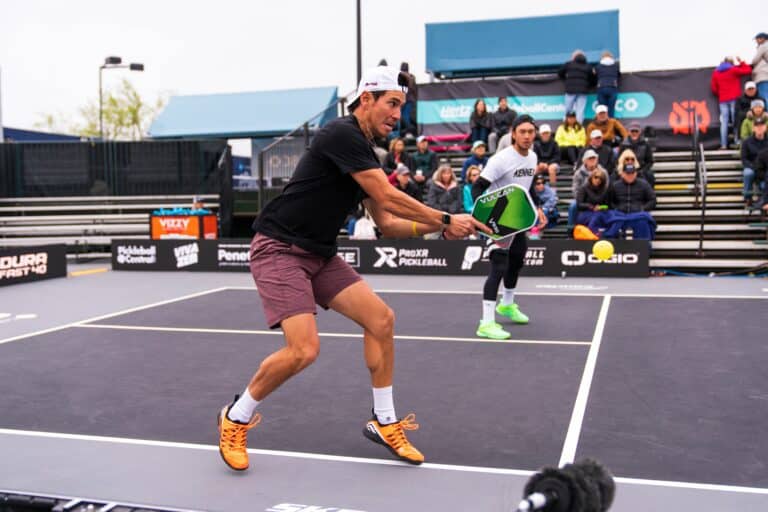 What Are Pickleball Drills?
Pickleball drills are structured practice activities that help develop and improve specific skills related to the sport. These drills can vary in complexity, ranging from basic exercises such as practicing serving or returning to more advanced drills that work on strategic gameplay elements like the third shot drop or dinking.
What Are The Components Of Drills?
Four main components encompass pickleball drills:
Technique:
These drills focus on improving your stroke mechanics, footwork, and body positioning. It can involve working on serves, returns, volleys, groundstrokes, dinks, lobs, or any other specific shots in pickleball.
Consistency:
These drills aim to develop your ability to repeatedly perform a shot correctly and reliably under varying conditions. They may involve hitting a specific number of consecutive shots, landing shots within a designated area, or maintaining a rally for a set duration.
Strategy:
These drills help enhance your game tactics, including shot placement, court coverage, and decision-making. They typically involve more dynamic and complex situations, such as simulated match scenarios or specific tactical exercises like skinny singles or 2 on 1 drills.
Conditioning:
These drills are designed to improve your physical fitness, agility, endurance, and speed. They often involve rigorous routines that incorporate pickleball-specific movements to help you perform better and prevent injuries.
What are the Pickleball Drills Variations You Can Do?
Pickleball drills can be tailored to fit the number of available players:
Solo Drills:
These drills are designed for individuals and often involve using a wall or a ball machine. They're excellent for working on technique and consistency.
Solo drills are essential for individual players, allowing focused practice and skill development. By practicing alone with a wall or a ball machine, players can:
Refine Technique: Solo drills enable players to focus on their technique, such as grip, footwork, and swing mechanics. This concentrated practice helps players develop proper form and build muscle memory for consistent and effective shots.
Enhance Consistency: By repeating shots and movements during solo drills, players can work on their consistency and improve their ability to execute shots accurately and with control.
Improve Fitness and Conditioning: Solo drills allow players to perform physical activity and improve their fitness levels. Regular practice can enhance endurance, agility, and speed on the court.
Two-Player Drills:
These drills, performed with a partner, allow you to focus on elements like serve and return, dinking, or specific game strategies.
Two-player drills involve practicing with a partner and are designed to work on specific skills and strategies. These drills offer the following benefits:
Serve and Return Focus: Two-player drills allow players to practice their serves and returns, which are fundamental to pickleball. Players can refine their serving techniques and develop effective return shots by working together.
Dinking Skills: Dinking is a crucial skill in pickleball, and two-player drills provide an opportunity to practice this technique. Consistent dinking helps players improve their touch, control, and ability to engage in delicate and strategic exchanges at the non-volley zone.
Game Strategy Development: Practicing with a partner enables players to work on various game strategies, such as setting up shots, attacking weaknesses, and defending against aggressive opponents. These drills enhance communication, teamwork, and tactical decision-making.
Three/Four-Player Drills:
These drills are designed for doubles play and can help improve team coordination, communication, and doubles strategies.
Drills involving three or four players are tailored for doubles play and focus on teamwork, coordination, and strategy. Here's why these drills are important:
Doubles Coordination: Three/four-player drills allow players to practice doubles rotations, where they switch positions during rallies. This drill enhances coordination, communication, and the ability to adapt to different shots and court positions.
Effective Poaching: Poaching is a strategy where a player intercepts shots directed toward their partner. Three/four-player drills provide an opportunity to practice this technique, improving anticipation, quick reactions, and the ability to disrupt opponents' plays.
Communication and Shot Placement: Three/four-player drills emphasize effective communication and shot placement between teammates. Players can practice hitting shots to specific court areas while their partners communicate and move efficiently to cover those areas. These drills enhance teamwork and strategic decision-making.
Why Pickleball Drills Are Essential in Pickleball?
Drills are a fundamental part of any sports training program, and pickleball is no exception. They offer a structured way to break down the game's complexities, allowing you to focus on individual skills and gradually integrate them into your gameplay.
Moreover, drills facilitate focused practice, helping to enhance your technique, build consistency, develop strategic thinking, and improve your physical conditioning. This systematic approach to training ensures that you continually learn, adapt, and improve. It keeps you engaged and motivated on your journey toward getting good at this game!
What Can Pickleball Drills Do For You?
Drills are exercises designed to improve your proficiency in specific aspects of the game. These might focus on serving, returning, dinking, or strategizing—among others. Drills typically involve repeating a particular shot or sequence to enhance muscle memory, accuracy, power, and consistency. There are pickleball drills for beginners and advanced pickleball drills.
Knowing what you would like to improve in your game is important. As an example, when I first started, it was about consistent serving, getting better at dinking, and being able to return hard serves with a lot of spin on the serve. So I focused on pickleball drills that could help me improve in these areas.
As I progressed, I wanted to focus my pickleball drills on my volley skills. Being able to return volley that has a lot of pace on the ball and body shots. This is a work in progress.
What Is The Importance Of Drills?
Pickleball Drills offer a structured and systematic approach to mastering various skills. The beauty of drills lies in their ability to break down complex movements into manageable parts, enabling you to hone your technique, timing, and tactical understanding.
By improving these elements, you can elevate your overall game, turning weaknesses into strengths and making your strengths even more potent.
How do you Choose a Pickleball Drill Partner?
Pickleball drills can be a solo affair, but partnering up can often significantly boost your practice outcome. Choosing the right pickleball drill partner can be crucial in determining how much you can improve your pickleball skills and tactics.
I have partnered to have some fun and practice. But when I am serious about improving my technique and pickleball game, I think through what I am trying to accomplish with my drills.
Skill Level
Selecting a partner where both you and your partner are at a similar skill level as you can be beneficial. This allows you to practice at a comfortable pace for both players. You'll be able to challenge each other, track your progress together, and learn from each other's strengths and weaknesses.
However, it can also be good to choose a partner who is slightly more skilled than you are. Playing with a more skilled partner can push you to stretch your abilities, improve faster, and learn new strategies and techniques.
Tournament or League Partner
If you're participating in a league or tournament, practicing with your official game partner is an excellent idea. This will allow you both to develop a good understanding of each other's playing style, communication patterns, strengths, and weaknesses.
It helps in building the chemistry necessary for a successful doubles team. You can work on team strategies, court coverage, and coordination, which can significantly improve your performance in actual matches.
Complementary Strengths
Sometimes, a player whose strengths complement your weaknesses can be an excellent choice. For instance, if your volleys need work, consider partnering with someone known for their volleying skills. This way, you learn from their expertise while offering them your strengths in return.
Commitment and Compatibility
Finally, when choosing a pickleball drills partner, consider their level of commitment. It's important to find someone who is as dedicated to improving as you are. Additionally, consider your compatibility with the person—pickleball drills should be challenging, but they should also be enjoyable. Finding a partner you get along with can make your practice sessions more productive and fun.
Choosing a pickleball drills partner is not a one-size-fits-all scenario. The right partner for you depends on your skill level, goals, personality, and the specific areas of the game you want to improve. Take the time to find a partner who complements your game and helps you move towards your pickleball goals.
What Are The Best Pickleball Drills?
Solo Drills
Drill 1. Paddle-Ball Pickleball Drill
This is one that I do all the time. One of the first I ever did. I take my paddle with me everywhere and do this to improve sight-to-ball coordination.
The Drill: Stand in one spot and bounce the ball on your paddle, keeping it aloft for as long as possible. Try this with both forehand and backhand grips.
Purpose: This drill aims to improve your eye-paddle coordination and your feel for the ball.
Learning Outcome: You'll develop better control over your paddle and enhance your touch, which is particularly important for shots like dinks and volleys.
Drill 2. Wall-Hitting Pickleball Drill
The Drill: Mark a line on a wall at the standard net height (34 inches at the center). Draw a line 7 feet from the wall representing the non-volley zone line. Stand a few feet away from the wall and practice hitting the ball against the wall, aiming to have the ball hit above the marked line consistently.
Purpose: This drill helps you get accustomed to hitting the ball at the correct height, mirroring net play in an actual game.
Learning Outcome: You'll improve your ability to control the ball's height and trajectory, enabling you to clear the net consistently while keeping your shots low. As you get more practice hitting the ball, you can do all kinds of variations to improve placement over the net.
Drill 3. Using A Dink Pad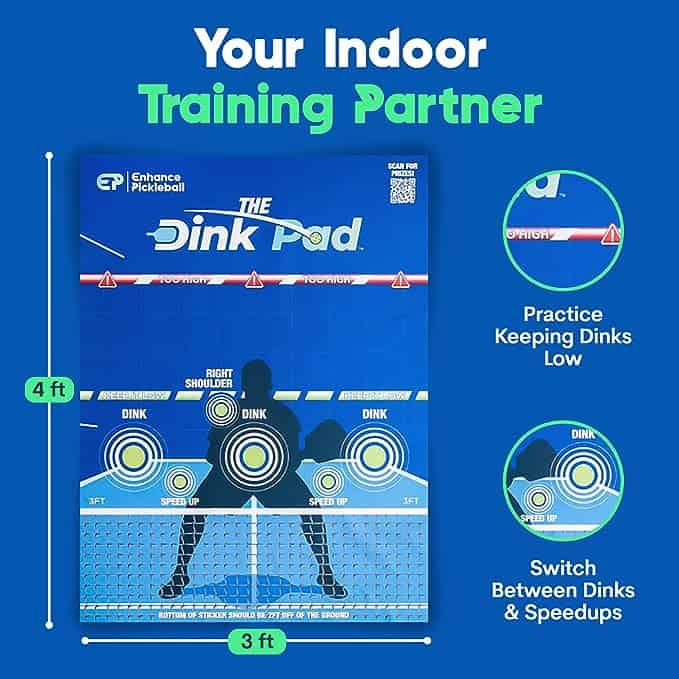 The Drill: Tape the dink pad to a wall. It can be indoors or outdoors. Mark a line with masking tape, painter's tape, or chalk on the floor 7 ft from the all to simulate the kitchen. Stand a few near the line or a few feet away and hit the ball toward the targets on the Dink Pad.
Purpose: Helps you to accurately aim your shots at various targets and at different height levels. A great simulation for volleys at the net. Move closer to the kitchen line and further away to simulate different distances and how you react. Note that being closer to the kitchen line will be faster play.
Learning Outcome: This is a great tool for developing accuracy and speed at the net from various positions on the court. This is an excellent drill for solo players.
Solo Drills Using A Ball Machine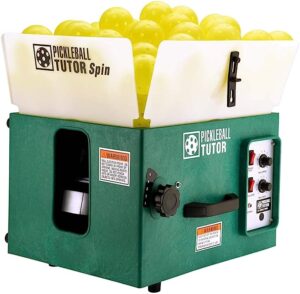 A pickleball ball machine can be an invaluable training tool, particularly when practicing alone. It allows you to practice hitting the ball from various trajectories and pace.
In addition, if you want to drill anywhere, I recommend getting a portable net, and you can take your practice with you. There are ones that fit all budgets.
Here are a few drills you can carry out:
Drill 4. Improving Your Return Shots
The Drill: Set the ball machine to serve deep balls alternatively to your forehand and backhand. Try to return each shot deep into the opponent's court.
Purpose: This drill improves your return of serve, forcing you to adapt to different ball trajectories while promoting accuracy and depth in your shots.
Learning Outcome: With time, you'll be more comfortable returning serves, placing them accurately and strategically to place your opponent on the back foot.
Drill 5. Boosting Your Volley Skills
The Drill: Position the ball machine to deliver waist-high balls. Respond with volley shots without letting the ball bounce. You must be careful not to cross the kitchen line.
Purpose: This drill helps you develop quick reflexes and sharpens your net game—a vital part of pickleball.
Learning Outcome: You'll enhance your hand-eye coordination, reaction speed, and volley placement, gaining confidence at the net.
Drill 6. Forehand and Backhand Shots
The Drill: Set the ball machine to deliver balls to your forehand and backhand alternately. Your goal is to keep each shot in play, ideally aimed at a specific target in the opponent's court.
Purpose: This drill helps you enhance your groundstroke technique, consistency, and accuracy. It improves your ability to make consistent backhand shots and forehand shots.
Learning Outcome: You'll develop dependable forehand shots and backhand shots and improve your third-shot drive. These are the best pickleball drills for mastering these strokes, allowing you to take control of points from the baseline.
Drill 7. Working on Lobs
The Drill: Adjust the ball machine to simulate low shots. Your objective is to return these shots with a high lob, aiming for depth and precision.
Purpose: This drill cultivates your ability to execute effective lobs, an essential skill when pulled into the net.
Learning Outcome: You'll be more adept at performing high, deep lobs, a vital tool for changing the pace of a game and gaining a strategic advantage.
Two-Player Pickleball Drills
Practicing with a partner opens up a wider range of pickleball drills that focus on the dynamic aspects of pickleball. Here are a couple you might try:
Drill 8. Crosscourt Dinking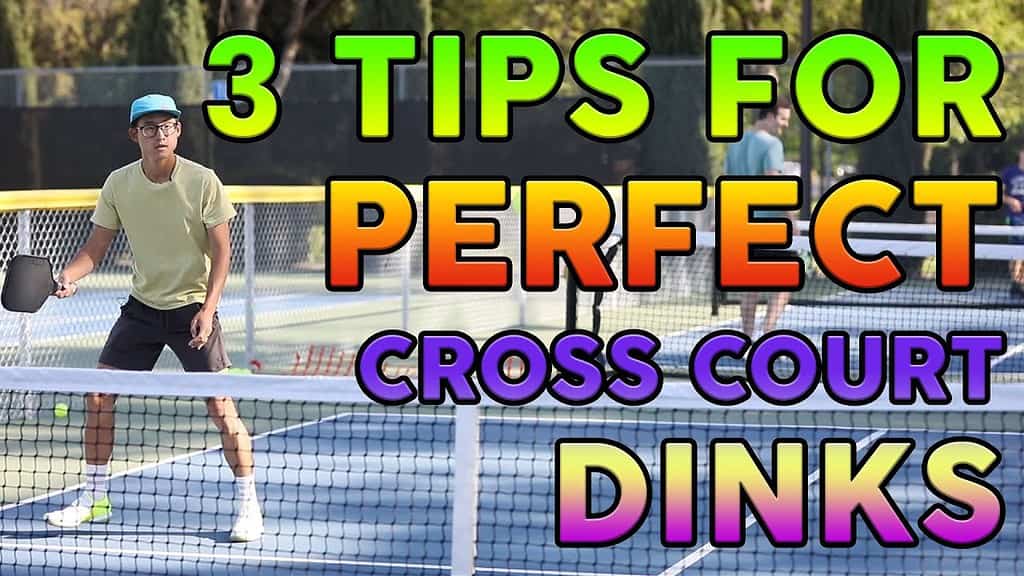 The Drill: Both players start at opposite ends of the kitchen line. The goal is to maintain a sustained crosscourt dinking rally.
Purpose: This pickleball drill enhances your control and precision, key skills for successful dinking, and when you can and cannot cross over the kitchen line.
Learning Outcome: Over time, you'll gain better command over your forehand and backhand dinks, an essential skill for maintaining the upper hand during slow-paced exchanges.
Drill 9. Serve and Return
The Drill: One player serves while the other returns, aiming to get the ball deep into the server's court. Rotate roles after a set number of tries.
Purpose: This drill enhances your serve and return skills while also improving your footwork and timing.
Learning Outcome: You'll grow more competent at serving and returning, enabling you to start each point on a strong note.
Drill 10. Third Shot Drop Practice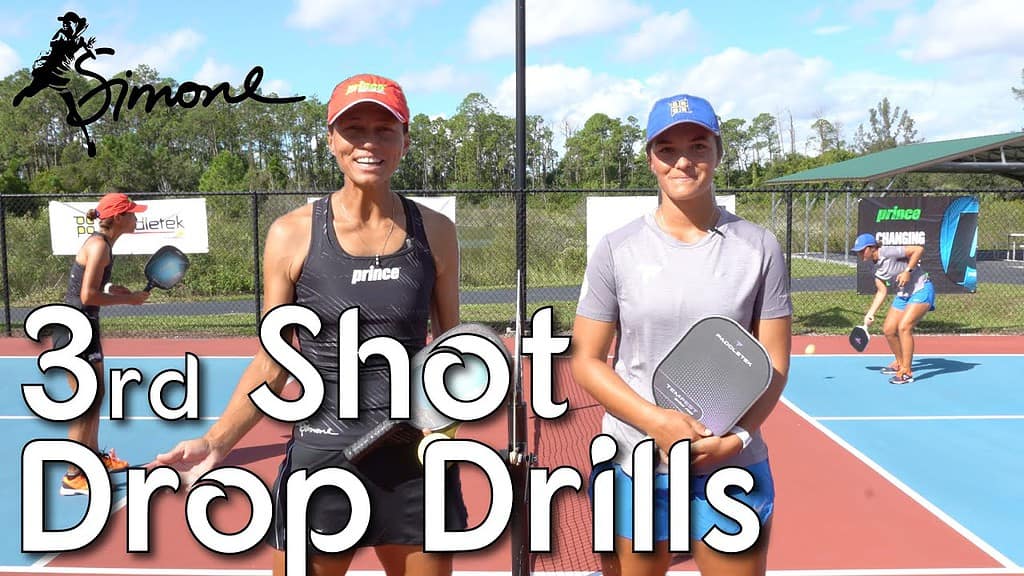 The Drill: One player serves, and the other returns deep. The server then aims to hit a successful third shot drop into the kitchen.
Purpose: This drill is focused on perfecting the third shot drop, a crucial skill for transitioning to the net.
Learning Outcome: You'll enhance your ability to execute a successful third shot drop, helping you move to the net and take control of the point. These drop shots are key to moving to a 4.0 to 5.0 level.
Drill 11. Court Coverage Drill
The Drill: One player randomly hits shots to different parts of the court while the other player tries to return each shot effectively.
Purpose: This pickleball drill enhances your footwork, speed, agility, and court awareness.
Learning Outcome: You'll become better at anticipating ball direction, covering the court efficiently, and returning difficult shots.
Drill 12. Skinny Singles
Skinny Singles is a fantastic two-player drill that utilizes a modified version of the court. One of my favorites. This drill is fun and highly effective in developing offensive and defensive skills. We use this drill quite a bit. It teaches you great ball control and placement.
The Drill: The court is divided lengthwise, and each player stays in their respective "skinny" court (half the width of a regular court). Play out points as you would in a normal singles match, with serves alternating between players.
Purpose: This drill helps develop your shot accuracy and positioning, as the narrower court requires more precise shot placement. It also puts emphasis on building a strong serve and return game.
Learning Outcome: You'll improve your ability to control and accurately place shots. Your serve and return skills will also become more consistent and effective, essential for gaining the upper hand in match play.
Pickleball Drills For Doubles
Four-player drills are ideal for replicating match conditions and are particularly useful for working on your teamwork and strategy.
Drill 13. Continuous Rally
The Drill: The aim is to maintain a continuous rally for as long as possible, with players rotating after each shot.
Purpose: This pickleball drill improves your ball control, footwork, and shot selection while promoting effective communication and team coordination.
Learning Outcome: You'll become better at strategizing and working as a team, critical aspects of successful doubles play.
Drill 14. Doubles Poaching Drill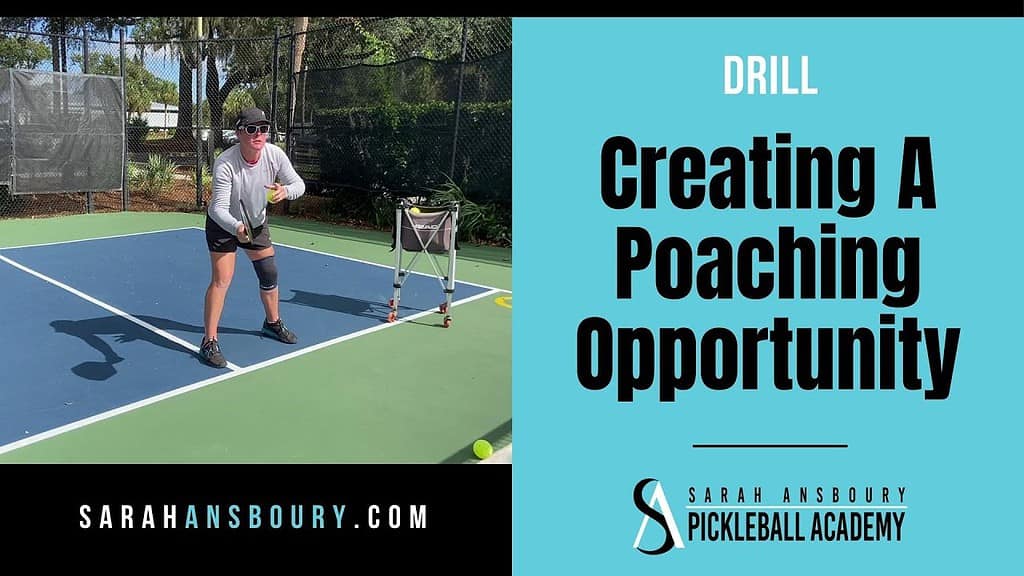 The Drill: During a rally, one player (the poacher) will occasionally cross into their partner's territory to intercept a shot.
Purpose: This pickleball drill develops your poaching skills, improves team dynamics, and adds unpredictability to your game.
Learning Outcome: You'll become proficient at recognizing and seizing poaching opportunities, helping to break up your opponents' rhythm and gain the upper hand.
Drill 15. Four-Corner Drill
The Drill: Players rally the ball, aiming to hit all four corners of the court sequentially in a decided order.
Purpose: This drill enhances your shot placement, court awareness, and communication skills.
Learning Outcome: You'll improve your ability to place shots accurately, recognize the court's geometry, and work effectively with your partner.
Drill 16. 2 on 1 Drill
The Drill: Two players position themselves on one side of the court (team side) while one player stands on the other side (solo side). Start the rally with a serve from the solo side to the team side. The team side's goal is to make the solo player move around the court by aiming at difficult positions, while the solo side tries to maintain the rally.
Purpose: This pickleball drill tests the solo player's agility, shot precision, and stamina while enabling the team players to work on their placement and team strategy.
Learning Outcome: The solo player will develop better court coverage, shot consistency, and endurance. The team players will improve their ability to work as a team, placing shots strategically to outmaneuver their opponent.
Drill 17. Modified 2 on 1 Drill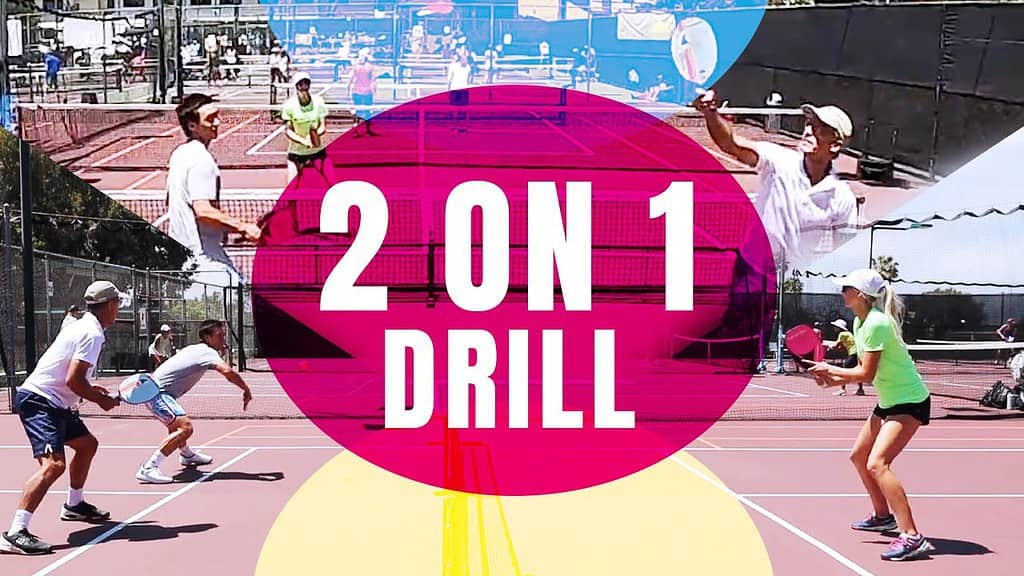 This is an excellent pickleball drill. You would be surprised how many times the single player has won the match, mostly due to the partners hitting the ball out of bounds.
The Drill: Two players position themselves on one side of the court (team side) while one player stands on the other side (solo side). Begin with a serve from the solo side. In this variation, the solo player can return the ball to any part of the team side's court, but each player on the team side must only return the ball to the side of the court that the solo player is on when the ball is hit.
Purpose: This pickleball drill challenges the team side to be precise with shot placement and strategic with movement. The solo player's goal is to keep the ball in play while using the entire court width to their advantage.
Learning Outcome: The solo player will improve their ability to use the full court effectively, while the team side players will enhance their shot precision and teamwork.
Is Warming Up Before Pickleball Drills Necessary?
The simple answer is yes, it is a good idea, and all Pros have a warmup routine. Here are 5 simple warmup exercises you can do on the court.
1. Jogging or Jumping Jacks:
Start your warm-up with light cardio exercises like jogging in place or performing jumping jacks. These exercises increase your heart rate, warm up your muscles, and prepare your cardiovascular system for the physical activity ahead. I prefer jumping jacks.
2. Arm Circles:
Stand with your feet shoulder-width apart and extend your arms straight out to the sides. Begin making small circles with your arms, gradually increasing the size of the circles. Continue for 10-15 seconds and then reverse the direction. Arm circles help loosen up the shoulders and improve mobility, which is important for executing shots in pickleball.
3. Leg Swings:
Stand next to a wall or a sturdy support. Using the wall for balance, swing one leg forward and backward in a controlled manner. Repeat this motion 10-15 times and then switch to the other leg. Next, swing your leg sideways across your body, repeating the motion on each leg. Leg swings activate the hip flexors, hamstrings, and quadriceps, improving lower body mobility and stability.
4. Torso Twists:
Stand with your feet shoulder-width apart and extend your arms straight out in front of you. Twist your torso to one side while keeping your hips facing forward. Return to the starting position and then twist to the other side. Repeat this motion for 10-15 repetitions. Torso twists warm up the core muscles and improve rotational flexibility, which is crucial for generating power and executing shots in pickleball.
5. Lunges with Rotation:
Take a step forward with your right foot into a lunge position. As you lunge, rotate your torso to the right, reaching your right arm towards the right foot. Return to the starting position and switch sides, lunging with the left foot and rotating the torso to the left. Repeat this exercise for 10-15 lunges on each side. Lunges with rotation warm up the lower body muscles, increase hip mobility, and engage the core muscles.
Frequently Asked Questions?
What is the best way to improve in pickleball?
The best way to improve in pickleball is to practice, practice, practice. Pickleball drills are an excellent way to improve your game. Playing as much as you can is also a good way to improve your gameplay.
One thing that I do recommend is that you look at the Rating Guide for players put out by the USA Pickleball Association. Look at what they deem necessary to be considered to move from a 2.0 to a 3.0 to a 3.5 etc. It helped me to learn what to focus my training and pickleball drills on. As an example, the 3rd short drop or intentionality of where you hit the ball. It all matters.
How do you practice pickleball drills?
You can practice them at home in your driveway for several pickleball drills, on a court, against a wall. There are many ways to practice pickleball drills.
How do you see the pickleball better?
As my coach has told me a thousand times, you should always be able to read the name on the ball when it comes over.
One of the most simple pickleball drills you can do to see the ball better is to hold your paddle and bounce the ball up in the air as many times as you can. It teaches great paddle, ball, and eye coordination. There are also training aids, like the sweet spot trainer by Franklin, that will force you to see and hit the ball better.
What three skills do you need to play pickleball better?
3rd Shot Drop
Dinking and Dinking Volley Skills
Blocking or Resetting Skills at the Kitchen Line
Your pickleball drills should consistently focus on these skills.
What is a 2.5 player?
At USA Pickleball Association, the governing body for Pickleball, has excellent definitions for each rating level. I recommend you read these and measure the progress of your pickleball drills.
Closing Thoughts
It's important to remember that pickleball drills are about more than repetitively hitting a ball. Each drill is a journey towards becoming a better player, where the focus is on quality, not quantity. Incorporate these drills into your training routine, and over time, you'll see a substantial improvement in your pickleball game, regardless of the number of players at hand.
I do these pickleball drills every week, and my game continues to improve. Remember, consistency is key: Keep practicing, and you'll become the player you aspire to be.