5 Best Portable Pickleball Nets: All Budgets
So you are looking for portable pickleball net systems. There are some good ones to choose from. These are great if you want to take the pickleball court with you anywhere you go. I have seen them in many different places, like driveways and parking lots. These portable net systems are definitely easy to take anywhere. It's like having a pickleball court in your trunk.
In general, technological advances in pickleball equipment, whether ball machines, nets, line systems, visual training, and others, are impacting the accessibility of the sport.

What Are Portable Pickleball Net Systems?
A portable net is a net that can be easily disassembled and reassembled, making it easy to transport and store. They are typically metal and come with a carrying case. They generally are regulation-sized to ensure the pickleball court is legal. There are nets that can convert to single practice if space is limited.
A portable pickleball net system is a great option for people who want to be able to play pickleball anywhere. They are also good if you live in an apartment or other small spaces where a permanent pickleball net would not be practical.
What Are The Benefits Of Using A Portable Pickleball Net?
Portability: They are easy to disassemble and reassemble, making them easy to transport and store.
Convenience: Ease of assembly. They can be set up in just a few minutes, so you can start playing pickleball right away.
Versatility: They can be used indoors or outdoors on any hard surface.
Affordability: They are typically more affordable than permanent pickleball nets.
If you are looking for a way to enjoy pickleball anywhere a portable net is a great option.
What Are the Regulation Dimensions Of A Pickleball Net?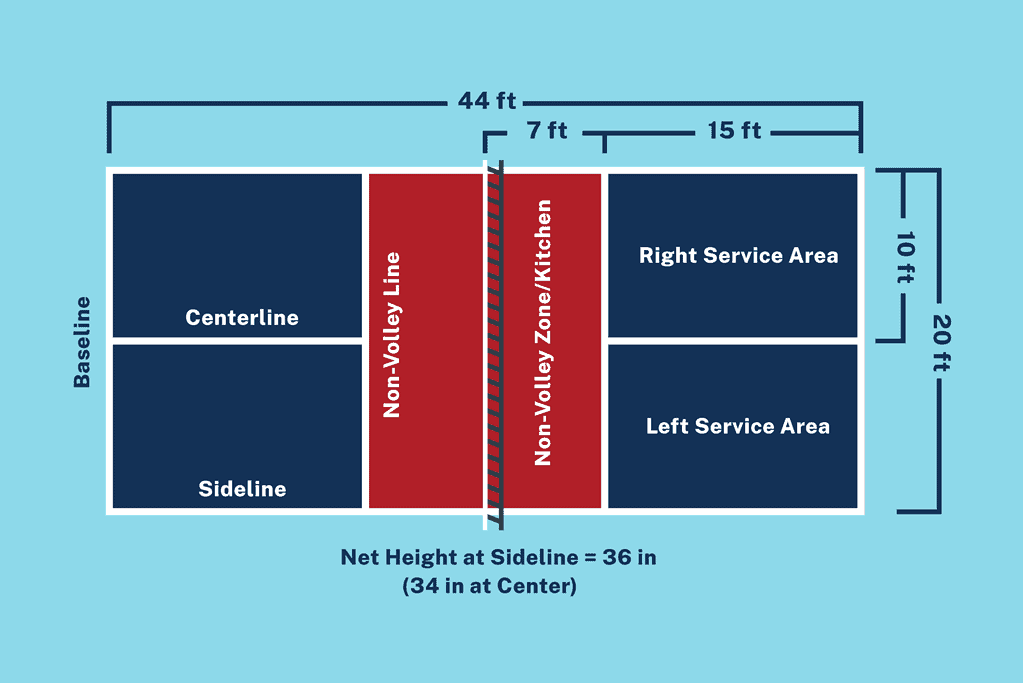 The USA Pickleball Association is the official governing body for pickleball. The following are the regulation size requirements for a net system.
Height: 34 inches in the middle and 36 inches at the posts.
Width: 22 feet.
Length: At least 21 feet 9 inches.
Material: Any mesh fabric the ball can't pass through.
Posts: The posts should be made of metal or wood and should be no more than 3 inches in diameter.
Center Strap: A center strap is recommended for a permanent net. Most nets will normally include this. The strap is placed in the center of the net and should be adjusted to the 34-inch height requirement at the center.
The net should be positioned at the center of the pickleball court. It should measure 36″ tall on the sidelines and 34″ in the middle of the pickleball court. The net can touch the pickleball court surface but cannot lie or drape on the court surface.
Here are some additional rules about a pickleball net system:
The net must be taut and free of any obstructions.
The net must be evenly distributed between the two posts.
The net must withstand the force of a ball hit at it.
If a net does not meet the legal dimensions, it is illegal, and the game cannot be played
What Should You Look For In A Portable Net System?
Size: Make sure the portable pickleball net system meets the regulations.
Materials: The net should be made of a durable material that can withstand the elements. Am metal frame is the best for the structure.
Weight: Most of the nets are within 2-3 lbs of each other. Pick one that is easiest for you. Most should have a carry bag. One with rollers is a plus. Weight also plays a factor in windy conditions making the net more stable.
Easy Set Up: Easy assembly is key. They should take just a few minutes to assemble and disassemble in a relatively short amount of time.
Warranty: Some nets come with a warranty. This can be helpful if there is any equipment issues.
Price: Portable pickleball nets range from around $50 to $200. Choose a net that fits your budget and your needs.
What Are The Best Portable Pickleball Net Systems?
Below we are going to review the best portable pickleball nets that are and a include those that can be used as tournament nets. There are portable options available to give you a great play experience.
How Do The Net Systems Compare?
Rally Portable Pickleball Net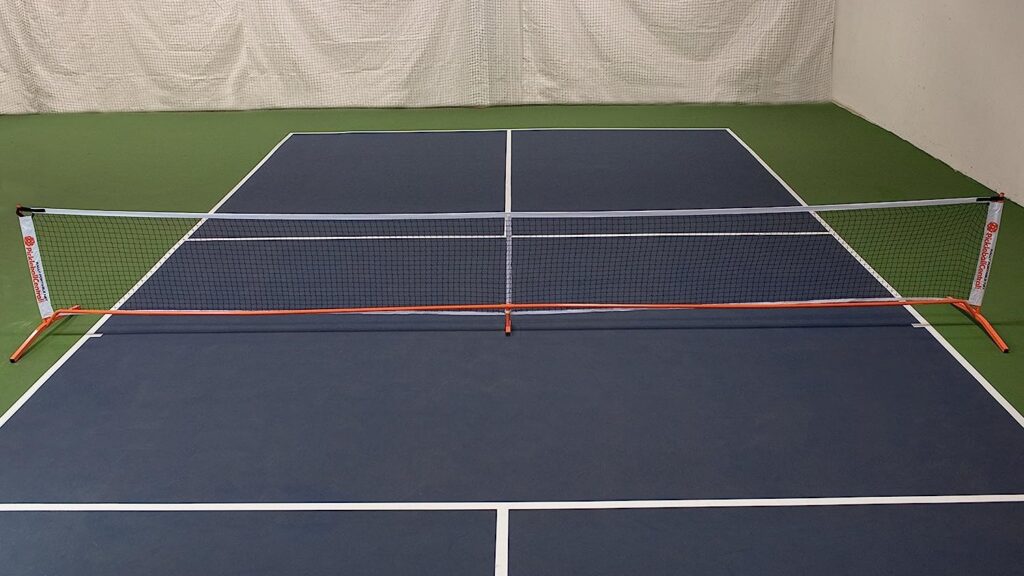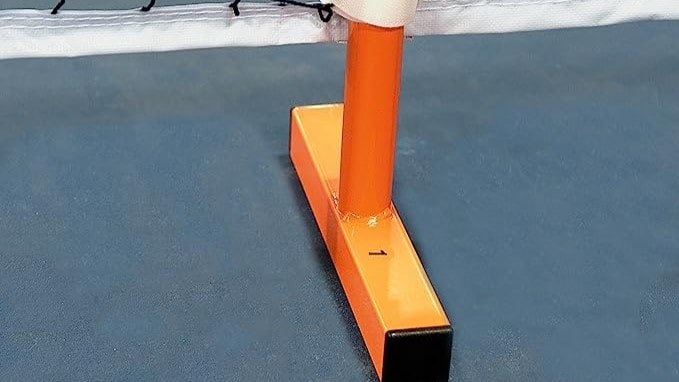 The Rally portable pickleball net is the same net as the PickleNet Classic. They are both manufactured by Oncourt Offcourt.
The Rally net is branded through Pickleball Central. Pickleball Central does offer some additional products with this net. These include, a ball holder that attaches to the net and pickleballs (8). They also offer a replacement net.
Features:
Onix 2-in-1 Pickleball Portable Net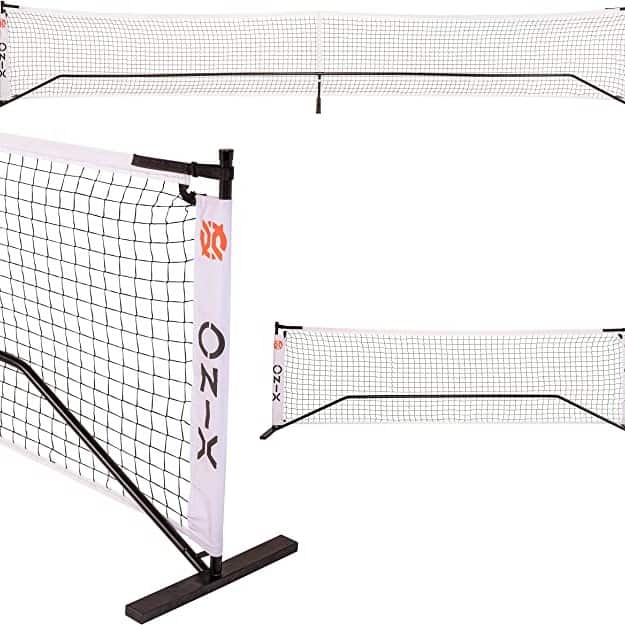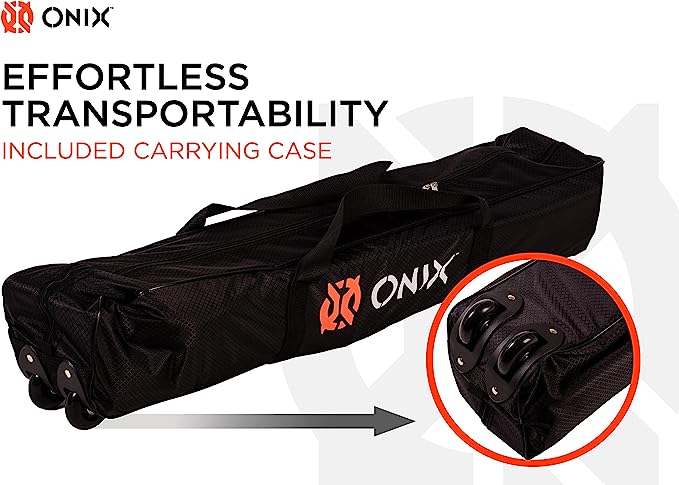 With Onix, you get a high-quality, regulation-size portable pickleball net and a second 10-foot net in the super-light package that works as practice equipment. You have everything you need in a carrying case no heavier than some of the budget nets on the market.
It must take ages to switch between nets, though. Nope! You can swap them out in a flash and practice before your partner gets off the court. The ONIX is really one of the class leaders in portability.
Features:
Oncourt Offcourt PickleNet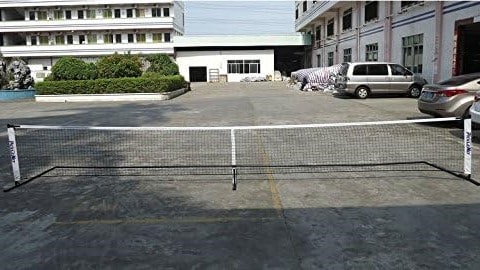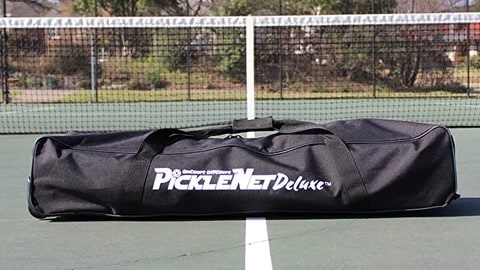 Oncourt Offcourt has redesigned its portable pickleball net system. They moved from round tubing to oval tubing. This has improved the overall strength and structure of the system and delivered great quality improvements.
However, the new design does weigh more than their prior design. You can still get the round tube and lighter weight design in their 'Classic PickleNet.' This system is $20-30 lower in cost.
Features:
3.0 Portable Pickleball Net System
If you are looking for a high-quality, portable pickleball net that is easy to set up and take down, the 3.0 portable pickleball net is a great option.
The 3.0 portable pickleball net is a great option for players who want a net that is easy to set up and take down, is durable, and can be adjusted to the standard height. It is a popular choice for players of all levels, and is a great way to enjoy the game of pickleball anywhere.
Features:
Amazin Aces Portable Pickleball Net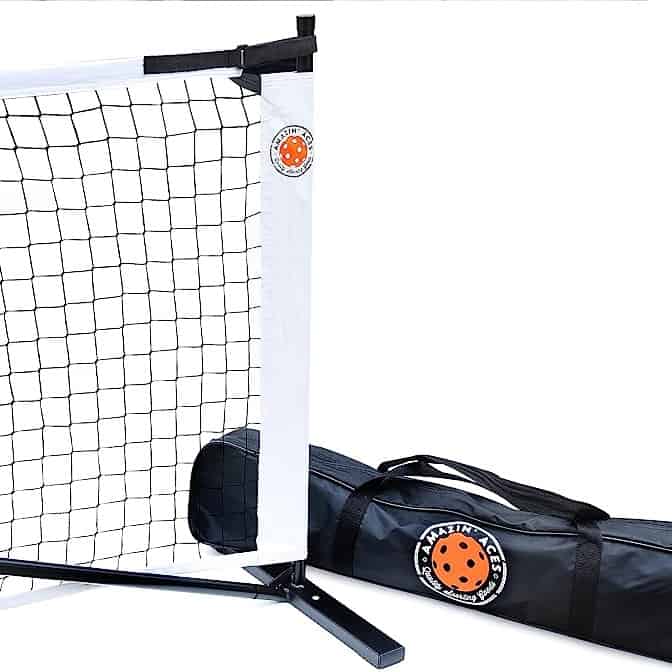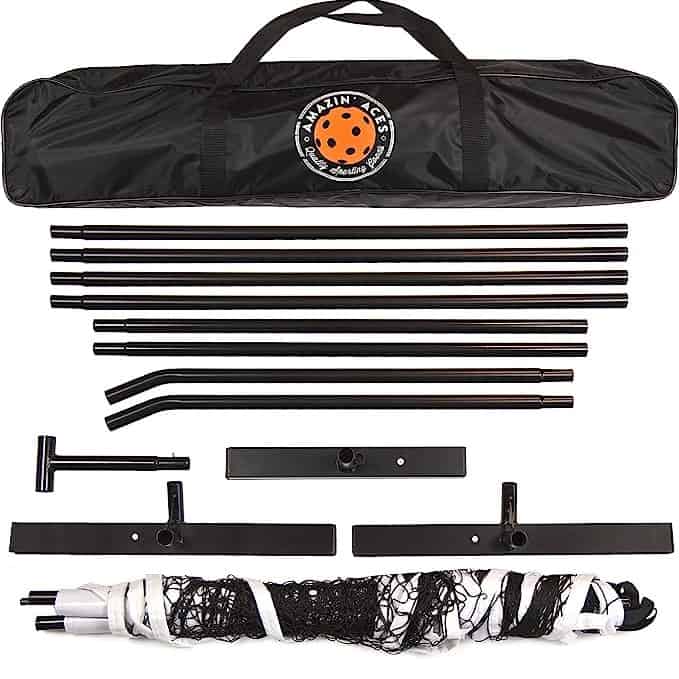 The Amazin Aces Portable Pickleball Net is a convenient and reliable choice for those wanting a lower cost option. Its quick assembly, durable construction, and compact portability allow players to set up a court wherever they go. It's the perfect solution for those seeking a portable, hassle-free pickleball experience.
Features:
SwiftNet 2.1 Pickleball Net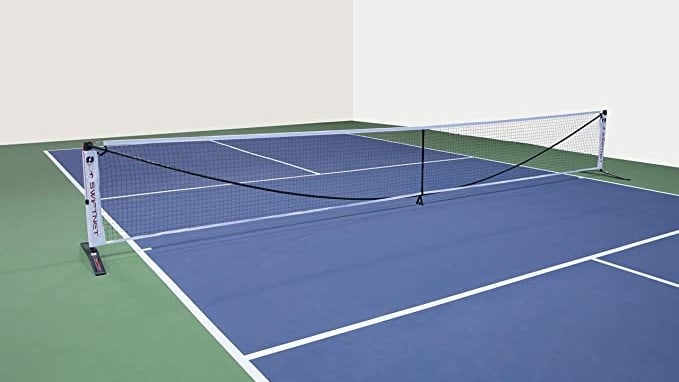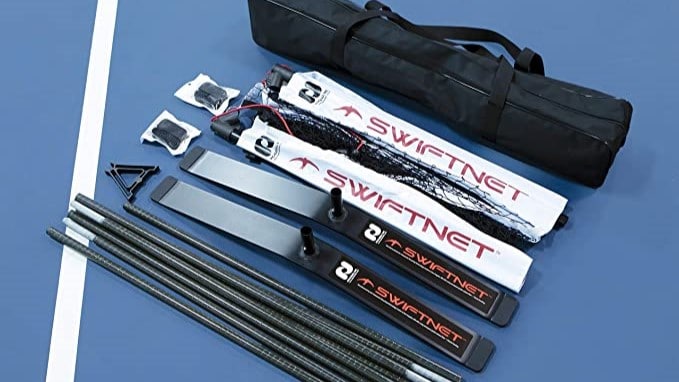 The SwiftNet 2.1 pickleball net is an evolution in technology. It is made from aerospace-grade carbon fiber. It is one of the best full-size portable net systems on the market today. It is a great quality net and will last for years.
Technology this net brings to the market:
Material: Aerospace-grade carbon fiber. It won't rust or degrade.
Less Parts: It is designed with assembly in mind eliminating one of the big complaints in putting nets together. It takes significantly less time and is very easy to assemble.
Weight: This is the lightest of the nets we have reviewed. While it doesn't have a wheeled bag, it doesn't need one. This is truly a portable system.
Features:
Frequently Asked Questions
What are the dimensions of a portable pickleball net?
The dimensions are 22 feet wide, 36 inches high at the sidelines, and 34 inches high in the center.
Can you use portable nets in tournaments?
Yes. If the courts are not permanent courts, then portable nets are allowed.
Are tennis nets and pickleball nets the same?
No. Pickleball nets are 22 feet wide and 36″ tall at the posts and 34″ at the center of the pickleball court. Tennis nets are usually 27.5′ wide and 36″ tall in the center of the court surface.
Can you buy used portable pickleball nets?
Yes. There are several outlets that sell used nets. Play it Again Sports, Amazon, eBay and others have used nets for sale.
Can you convert a tennis net to a pickleball net?
Yes you can if it has a center tensioning system or internal bungee cord. You can tighten this to get the net from 36″ at center to 34″ at center. If your tennis net doesn't have this feature, then a portable pickleball net is your best bet.
What is the USA Pickleball Association?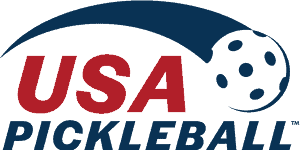 The USA Pickleball Association (USAPA) is the national governing body and organization dedicated to promoting and developing the sport of pickleball in the United States. The sport of pickleball combines elements of tennis, badminton, and table tennis. The USAPA was established in 2005 and has since played a crucial role in growing the popularity of pickleball across the country.