Ronbus R1.16 Pickleball Paddle: Best for Every Level
In pickleball, the paddle you choose can make all the difference. Today, we'll dive into the details of the Ronbus R1.16 pickleball paddle, a game-changer making waves in the pickleball community.
With its impressive power, precision, and performance, the R1.16 is poised to revolutionize how players approach the game. Ronbus is a relatively new player in the paddle market located in Lexington, Ky.
Unveiling The Ronbus R1.16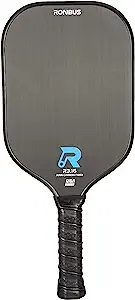 The Ronbus R1.16 is a pickleball paddle designed with all-court control in mind. It boasts a raw Toray T700 carbon fiber face, giving it a unique advantage in spin and control. The average weight of this paddle is 8.2 oz, making it a well-balanced option for most players.
The Purpose And Passion Behind This Review
This review is about more than just going through the specifications of the Ronbus R1.16. It's about sharing my experience with this fantastic paddle and helping you understand what sets it apart. Whether you're a beginner or an experienced player, this review has something for everyone.
Who Should Be Looking At The Ronbus R1.16?
This paddle is perfect for those players who want a mix of power and control. If you are someone who loves to command the court with precision shots, then the R1.16 is worth considering. It's also ideal for those who value good design and solid construction. It is an especially well-designed paddle for seniors or those looking for lighter paddles.
Key Features Of The Ronbus R1.16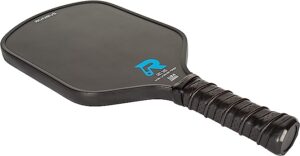 The Power-Driven Design
At first glance, the Ronbus R1.16 may look like any other pickleball paddle. Still, a closer examination reveals its power-driven design.
The core thickness and elongated shape help deliver powerful and accurate shots.
The paddle also boasts a Polypropylene Honeycomb core, which enhances its strength without adding extra weight.
What's The Difference Between A 14mm And A 16mm Pickleball Paddle?
The 14mm, it's a bit thinner. That gives it some extra power behind those hits. On the 16mm version, it's a bit thicker. This one lets the ball stay on the paddle a touch longer. That means more spin, better control, and a big sweet spot.
Control, Spin & Precision
One of the major highlights of the R1.16 is its ability to deliver high spin rates.
Thanks to the Toray T700 carbon fiber surface, the paddle offers excellent grip, allowing you to place the ball exactly where you want.
This level of control is unmatched in this price range, making the R1.16 a valuable addition to your pickleball gear.
Speed? Check. Balance? Check.
The R1.16 is not just about power and control; it's also about speed and balance. Despite its sturdy construction, the paddle feels light and moves quickly, giving you fast hands at the net/kitchen. Plus, the 5.5″ handle length is optimal for players who prefer a two-handed backhand.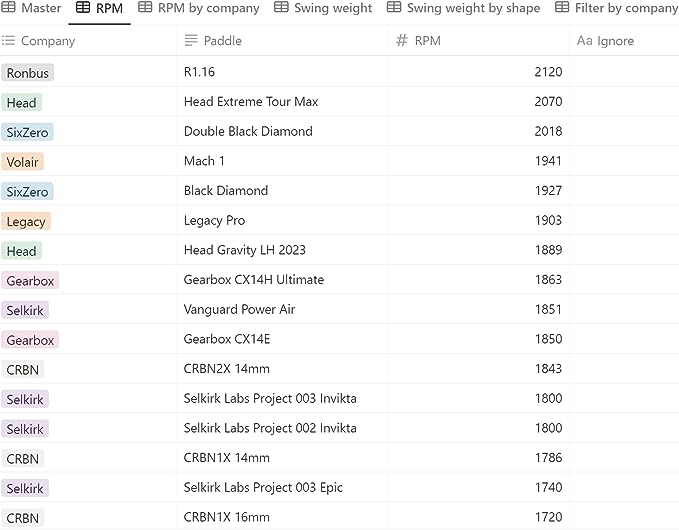 Comparing R1.16 to R3.16
While they share many similarities, the R1.16 and R3.16 differ in their shape, thus affecting their weight balance. The R1.16 is well-balanced and best for control, while the R3.16 is a bit head-heavy, providing more power. Depending on your playstyle, you may prefer one over the other.
User Experience, Getting Hands-On
Unboxing The R1.16
Unboxing the R1.16 was exciting. The paddle's minimalist design and clean aesthetics were immediately appealing. It felt sturdy yet lightweight, promising a balanced blend of power and control.
Testing The Paddle's Performance
Upon taking the R1.16 out for a test run, I was impressed. The paddle performed exceptionally well, whether it was gripping, swinging, or smashing. The grip was comfortable, the swing was swift, and the smashes were powerful. Even after hours of play, the paddle remained comfortable to hold and maneuver.
Comfort and Ergonomics: How Does It Feel?
When it comes to comfort and ergonomics, the R1.16 scores highly. The elongated shape and 5.5″ handle length make it easy to grip, even during intense play. One person who borrowed my paddle noted that it felt less head-heavy than the Hyperion, contributing to its overall comfort.
Efficiency on the Court
Does It Deliver?
In terms of real-world performance, the R1.16 definitely delivers. Its high spin rate and power make it a force to be reckoned with on the court. Whether you're playing a casual game or a competitive match, this paddle will not let you down.
The Influence of Shape and Weight on Gameplay
The shape and weight of a paddle can significantly influence gameplay. The R1.16, with its well-balanced weight and rounded top, provides excellent control, making it ideal for players who prioritize precision. However, if you prefer a little extra power, the slightly head-heavy R3.16 could be a better choice.
Durability Test: How Long Does the R1.16 Last?
While it's too early to comment extensively on the R1.16's durability, initial impressions are positive. The paddle seems well made, with no signs of flimsy construction. The absence of exposed polymer under the overgrip is a good sign, as many paddles in this price range tend to have unsealed honeycomb cores.
Pricing and Value Proposition
What's the Damage? Pricing Overview
The Ronbus R1.16 is priced at $120, but you can get it for $100 using the code DASHPB. Considering its features and performance, this is quite a competitive price, especially compared to other paddles in the market.
Comparing Ronbus R1.16 to Joola Hyperion and Other Competitors
Compared to the Joola Hyperion, which retails at $220, the R1.16 offers similar performance at nearly half the price. In fact, it even surpasses the Joola Vision line, priced at $170, in terms of value for money. Moreover, the Volaire Mach 1 paddle, identical to the R1.16 but priced at $160, further underscores the R1.16's excellent value proposition.
Feature, Spec And Pricing Comparison
| Feature | Ronbus R1.16 | Joola Hyperion* | Volair Mach 1* |
| --- | --- | --- | --- |
| Price | $120 | $220 | $160 |
| Type | All-court/control | All-court/power | All-court/power |
| Warranty | 6-month warranty | 1-year warranty | 1-year warranty |
| Shape | Elongated | Elongated | Elongated |
| Core thickness | 16mm | 16mm | 16mm |
| Face | Raw Toray T700 Carbon Fiber | Raw Graphene Carbon Fiber | Raw T700 Carbon Fiber |
| Average weight | 8.2 oz | 8.1 oz | 7.9 oz |
| Grip length | 5.5″ | 5.5″ | 5.5″ |
| Grip size | 4.25″ | 4.25″ | 4.3″ |
| Core | Polypropylene Honeycomb | Polypropylene Honeycomb | Polymer |
| Swing weight | 117 | 116 | 114 |
| Total length | 16.5″ | 16.5″ | 16.5″ |
| Width | 7.5″ | 7.5″ | 7.5″ |
| Spin | High | High | High |
| Power | Medium | High | High |
| Control | High | Medium | Medium |
Comparison Summary
*Check Prices on Amazon; Prices subject to change
Is the Ronbus R1.16 Worth Every Penny?
Having tested the R1.16 extensively, I think it's definitely worth every penny. The paddle offers excellent power, control, and spin, all at a very competitive price. Whether you're a beginner or an experienced player, you'll find that the R1.16 offers excellent value for your money.
Customer Support and Service
Support Channels and Responsiveness
Ronbus offers a 6-month warranty on the R1.16, which is a testament to their confidence in the product's durability. In terms of customer support, they have a responsive team that can be reached through their website. While I didn't have any issues with my paddle, it's reassuring to know that help is readily available if needed.
Quality Of After-Sales Service, Is It Up to Par?
While I can't comment on the after-sales service from personal experience, online reviews suggest that Ronbus is committed to customer satisfaction. Most users report positive interactions with the support team, highlighting their prompt responses and eagerness to resolve issues.
Extra Resources for the Pickleball Enthusiast
In addition to their quality products, Ronbus also provides additional resources for pickleball enthusiasts. Their website features a wealth of information on pickleball techniques, strategies, and equipment, making it a valuable resource for players of all levels.
Pros and Cons: Weighing it All Up
The Reasons to Love Ronbus R1.16
There's a lot to love about the R1.16. From its power-driven design to its top-tier spin and control, this paddle ticks all the boxes for an all-court paddle. Its minimalist design is appealing, and the construction quality is impressive. Plus, it offers great value for money, especially when compared to pricier competitors.
The Areas for Improvement, Any Deal-Breakers?
No product is perfect, and the R1.16 is no exception. One area for improvement is the absence of edge foam, which could make the sweet spot more forgiving. However, this is a minor issue and does not significantly take away from the overall performance of the paddle.
Best Scenarios for Using the R1.16
The R1.16 is versatile enough to be used in a variety of scenarios. Whether you're involved in a casual backyard game or a competitive tournament, this paddle will serve you well. Its blend of power, speed, and control makes it an excellent choice for players who want to dominate the court.
Alternatives to Consider
Top Rivals in the Pickleball Paddle Market
While the R1.16 is undeniably impressive, there are other paddles worth considering. The Joola Hyperion and Volaire Mach 1 are both high-quality options. If you prefer a paddle with a square shape and a bit more head-heavy, the Ronbus R3.16 is another excellent alternative.
Feature and Price Comparison, How Do They Stack Up?
When compared to its competitors, the R1.16 holds its own. It offers similar (or even better) performance than the Joola Hyperion and Volaire Mach 1 but at a much lower price. The R3.16, while slightly different in shape, delivers comparable performance at the same price point.
Picking the Right Paddle Based on Your Playing Style
The best paddle for you ultimately depends on your playing style. If you prioritize control and precision, the R1.16 is a great choice. If you prefer a bit more power, consider the R3.16. Regardless of which one you choose, you can be confident that you're getting a top-tier paddle.
The Verdict
Summing Up the Strengths and Shortcomings of R1.16
The R1.16 boasts many strengths, including its power-driven design, high spin rate, and excellent balance. Its only major shortcoming is the lack of edge foam, but this doesn't significantly impact its performance. It offers superb value for money and is a solid choice for any pickleball player.
Personal Recommendation, Is Ronbus R1.16 a Game-Changer?
From my personal experience, the R1.16 is indeed a game-changer. It offers a fantastic combination of power, speed, and control, all at a very competitive price. Whether you're a beginner or an experienced player, the R1.16 can help take your game to the next level.
To Buy or Not to Buy, Is the R1.16 a Worthy Investment?
If you're in the market for a new pickleball paddle, the R1.16 is certainly worth considering. It's a well-rounded paddle that delivers excellent performance without breaking the bank. So, if you want to elevate your game without spending a fortune, the R1.16 is a worthy investment.
Frequently Asked Questions
Are Ronbus Paddles Thermoformed?
Yes. The R1 Pulsar and the R3 are thermoformed paddles.
Troubleshooting Tips And Maintenance Advice
Keeping your R1.16 in top condition is key to its longevity. Regularly check for any signs of wear and tear, especially around the grip and edge guard. If you notice any damage, it's best to contact Ronbus's customer service for guidance on how to proceed. Additionally, make sure to clean your paddle after each use to remove any dirt or debris that may affect its performance.
Keeping You Updated: Latest News and Developments
To stay up on the latest news and developments from Ronbus, follow their social media accounts and sign up for their newsletter. This way, you'll always get all the exciting updates and new releases from the company.