7 Epic Hikes in Rocky Mountain National Park
Rocky Mountain National Park
Some facts about Rocky Mountain National Park
Now encompassing more than 265,000 acres in northern Colorado, Rocky Mountain National Park remains home to some of the most spectacular scenery on Earth. From wooded forests, to alpine tundra these majestic mountains provide habitat to more than 60 species of mammals, including elk, bighorn sheep, black bears, moose, mountain lions, bobcat and mule deer. More than 280 species of birds visit or reside in the park as well, including such varied species as white-tailed ptarmigans, Clark's nutcrackers, Steller's jays, water ouzels, golden eagles and prairie falcons.
Rocky Mountain National Park is also a hiker's paradise for adventurous types seeking wilderness and solitude. The park offers more than 350 miles of trails that lead to some of the most spectacular scenery on the planet. Roughly one-third of the park is above tree-line, and more than 60 peaks top out above 12,000 feet; with 14,255-foot Longs Peak being the highest. Rocky Mountain also has 147 lakes, roughly 450 miles of streams, and several small glaciers and permanent snowfields that can be found in the high mountain cirques.
Rocky Mountain National Park Service
Our Hiking Trip
On our way to Rocky Mountain National Park , which is on our Bucket List, we got off the AMTRAK train in Granby, Colorado. Granby is a small outdoorsy town buzzing with hiker activity. We rented a car with 100,000 miles on it and drove to Grand Lake where we stayed right on the lake at the edge of Rocky Mountain National Park.
GRAND LAKE
The town of Grand Lake, elevation 8,369′ is located on the north end of the lake and only has a population of 410. There are many different places to stay in Grand Lake, from hotels and motels to cabins and lodges. If you're looking for a more luxurious experience, there are also several resorts in the area.
Our hotel was right on the lake about a half a mile from the first trail that we hiked in Rocky Mountain National Park. We were lucky enough to see our second mouse of the trip. There are six trails that start from town and there are three more within a mile of town. Which makes this one of the most convenient places we have hiked.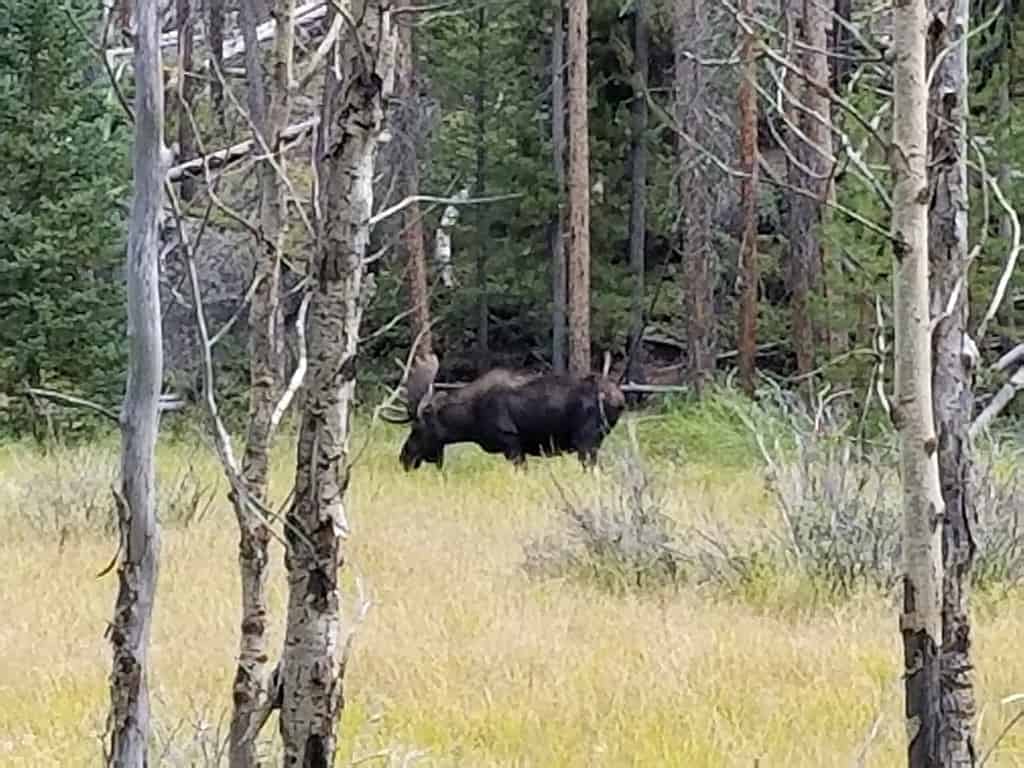 Where to Eat In Grand Lake
Sagebrush BBQ & Grill: This is a classic American barbecue joint with a casual atmosphere. The ribs are my favorite, but they also have great brisket, pulled pork, and chicken.
One Love Rum Kitchen: This Caribbean restaurant is a great place to go for a taste of the tropics. The jerk chicken is amazing, and they also have great rum cocktails.
Grand Pizza: This family-friendly pizzeria serves up delicious pizzas, paninis, and salads. They also have a great selection of craft beers on tap.
The Historic Rapids Restaurant: This restaurant is located right on the banks of the Colorado River. They have a beautiful view of the river and the mountains, and the food is excellent.
The Hub: This coffee shop is a great place to start your day. They have delicious coffee, pastries, and sandwiches. They also have a great outdoor patio with a view of the lake.
These are just a few of the many great places to eat in Grand Lake. No matter what your taste, you're sure to find something to your liking.
ALPINE VISITOR CENTER
One of the must see places is the Alpine visitor center, Rocky Mountain National Park, is at 11,796', is the highest elevation visitor center in the National Park System. This webcam reveals views of Mount Chapin, Fall River Canyon, Old Fall River Road, and part of Trail Ridge.
The visitor center is a must stop on the trail ridge road. The altitude here is no joke. There is a short trail from the visitor center that includes steps. I had to retreat on my first attempt to reach the summit due to the altitude. While we had been hiking at 9k and 10k feet this additional altitude made these steps difficult.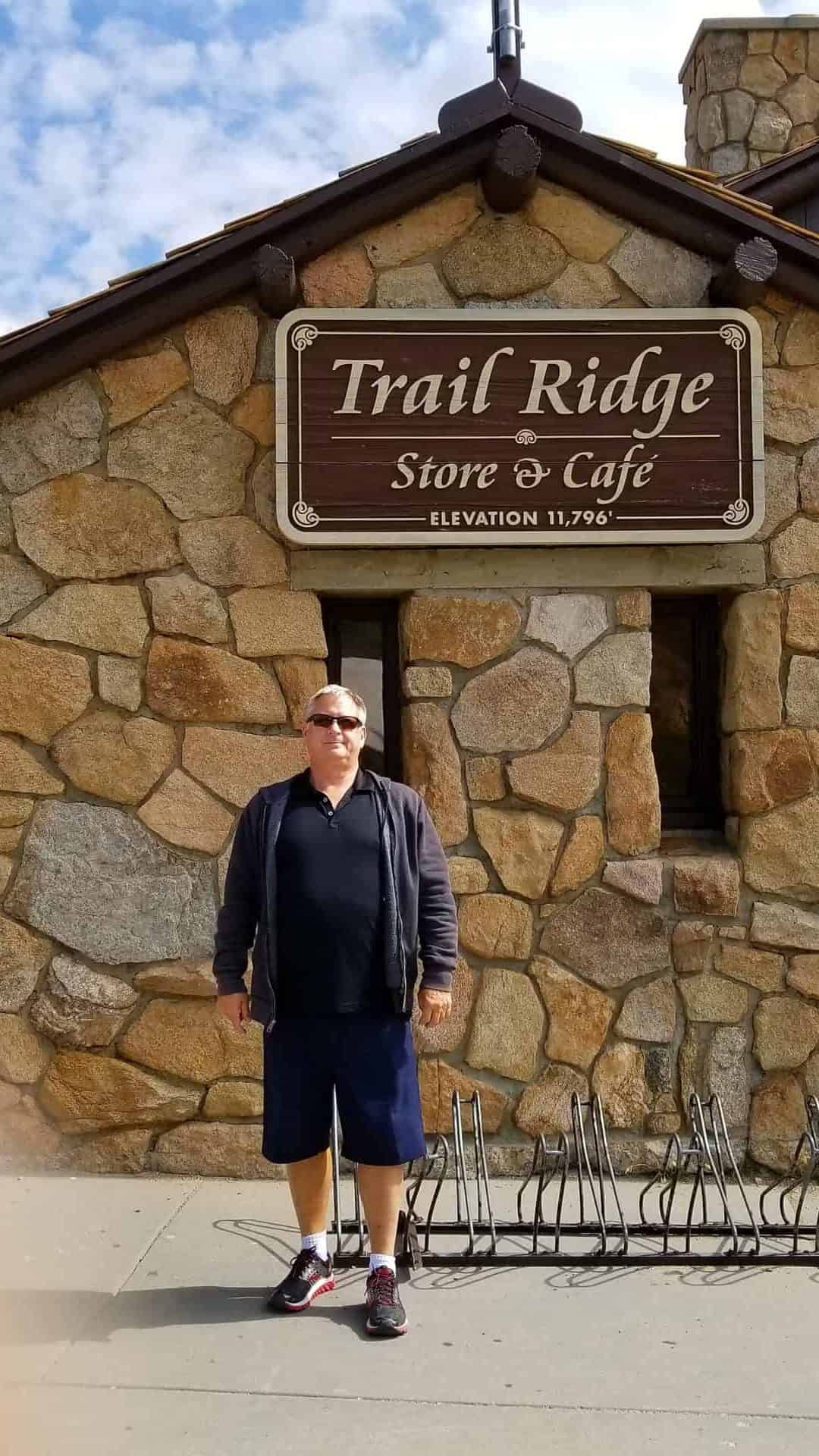 ROCKY MOUNTAIN EPIC HIKES
Sky Pond Hike
Sky Pond trail is an 8.6 mile out and back hike that passes a number of lakes. This is at a high altitude going as high as 11,000 feet. The hike itself has an elevation gain of 1,771 feet. For this reason alone it should be considered difficult. The trail has some of the best views of the park including two waterfalls.
Cascade Falls Hike
Cascade Falls Trail is a 6.8-mile out-and-back trail near Grand Lake, Colorado. Right near our hotel Generally considered a moderately challenging route, it takes an average of 2 h 36 min to complete. This is a very popular area for backpacking, camping, and fishing, so you'll likely encounter other people while exploring. The best times to visit this trail are May through October. This is the trail that we saw the moose on. Unfortunately horses are allowed on the trail and it scared the moose away.
Chasm Lake Hike
Chasm Lake Trail is an 8 mile out and back with an elevation gain of 2,552 and is considered challenging. Chasm Lake is a classic, must-do Colorado hike. You'll get incredible views while traversing the subalpine forest up to the alpine tundra. The lake sits below the spectacular Long's Peak, the highest peak in the park. This hike begins at about 9,000 feet.
Mt Ida Hike
Mt Ida Trail is another trail that starts near grand lake. This 9.4 mile out and back is considered a challenging route. This trail climbs to over 12,000 feet. The trail passes beautiful viewpoints, knobs, and boulders as it takes you above the tree line into the alpine area. The alpine areas are often frequented by marmots and bighorn sheep.
Tombstone Ridge Hike
Tombstone Ridge Trail is a 3.8 mile out and back is near Estes Park and considered moderately challenging. Tombstone Ridge is a narrow ridge with a summit just at the edge of the tree line. This hike takes you up the Ute Trail and along the spine of Tombstone Ridge to its high point and back. You'll get good views once you reach the summit. Keep your eye out for wildlife like bighorn sheep on this trail!
Cub Lake Hike
Cub Lake Trail is a 5.2 mile out and back near Estes Park and is moderately challenging. Cub Lake is a small lake nestled in a steep valley. The area around the lake burned in 2012 in the Fern Lake Fire. The fire impacted the forest around the lake. You'll begin the hike at the Cub Lake Trailhead near Moraine Park Campground. On your route, you'll pass by a number of gorgeous small ponds and through a lovely pine forest. On your way to Cub Lake, you'll be able to see great views of Steep Mountain to the south.
Dream Lake Hike
Dream Lake Trail is for us is on the shorter side at 2 miles. What it lacks in distance it makes up for in incredibly scenery. The trail is clearly marked and easy to follow. The alpine lake water is so clear that you can often see cutthroat trout swimming by. You'll also visit Nymph Lake, which is filled with lily pads in the summer months. This hike is often lined with gorgeous wildflowers during the summer.
Pictures from Rocky Mountain National Park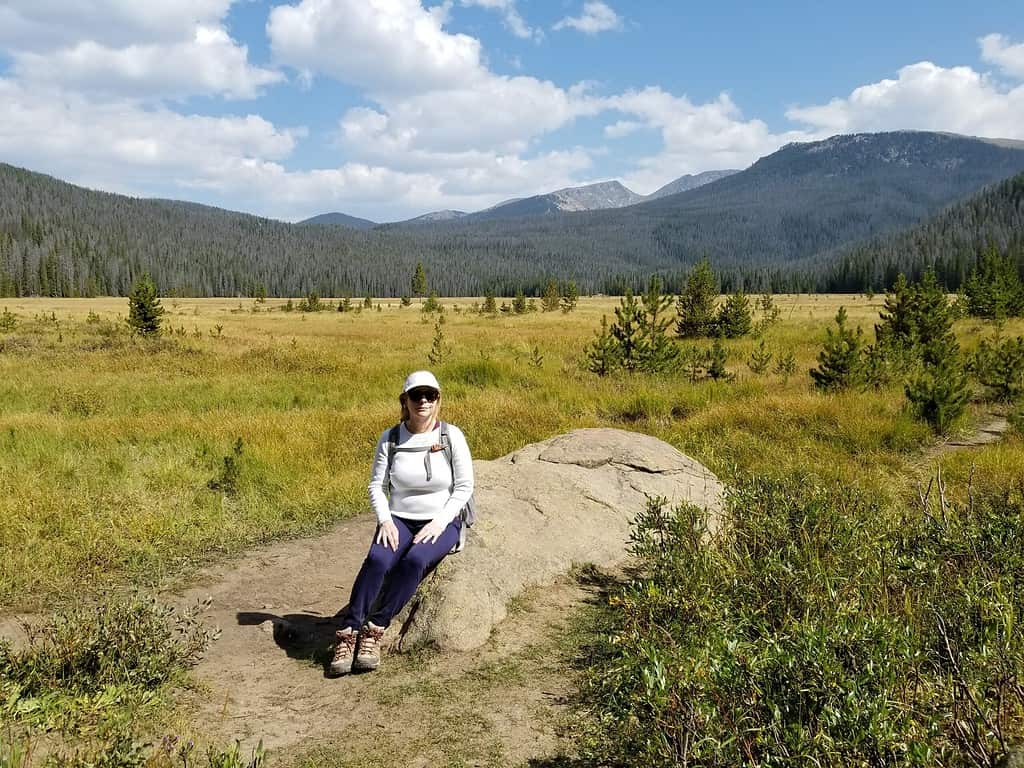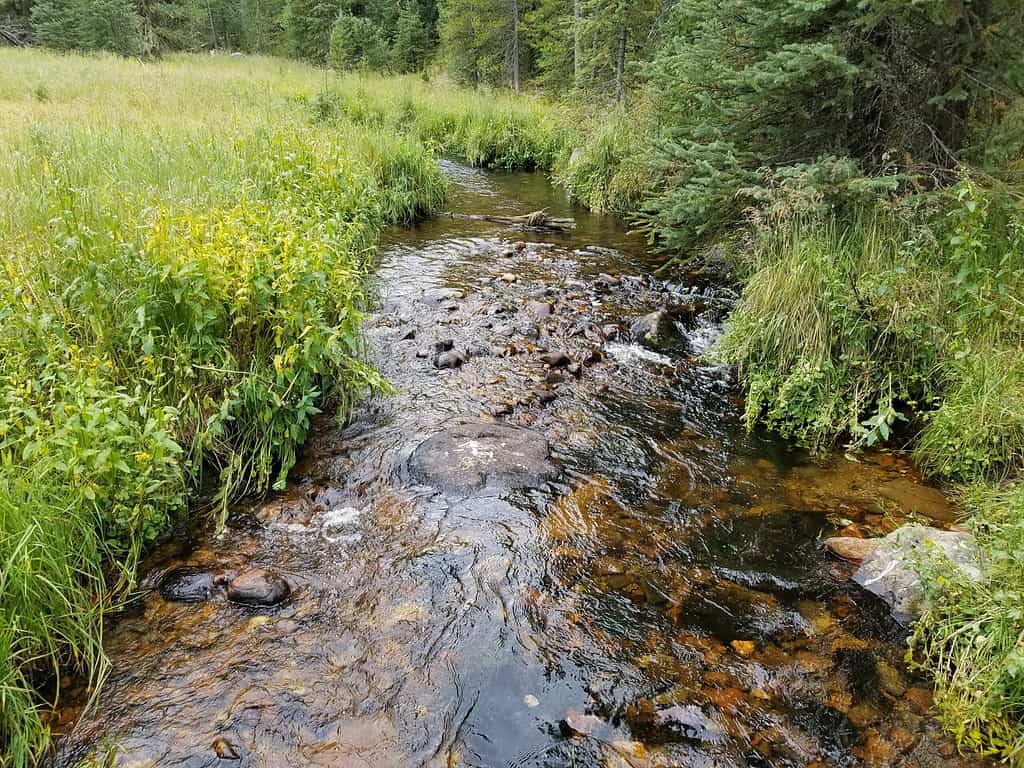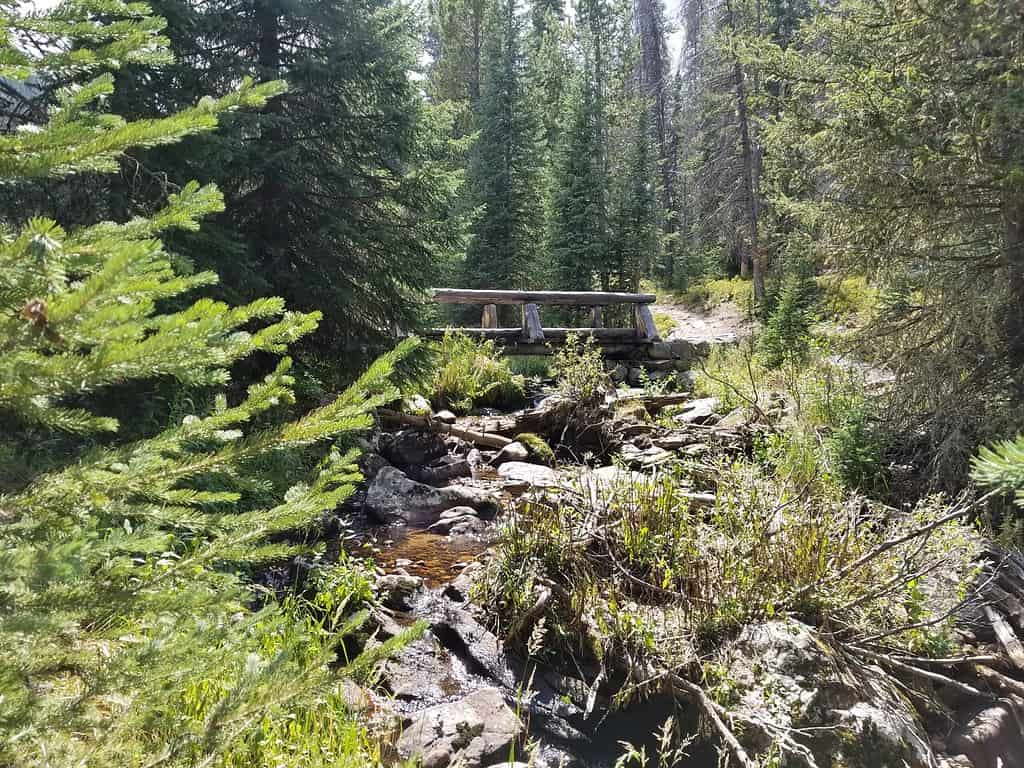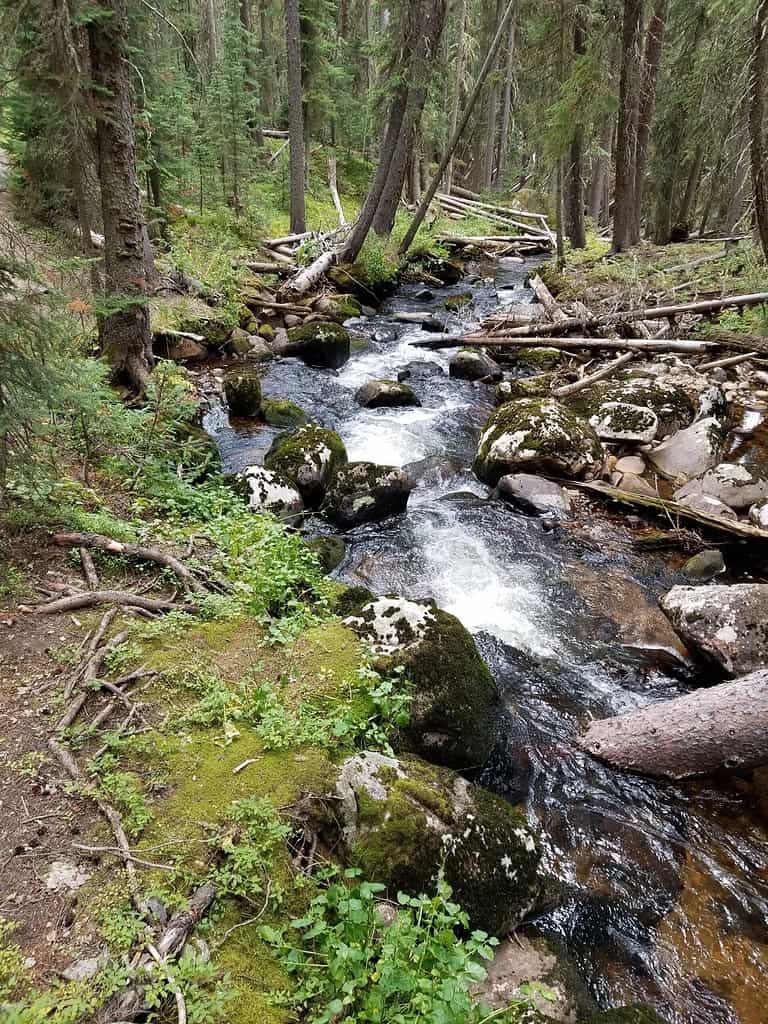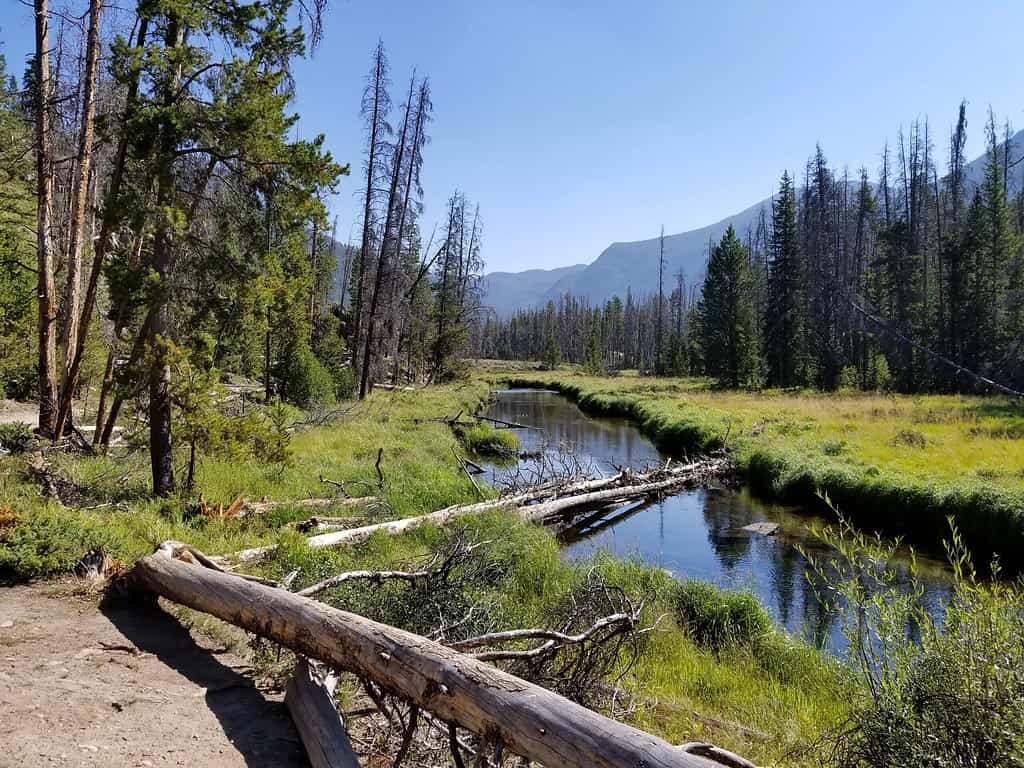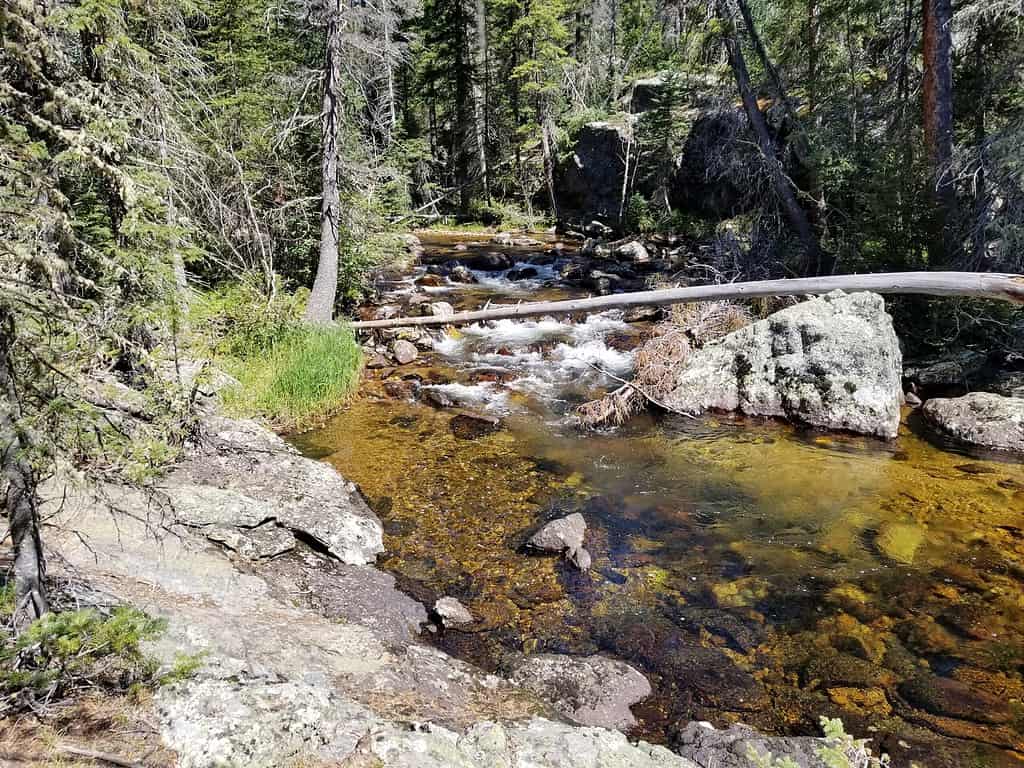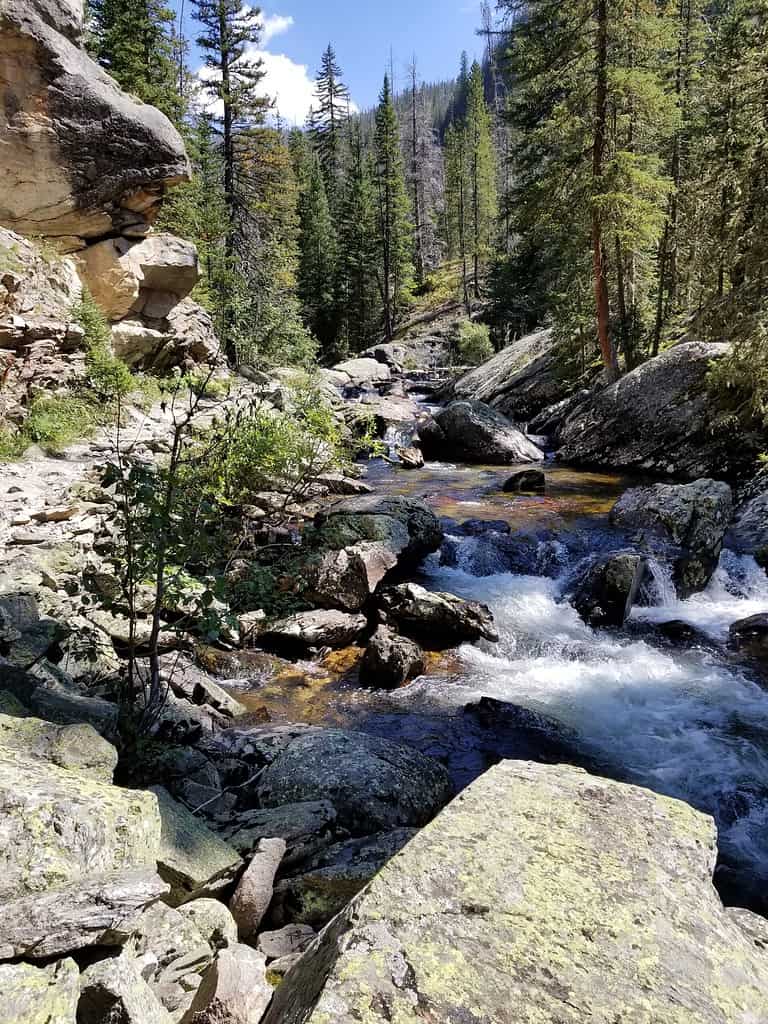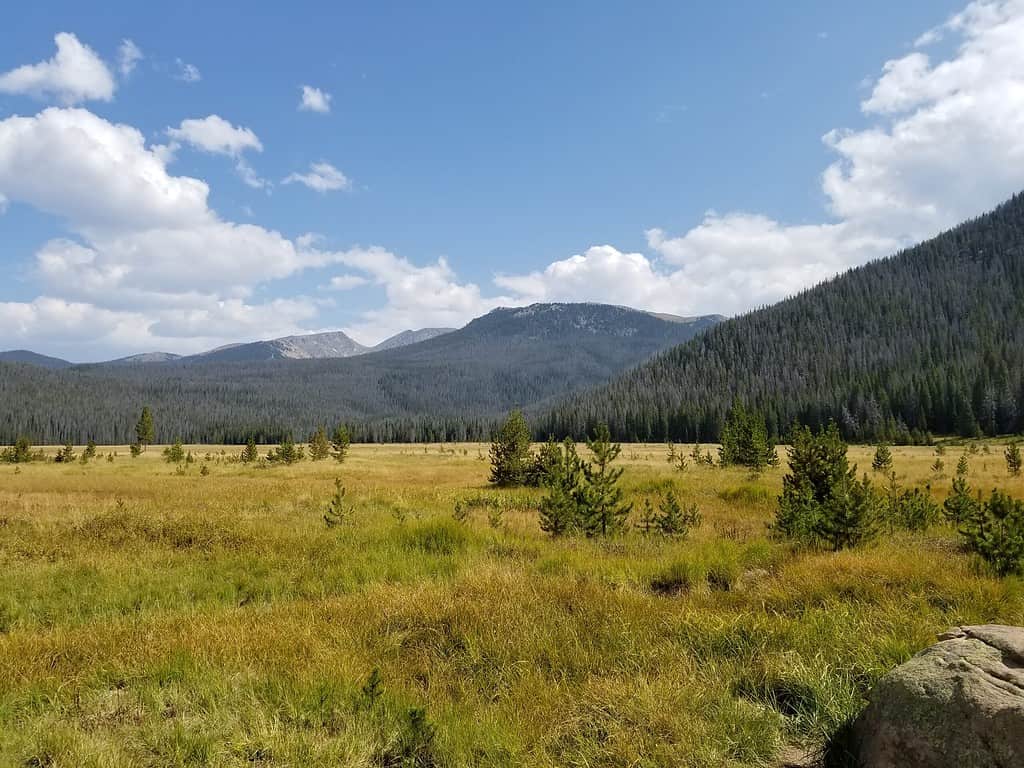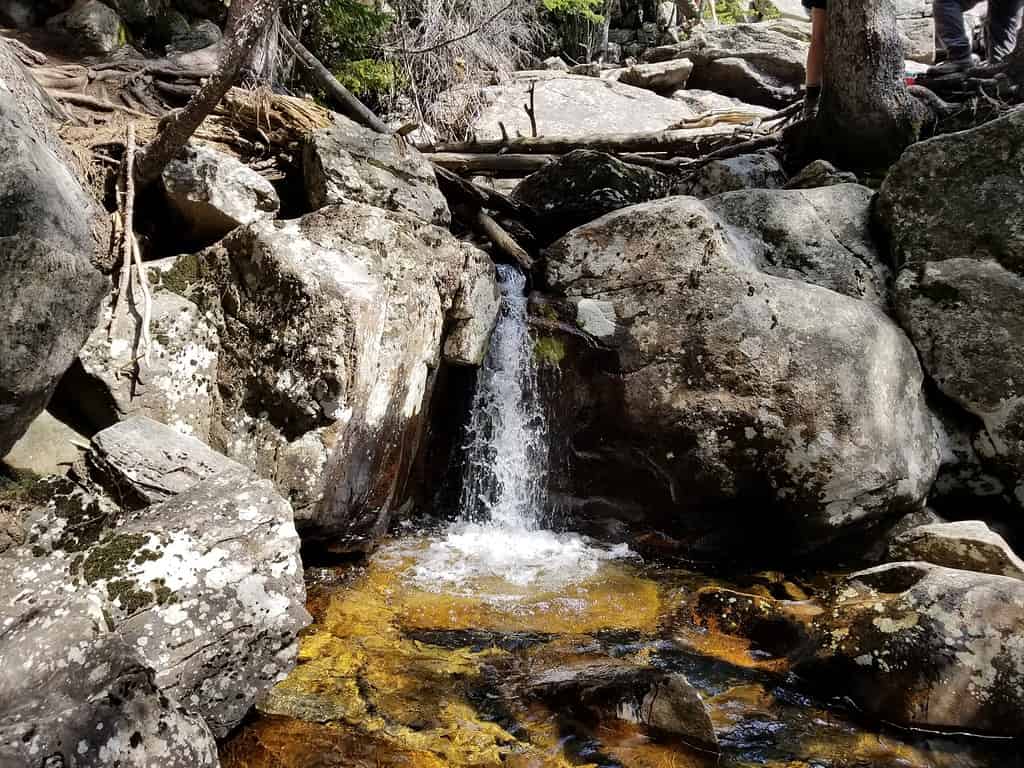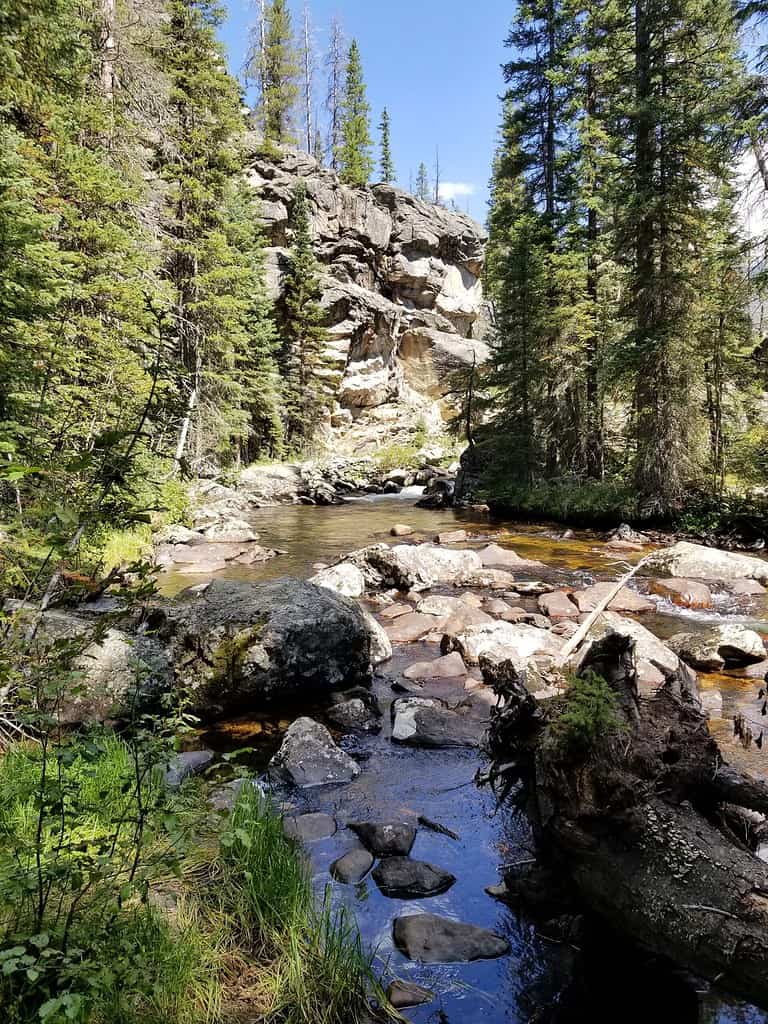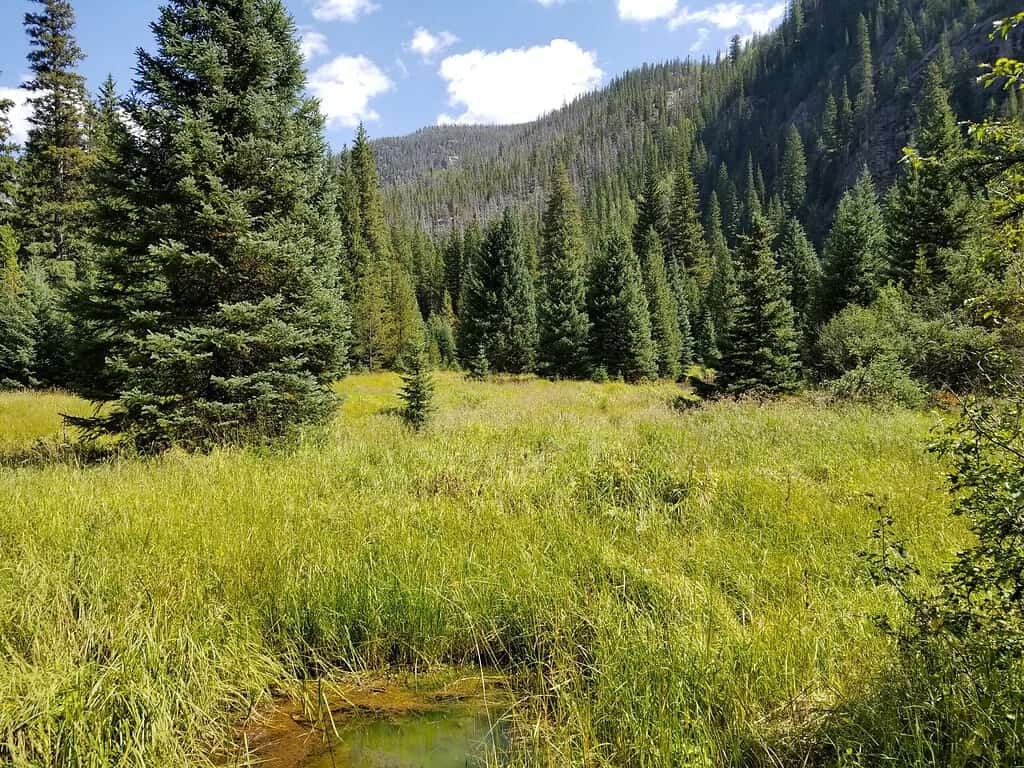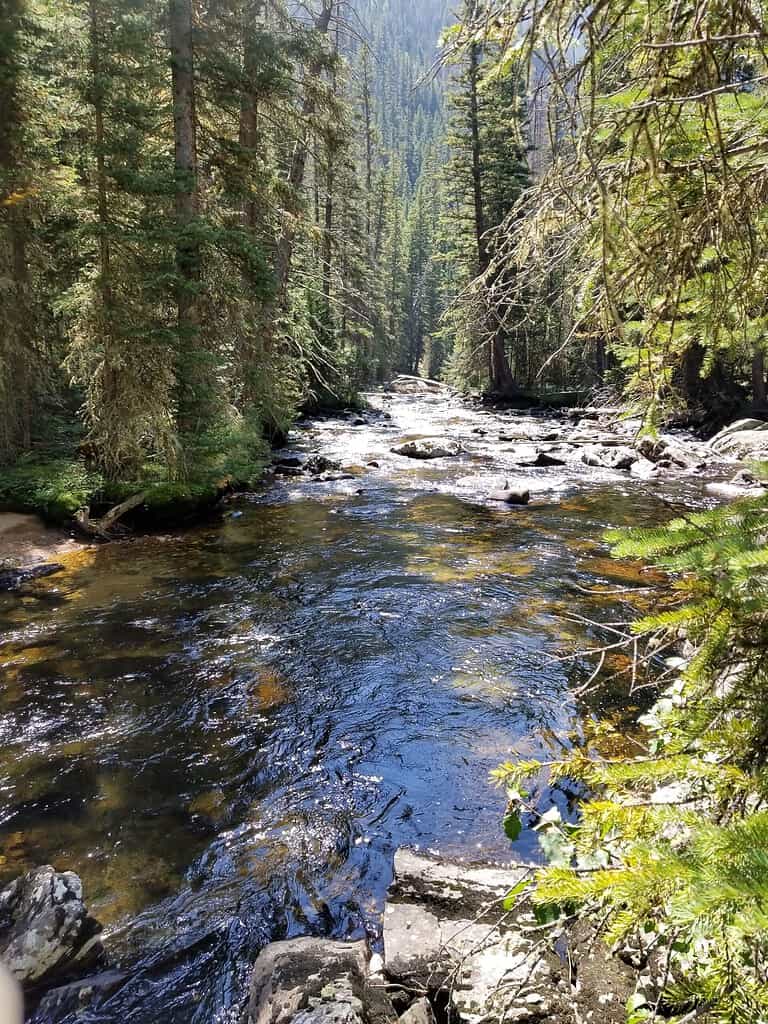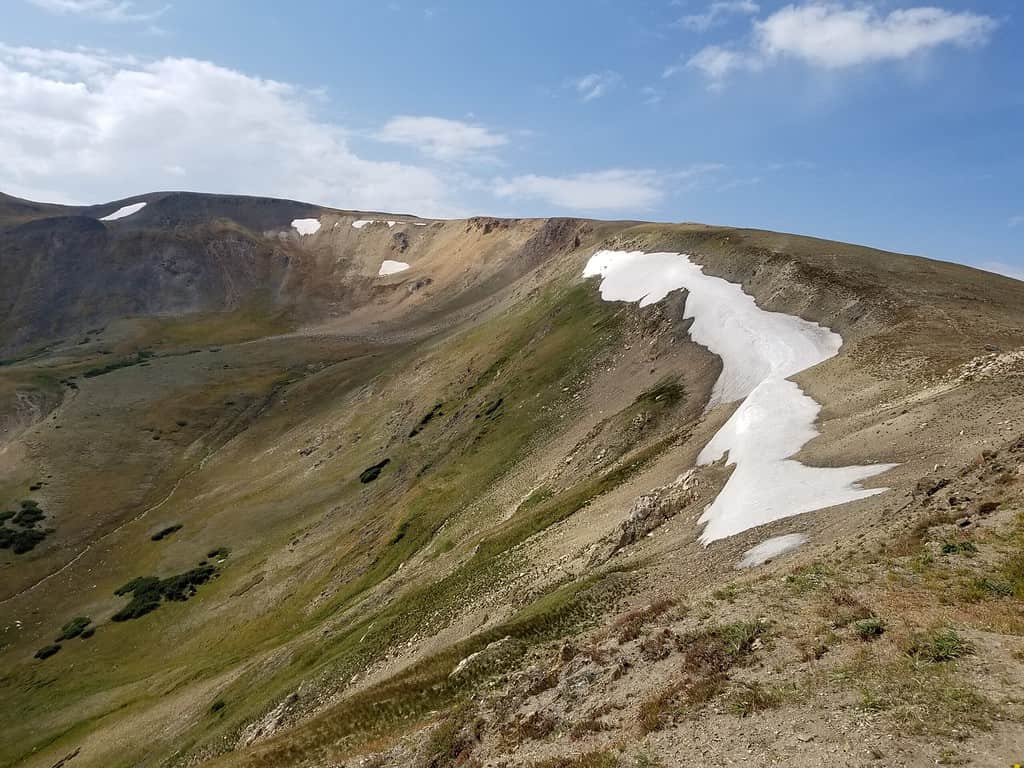 Frequently Asked Questions?
Is Rocky National Park good for hiking?
Yes. It is a beautiful park. There are 87 trails in Rocky National park that range from difficulty, 1-10, by the National Park Service. 1-5 being the easier to 10 being very difficult (think mountain goat difficult!)
How hard is it to hike in Rocky Mountain National Park?
Hiking in Rocky Mountain National Park can be quite challenging, and hiking a trail above your fitness level can make for a less than enjoyable day while out on the trail. It is important to prepare for you Day Hiking. Here are some tips for you.
Do you need bear spray in Rocky Mountain National Park?
The simple answer is yes. You can buy it online at Amazon or most Visitor Centers will have it for sale.
Do you need hiking shoes for Rocky Mountain National Park?
A good pair of hiking boots is a must. To make the most out of your trip, pack a pair of supportive, waterproof and breathable hiking boots. These will allow you to navigate wet and dry hiking trails with ease and enable you to explore farther than you maybe would have.
Can you wear sneakers to hike in Rocky Mountain National Park?
Footwear. We recommend that hikers in Rocky Mountain National Park use trail shoes or hiking boots as opposed to sneakers, sandals, or other non-outdoor footwear. Both hiking boots and trail shoes provide the superior grip, breathability, and water resistance required to hike the trails safely and in comfort.
Do you need bug spray in Rocky Mountain National Park?
Yes. Bring bug spray with you. You can apply before starting or do this and carry it with you. We recommend to carry it with you.
Do cell phones work in Rocky National Park?
Do not rely on cell phones. We have been on countless hikes in the National Park System and they do not work most of the time. If you are using a hiking app, download the trail where you do have phone service, hotel or Visitor Center.
We have even stopped by the side of the road where we could get a cell signal to download our trail map.