5 Best Women's Hiking Boots by Merrell
Hiking boots are an essential piece of gear for any hiker. They provide the support, protection, and traction necessary for a safe and enjoyable hike. The right pair of hiking boots can make all the difference in a hike, so choosing the right ones is important.
As someone who has hiked for decades, your hiking boots are essential for a great hike. As the saying goes, 'Happy Feet, Happy Hike'! With over 57.9 million hikers in the US (31% women for 17.9 million) per the National Park Service, it is essential to get the right gear.
What Is Important In Choosing The Right Hiking Boot ?
When choosing hiking boots, there are a few things to remember. First, consider the terrain you'll be hiking on. If hiking on rocky trails, you'll need boots with good ankle support and a sturdy sole. Good soles keep your feet from getting tired if you are on trails with a lot of gravel, roots, or other loose debris.
If hiking in wet or muddy conditions, you'll need waterproof and breathable boots. Also, are you going to be on light to moderate trails or venturing onto more challenging trails as rated by your guide?
Second, consider your personal preferences. Some hikers prefer lightweight and flexible boots, while others prefer heavier boots and more supportive. When choosing the best hiking boot, all that matters is finding a pair of boots that feels comfortable and supportive.
What Materials Are Used In Hiking Boots?
Leather: Leather is a traditional material for hiking boots and offers several advantages. It is durable, supportive, and can provide good water resistance. However, leather can be heavy and stiff and take time to break in.
Synthetic materials: Materials, such as nylon and polyester, are often used in hiking boots because they are lightweight, breathable, and durable. They can also be more resistant to water than leather. However, synthetic materials may provide less support or durability than leather.
Mesh: Mesh is a lightweight, breathable material often used in hiking boots' uppers. It helps to keep feet cool and dry, and it can also help to reduce weight. However, mesh can be less durable than other materials and may provide less protection from the elements.
Rubber: Rubber is used in the soles of hiking boots to provide traction and durability. It is important to choose boots with a sole that is designed for the type of terrain you will be hiking on. For example, if hiking on rocky trails, you will need boots with a sole that has a good grip.
Why Merrell?
Merrell is a globally recognized brand, known for creating high-quality outdoor footwear and apparel that perfectly balance comfort, durability, design, and versatility.
Since its inception in 1981, Merrell has dedicated itself to providing outdoor enthusiasts with gear that enables them to enjoy the natural world around them, regardless of the terrain or conditions. Merrell's innovative product lines, which include hiking boots, trail running shoes, and casual footwear, are designed using cutting-edge technology and top-grade materials, ensuring they stand up to the toughest environments.
Whether you're a seasoned hiker or a casual walker, Merrell offers a range of products tailored to your unique outdoor needs, enhancing comfort and performance, and ultimately making your outdoor adventures more enjoyable and fulfilling.
What Are The Best Women's Hiking Boots By Merrell?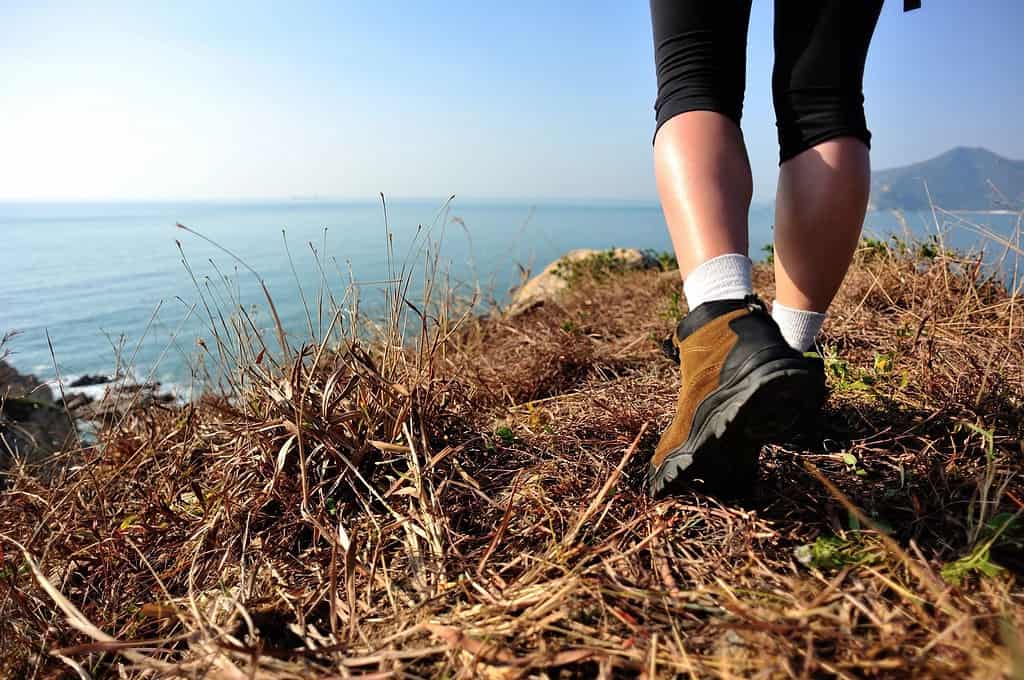 Best Overall: Moab Speed
FEATURES
Bold colors to compliment any style, any adventure.
Ample cushioning for a confidence-inspiring fit.
FloatPro™ Foam midsole for lightweight comfort that can go the distance.
Vibram® Ecostep Recycle outsole designed with 30% recycled rubber for better traction come rain or shine.
Vibram® Traction Lugs for a stronger grip on the toughest gravel.
Synthetic toe cap and rock plate for maximum trail protection.
100% recycled laces, webbing, mesh lining, and footbed cover for an eco-conscious stride.
Available in wide sizes.
Best Multi-Purpose: MQM 3 GOR-TEX (Waterproof)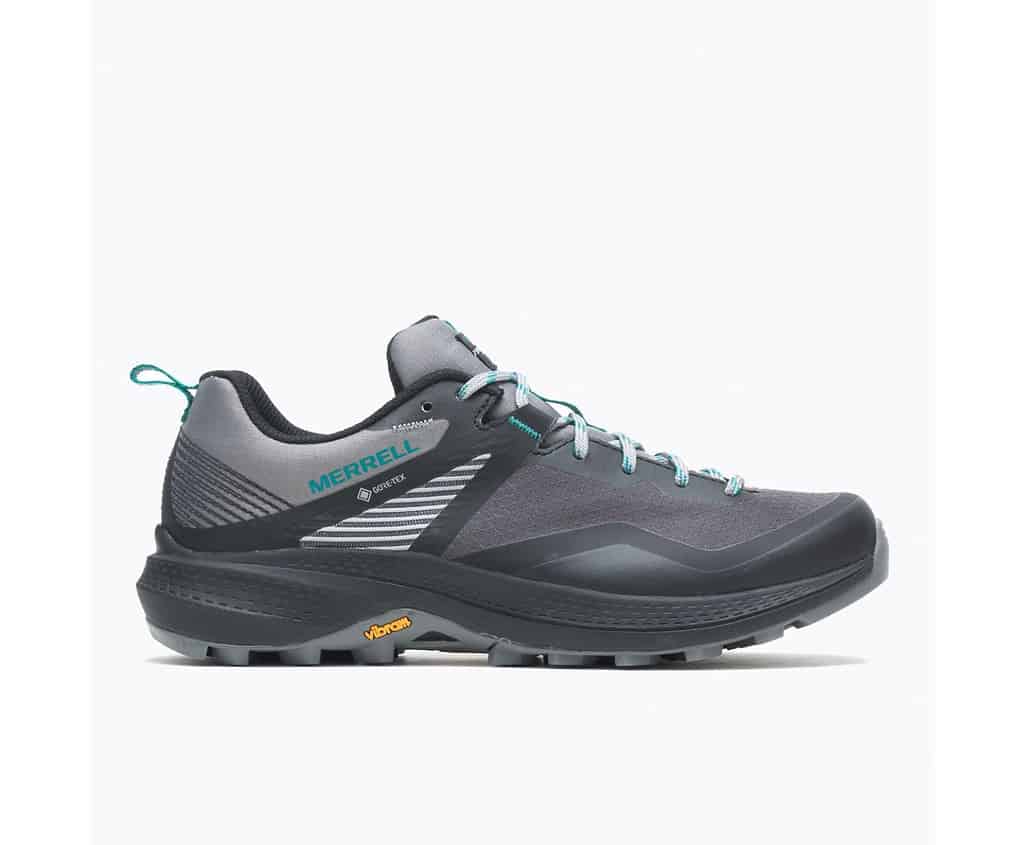 Standing for Moving Quickly in the Mountains, the third iteration of our best-selling multitool of footwear is stable enough to hike in, agile enough to run in, and durable enough for light scrambling. Version 3 features a new grippy Vibram® sole and a lace-to-toe lacing system for an improved locked-in fit.
FEATURES
• GORE-TEX® waterproof membrane, exceptional breathability and waterproof performance
• Breathable mesh and TPU upper
• 100% recycled laces and webbing
• Bellows tongue keeps out debris
• 100% recycled breathable mesh lining
• Mesh footbed cover
• NXT treated to prevent odor
• 50% recycled removable EVA foam footbed
• Molded nylon arch shank
• Merrell Air Cushion in the heel absorbs shock and adds stability
• Rock plate for protection
• Super Rebound Compound provides durable shock absorption to help reduce torque and allow for a smooth transition into the midfoot
• Vibram® TC5+ outsole provides exceptional traction for outdoor multi-sport activities, formulated exclusively for Merrell
• Drop: 6mm
• Lug: 5mm
• 1 lbs-3oz/542g
Best Lightweight: BRAVADA 2 (Sneaker)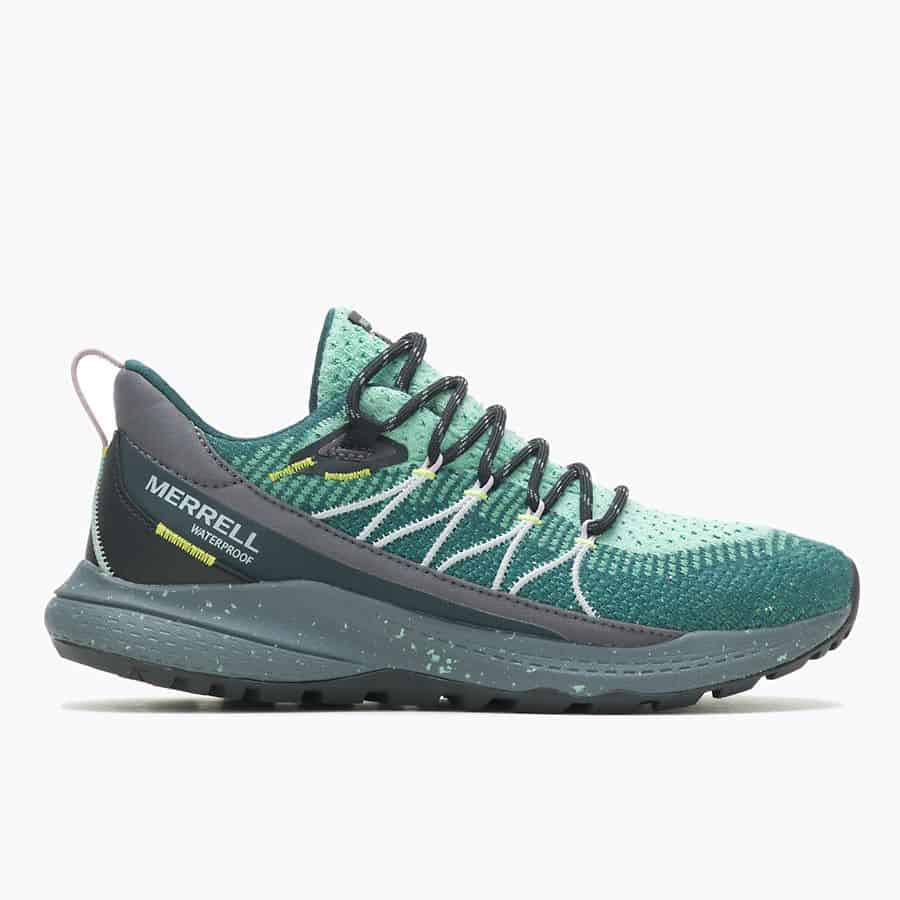 Treat your feet to the trail-ready hiking sneaker you deserve. This ground-up women's specific hiker fits like a sneaker and hugs the ankle without stiffness or pinch points. And, with our stickiest rubber sole and rock plate, it provides underfoot confidence and safety on all types of hiking terrain. Now incorporates recycled materials across laces, webbing mesh lining, and removable EVA foam for the most sustainable Merrell Bravada to date
FEATURES
Waterproof membrane seals out water and lets moisture escape
Knit upper
100% recycled laces and webbing
100% recycled breathable mesh lining
50% recycled removable EVA foam footbed
100% recycled mesh footbed cover
NXT lined footbed cover to prevent odor
Molded nylon arch shank
Rock plate for protection
10% recycled EVA foam midsole
Merrell Quantum Grip™ durable rubber outsole that enables confidence in the most extreme trail environments
Best All Purpose Trail (Leather): Oakcreek (Mid/Low)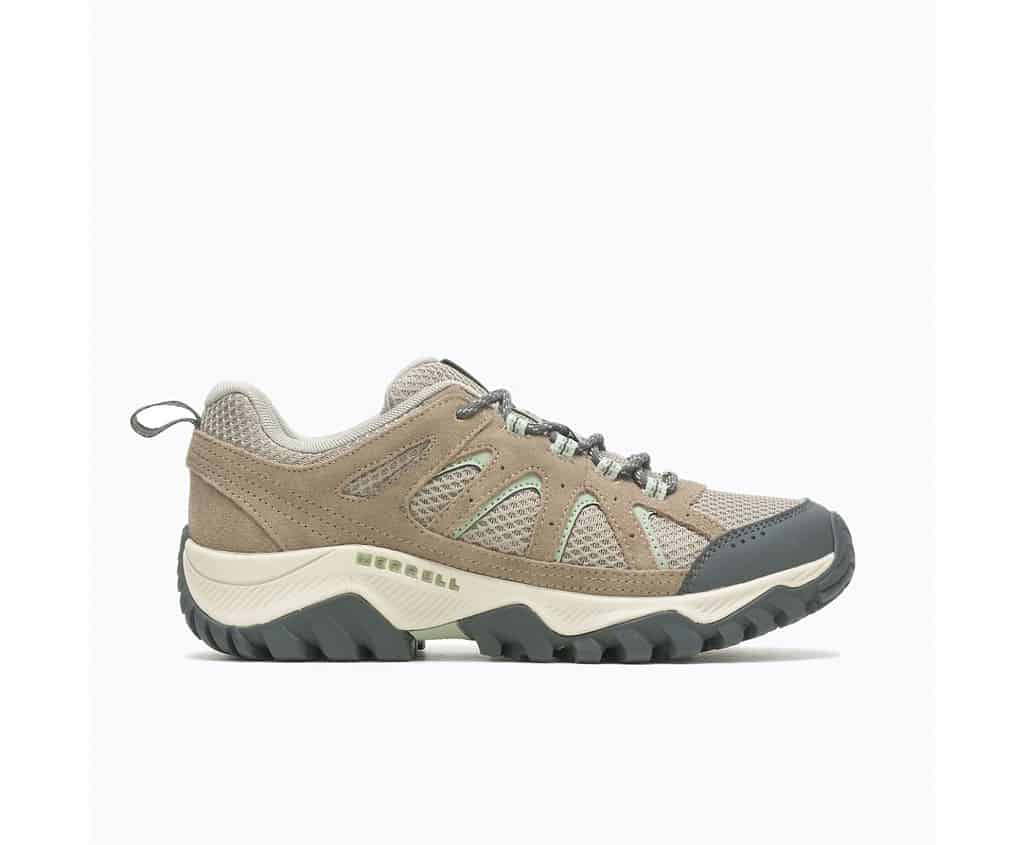 The durable suede hiker features mesh panels for breathability and foam midsole that cradles the foot for all-day comfort.
FEATURES
• Suede leather and nylon upper
• Traditional lace closure
• Bellows tongue keeps out debris
• Protective toe cap
• Breathable mesh lining
• Kinetic Fit™ BASE removable contoured insole for flexible support
• Merrell Air Cushion in the heel absorbs shock and adds stability
• Molded nylon arch shank
• Lightweight EVA foam midsole for stability and comfort
• Merrell sticky rubber outsole tunes each outsole with durable traction that grips when and where you need it
Best Water Boot: Speed Strike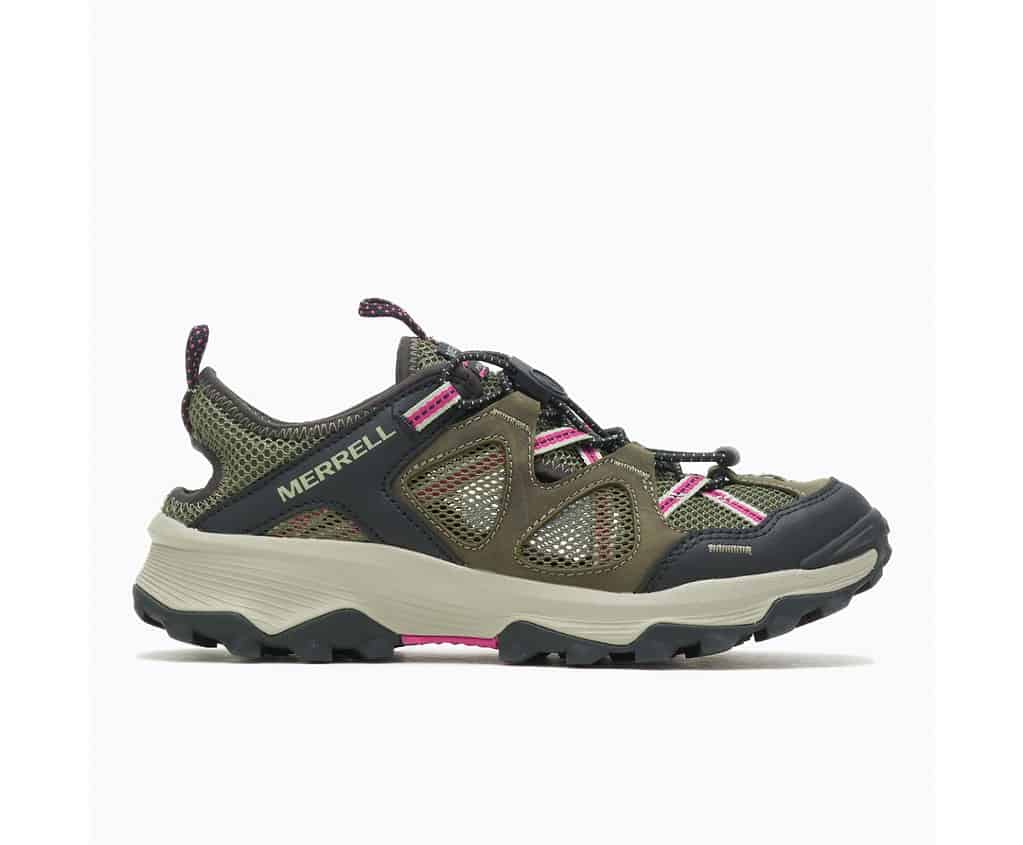 This hybrid performance sandal is equipped durable leather uppers and a sticky trail outsole for confidence during hot-weather outdoor adventures.
FEATURES

• Full grain leather and mesh upper
• Elastic cord and lock lacing system for quick secure fit
• 100% recycled webbing
• 100% recycled mesh lining
• 100% recycled integrated EVA foam insole
• Molded nylon arch shank
• Merrell Air Cushion in the heel absorbs shock and adds stability
• Lightweight EVA foam midsole for stability and comfort
• Merrell sticky rubber outsole with durable traction that grips when and where you need it
• Lug: 4mm • 1lbs-6oz, 600g
Summary
Finding the perfect pair of hiking boots is all about comfort, durability, and appropriate fit – and Merrell truly delivers on all fronts. From the all-weather champions to the light-as-air trailblazers, these five pairs we've tried and loved showcase the quality and diversity of Merrell's range.
So whether you're tackling challenging terrains or enjoying a leisurely stroll in nature, there's a Merrell boot to enhance your hiking experience. Remember, the right footwear can transform your hike from a not enjoyable to a truly enjoyable journey.
I have been wearing Merrell's for many years, and you can't go wrong.
So go ahead, choose the right Merrell hiking boot for your next adventure, and step outside with confidence. After all, the world is just waiting for you to explore it. Happy trails!