10 Best Waterfall Hikes In Brevard North Carolina
Brevard North Carolina: The Land of Waterfalls & The White Squirrel
Brevard North Carolina is a small town nestled in the Blue Ridge Mountains. It's known for its stunning scenery, abundant waterfalls, and vibrant arts and culture scene.
If you're looking for a place to relax and enjoy the outdoors, Brevard is the perfect destination. There are dozens of hiking trails to choose from, ranging from easy walks to challenging climbs. While hiking is great in the area the Dupont State Park might be the home to mountain biking in North Carolina.
Best Places to Hike in Brevard North Carolina:
Pisgah National Forest
The Pisgah National Forest is a land of mile-high peaks, cascading waterfalls, and heavily forested slopes. Comprised of over 500,000 acres, the Pisgah is primarily a hardwood forest with whitewater rivers, waterfalls and hundreds of miles of trails. This national forest is home of the first tract of land purchased under the Weeks Act of 1911 which led to the creation of the national forests in the eastern United States.
Pisgah is also home of the first school of forestry in the United States, now preserved at the Cradle of Forestry in America historic site, and boasts two of the first designated wilderness areas in the east. The Pisgah, Grandfather and Appalachian Ranger Districts are scattered along the eastern edge of the mountains of western North Carolina.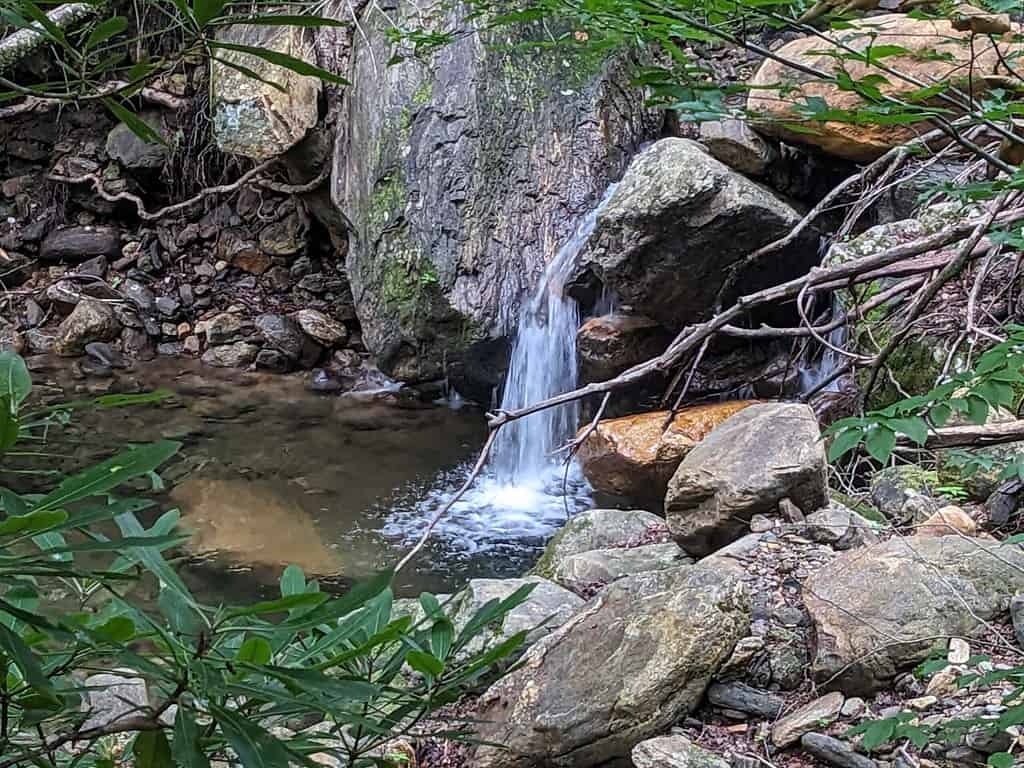 Dupont State Recreation Area
DuPont State Recreational Forest is an outdoor lover's dream with many waterfalls and 86 miles of trails on protected 12,500 acres. Most visitors flock to the three-mile roundtrip hike to three waterfalls (Hooker, Triple, and High Falls), but there's so much more to explore!
Take a variety of waterfall and lake hikes, or trek to the top of Cedar Rock or Stone Mountain for mountain views. It's also one of North Carolina's best mountain biking and horseback riding areas.
The name originates from the fact that the DuPont company arranged the sale of the original tract to the state. Adjacent tracts have since been purchased and added to the state forest. Portions of the forest formerly contained a manufacturing facility for the production of X-ray film.
The forest was used to shoot scenes from the 1992 film The Last of the Mohicans as well as the 2012 box office hit The Hunger Games. On February 12, 2019, the forest added 402 acres (1.63 km2) from Conserving Carolina, part of a section called the Continental Divide Tract that connects with other public lands. 314 more acres was added to the forest in 2019.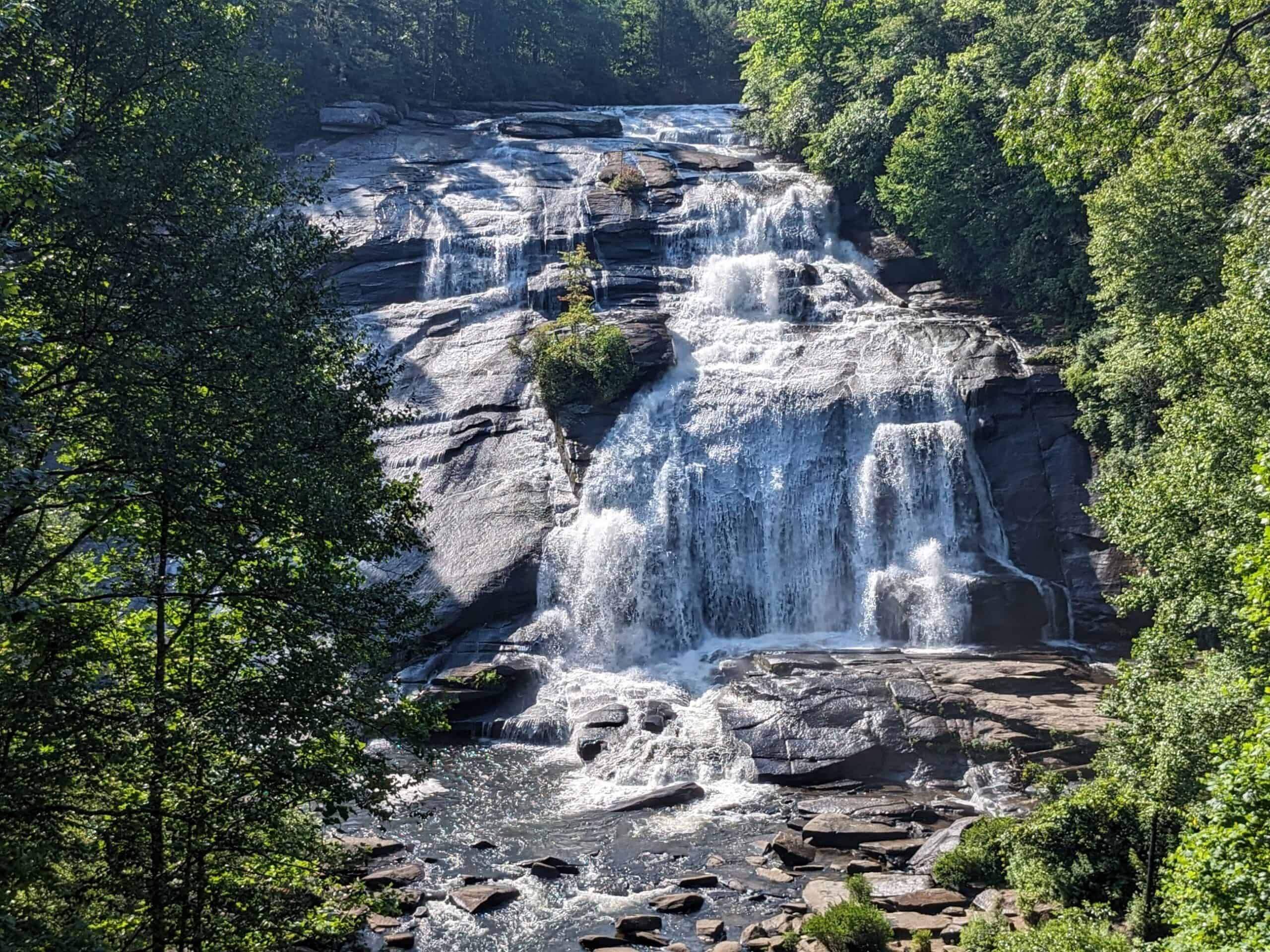 Mountain Bridge Wilderness Area
Covering more than 10,000 acres and encompassing two state parks, the Mountain Bridge Wilderness Area is as expansive as it is pristine. The area includes extensive trails as you hike through the hardwood forest, or set out to see the area's stunning variety of waterfalls. The area contains Jones Gap and Caesars Head State Parks.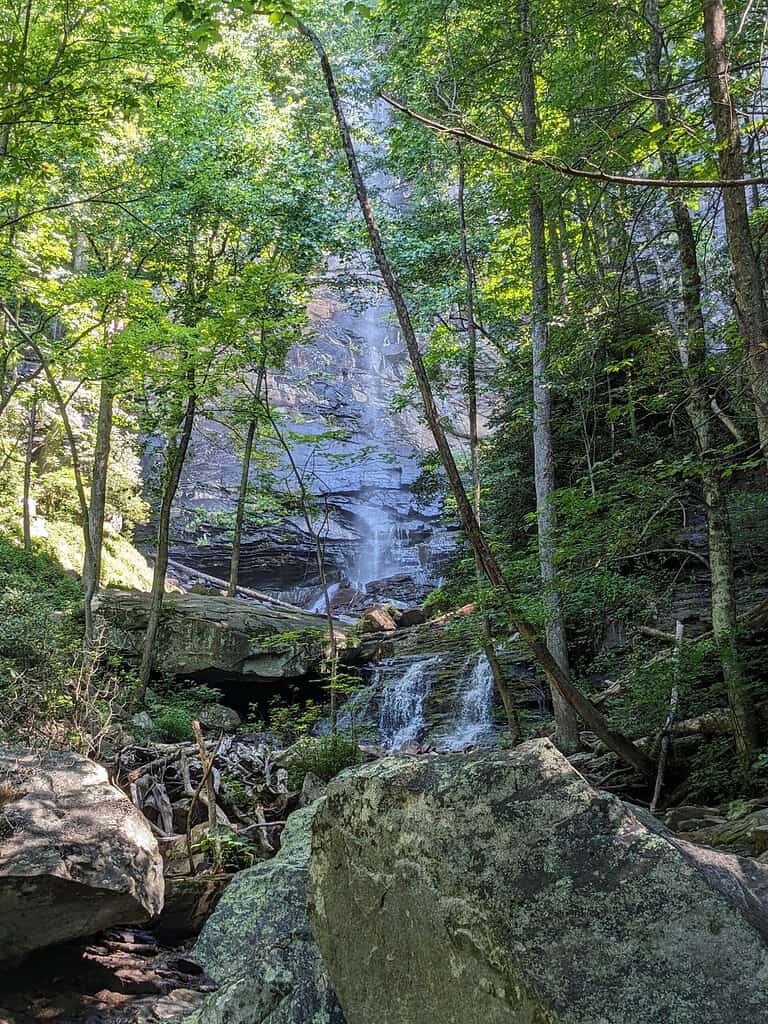 Popular Trails We Love Near Brevard North Carolina:
Looking Glass Falls: This waterfall is one of the most photographed in the area. It's a short and easy hike to the top, where you'll be rewarded with stunning views of the falls. ashevilletrails.com Looking Glass Falls Brevard North Carolina
Bridal Veil Falls: This is a 4.6 mile loop trail. Bridal Veil Falls is a 120 plus foot waterfall in DuPont State Forest and most recently the film location for one of the Hunger Games movies. The falls can be accessed from the High Falls or Fawn Lake parking areas. Most of the hike is on wide gravel roads with very little elevation gain. However you can add some trial hiking by linking up to the Corn mill Shoals trail on the return from the falls. The rocks around the falls can be very slippery so please be mindful of your footing at the viewpoints.
Four Waterfalls trail: This 5.8 mile trail is moderately challenging. There is a section of steep grade. This is an excellent trail for touring DuPont State Forest's most stunning waterfalls. The route features unique rock structures, rolling hills, and photographic backdrops that nature photographers will love. There are lovely swimming opportunities along the way to take a dip in the cool water. It is recommended to arrive at the parking lot early, especially on the weekends in the summer, as it tends to fill up quickly. There is a great spot for lunch at triple falls.
Rainbow falls trail: Check out this 4.4-mile out-and-back trail near Cleveland, South Carolina. Generally considered a strenuous in Jones Gap State Park. The trail starts easy when you enter the trailhead but quickly gets steep as you walk up many stairs. There is a large amount of elevation gain in a short distance. However, the views of the falls are incredible and well worth the strenuous effort to reach. There are a limited number of parking spots and it is necessary to have a reservation on weekends.
Turkey Knob Road and Briery Fork Loop: The 5.8 mile loop is a great hike in the woods. The trail is in excellent condition and there are wild flowers and birds at every turn.
Twin Falls and Clawhammer Cove Loop: This 6.6 mile loop trail is located in the Pisgah Forest. This is a great hike with many log bridge crossings and water views. Most of this hike is shaded and travels through a beautiful forest. The view of twin falls makes the trip worthwhile. The trail includes a variety of terrain, such as rocky outcroppings, wooden bridges, and switchbacks.
Daniel Ridge Loop: This 4.5 mile loop trail is located in the Pisgah Forest and is considered moderate. The trail leads to Toms Springs Falls which are very nice. During the early summer this is a great place to see Rhododendrons.
Art Loeb and North Slope Loop: This 7.2 mile loop is a challenging route with 1,492 feet in elevation gain. This is a hilly and beautiful route that begins on the North Slope Trail and connects to the Art Loeb Trail. Enjoy beautiful river crossings, streamside views, and a peaceful voyage through the dense forest. There are plenty of opportunities to observe and admire the diverse wildlife and vegetation surrounding this area in the Appalachians.
Looking Glass Rock Trail: This 5.7 mile out and back is located in the Pisgah Forest. This beautiful trip to the top of Looking Glass Rock is one of the most popular choices among hikers in the Pisgah National Forest. Named for its huge, reflective rock walls, the hike to the summit offers incredible panoramic views of the Blue Ridge Mountains. Located about an hour from Downtown Asheville, this makes for a great day trip and escape from the city.
John Rock Trail Loop: This is a 4.6 mile loop with a 1006 foot elevation gain. This root is a made a little more difficult by the terrain. It starts in the fish hatchery parking area which is currently under construction.
In a addition to hiking, there are many other outdoor activities to enjoy in Brevard. You can go mountain biking, fishing, horseback riding, or whitewater rafting. There are also several golf courses in the area.
Places To Eat And Relax
After a day of exploring the outdoors, you can relax in Brevard's charming downtown. There are plenty of restaurants, shops, and art galleries to explore. Some of the most popular restaurants include:
Rocky's Grill and Soda Shop: This classic diner is a great place to get a burger, fries, and a milkshake. bringfido.com Rocky's Grill and Soda Shop Brevard North Carolina
Wild Morel Restaurant: This restaurant serves up delicious, locally-sourced food. The menu changes seasonally, so you're sure to find something new to try. wildmorelrestaurant.com Wild Morel Restaurant Brevard NC
Tupelo Honey Cafe: This Southern-inspired restaurant is a great place to get comfort food. The fried chicken is especially good. sirved.com Tupelo Honey Cafe Brevard NC
Oskar Blues Brewery: This brewery is a popular spot for both locals and tourists. They offer a wide variety of beers, as well as food and live music. romanticasheville.com Oskar Blues Brewery Brevard NC
Cedar Mountain Cafe: Great home cooking. Best breakfast in the area.
Dolly's Dairy Bar: A must stop after a long hike. At the entrance to Pisgah National Forest. This local landmark serves up milk shakes, sundaes and a dazzling selection of ice-cream.
Brevard is also home to a vibrant arts and culture scene. There are several theaters in town that offer a variety of performances, as well as art galleries, museums, and music venues.
If you're looking for a relaxing and scenic getaway, Brevard is the perfect destination. With its stunning waterfalls, abundant hiking trails, and vibrant arts and culture scene, you're sure to find something to keep you entertained.
Here are some additional tips for planning your trip to Brevard:
The best time to visit Brevard is during the spring or fall, when the weather is mild.
If you're planning on hiking, be sure to wear comfortable shoes and bring plenty of water.
There are several campgrounds in the area, if you're looking to stay overnight.
Be sure to check out the Brevard Music Center, which offers a variety of concerts and performances throughout the year.
Check out VRBO to find a great cabin in the woods.