CX14H vs CX14E: Which Gearbox Paddle Is Best For You?
Welcome to our in-depth comparison of two premier pickleball paddles: the Gearbox CX14H and CX14E. These are two of Gearbox's best paddles. Which is right for you?
In this blog post, we will go into the details of these two exceptional paddles, highlighting their distinguishing features, discussing user experiences, and finally, helping you decide which one would be your game-changer.
Brief Introduction of CX14H and CX14E Gearbox Paddles
The Gearbox CX14H and CX14E are top-notch pickleball paddles known for their unrivaled durability and superior performance.
The CX14H is designed with a standard shape, while the CX14E sports an elongated design.
Both paddles offer excellent reach, with the CX14E offering slightly more due to its elongated shape.
Scope and Goal of the Review
Our goal in this review is to provide a comprehensive, unbiased comparison of the CX14H and CX14E.
We'll compare their features, discuss their strengths and weaknesses, and share real-life player experiences to help you make an informed decision.
Who This Review Is For
Our review is ideal for all pickleball enthusiasts – from beginners to professionals. Whether you're considering investing in a Gearbox paddle or simply curious about what these paddles have to offer, this review is for you.
Overview of the Paddles
Key Features of the CX14H and CX14E
Both the CX14H and CX14E boast cutting-edge technology, remarkable construction, and robust materials that contribute to their top-tier performance.
They feature a unique edgeless design which contributes to their impressive playability and control. Additionally, they're both built with a carbon fiber SST core, renowned for its durability and power.
Material and Durability
Gearbox is known for manufacturing some of the most durable pickleball paddles on the market.
The CX14H and CX14E are no exception. Their unique carbon fiber SST Core gives them an edge over polymer core paddles, ensuring they don't break down or form dead spots even after years of intense gameplay.
It's this unparalleled durability that makes Gearbox paddles stand out amongst other high-priced paddles in the market.
What is solid span technology?
SST stands for Solid Span Technology. This is a patented approach to paddle core design by Gearbox.
It arranges carbon chambers in a specific manner that creates superior ball response while eliminating delamination and dead spots.
The Gearbox CX14H Hyper Shape Pickleball Paddle is offered in an 8.0 oz—weight which provides a balance of power and speed.
Despite the design's thicker profile, it does not feel weighted down or difficult to maneuver, thanks to its perfect weight distribution.
Face Dimensions and Impact on Performance
The face dimensions of the CX14H and CX14E are quite distinct.
The CX14E's elongated face provides extra reach and a higher sweet spot, making it slightly more head-weighted.
On the other hand, the CX14H has a standard shape but still manages to offer extra reach thanks to its 5.5″ handle. These differences can subtly impact performance and player preference.
Summary of Features and Specifications
| Feature | Gearbox CX14H SST | Gearbox CX14E SST |
| --- | --- | --- |
| Paddle face | 3K woven carbon fiber | 3K woven carbon fiber |
| Ribbed core | T-700 carbon fiber | T-700 carbon fiber |
| Core construction | Patented Carbon Fiber Chambers | Patented Carbon Fiber Chambers |
| Head shape | Hyper | Elongated |
| Weight | 8.5 oz | 8.5 oz |
| Handle circumference | 3 5/8″ or 3 15/16″ | 3 5/8″ or 3 15/16″ |
| Handle length | 5-5/8″ | 5-5/8″ |
| Paddle length | 15-5/8″ | 16-5/8″ |
| Paddle width | 8″ | Core Construction |
| Paddle thickness | 14mm | 14mm |
| Grip | Gearbox Smooth Wrap – Black | Gearbox Smooth Wrap – Black |
| Warranty | 1 year | 1 year |
| USAPA Approved | Yes | Yes |
| Pricing | $249.99 | $249.99 |
| Swing speed | 38-40 mph | 36-38 mph |
Comparison of CX14H SST and CX14E
Playing Experience with Both Paddles
Initial Impressions and Setup
The first thing you'll notice about both paddles is their solid build quality.
Despite their heavier weight (8.5 oz for the CX14H), they don't feel overly heavy and still manage to cut through the air nicely, courtesy of their edgeless design and thinner core.
Once you get past the initial impression, setting up and getting comfortable with these paddles is fairly straightforward.
Comparison of Swing Speed and Swing Weight
| Paddle | Swing Speed | Swing Weight |
| --- | --- | --- |
| Gearbox CX14H | Average | 109 |
| Gearbox CX14E | Average | 119 |
Swing speed is a measure of how fast the paddle head is moving at impact, while swing weight is a measure of how much inertia the paddle has.
A higher swing speed can lead to more power, while a higher swing weight can lead to more control. The Gearbox CX14H and CX14E have similar swing speeds, but the CX14E has a slightly higher swing weight. This means that the CX14E may feel slightly more powerful, but it may also be slightly less maneuverable.
In-Game Performance: Power, Control, and Spin
The CX14H excels in providing power and maneuverability. Despite being heavier, it moves faster than most 16mm paddles, providing a substantial feel during gameplay.
The CX14E, on the other hand, shines in generating excellent backspin and side spin, even with its smooth face. However, both paddles require precision as their sweet spot tends to be smaller compared to other high-quality paddles.
Comparing the Feel and Handling of Both Paddles
Both the CX14H and CX14E offer a distinct feel and handling experience.
While the CX14H provides a slightly heavier feel with increased swing weight, the CX14E stands out with its precise weighting due to its carbon fiber build quality.
In terms of grip, both paddles perform admirably well, making them comfortable to use during long play sessions.
Pros and Cons of Each Paddle
Advantages of CX14H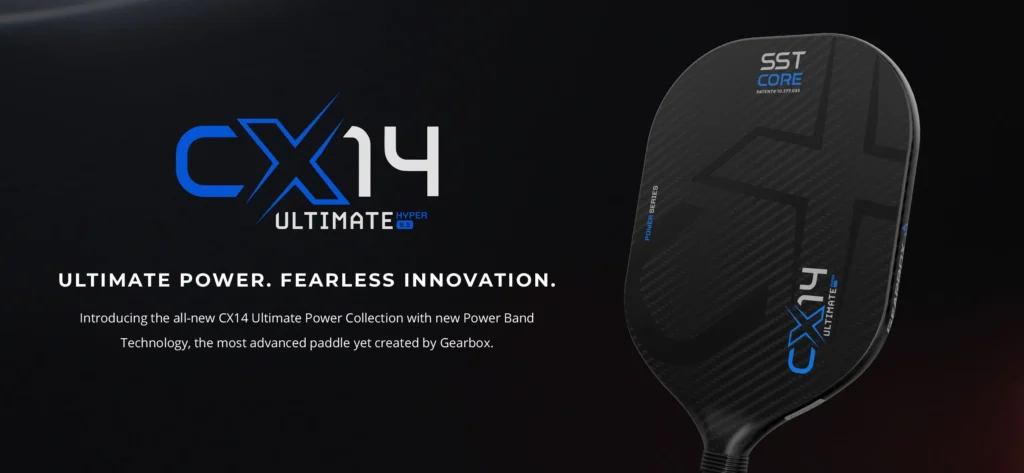 The CX14H's key advantages lie in its power, speed, and maneuverability. Despite its heavier weight, it moves faster than many lighter paddles. Its robust build ensures it lasts longer and maintains its playability over time.
Disadvantages of CX14H
One potential drawback of the CX14H is its smaller sweet spot which may result in reduced accuracy for lower-level players. Additionally, its heavier weight might intimidate some players initially, although, in practice, it doesn't feel as heavy as you'd expect.
Advantages of CX14E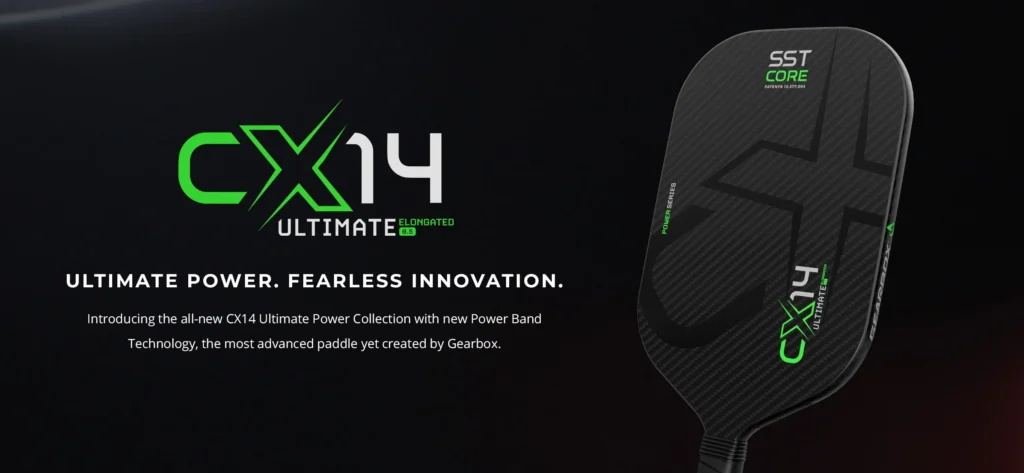 The CX14E scores high with its excellent spin generation and precision weighting. Its elongated shape gives players additional reach, and its carbon fiber build provides durability and a solid feel during gameplay.
Disadvantages of CX14E
While the CX14E offers many advantages, it's not without its shortcomings. It has a smaller sweet spot which requires precise shots, and it also comes with dead spots near the handle and edges. Players need more time to get accustomed to its unique feel.
Summary of Pros and Cons
| Feature | CX14H SST | CX14E SST |
| --- | --- | --- |
| Power | Excellent | Good |
| Speed | Excellent | Good |
| Maneuverability | Good | Excellent |
| Sweet spot | Medium | Small |
| Durability | Excellent | Excellent |
| Feel | Solid | Unique |
| Spin generation | Good | Excellent |
| Reach | Good | Excellent |
| Weight | 8.5 oz | 8.5 oz |
Summary of Pros and Cons
Personal Experiences Shared by Other Users
User Reviews and Opinions on CX14H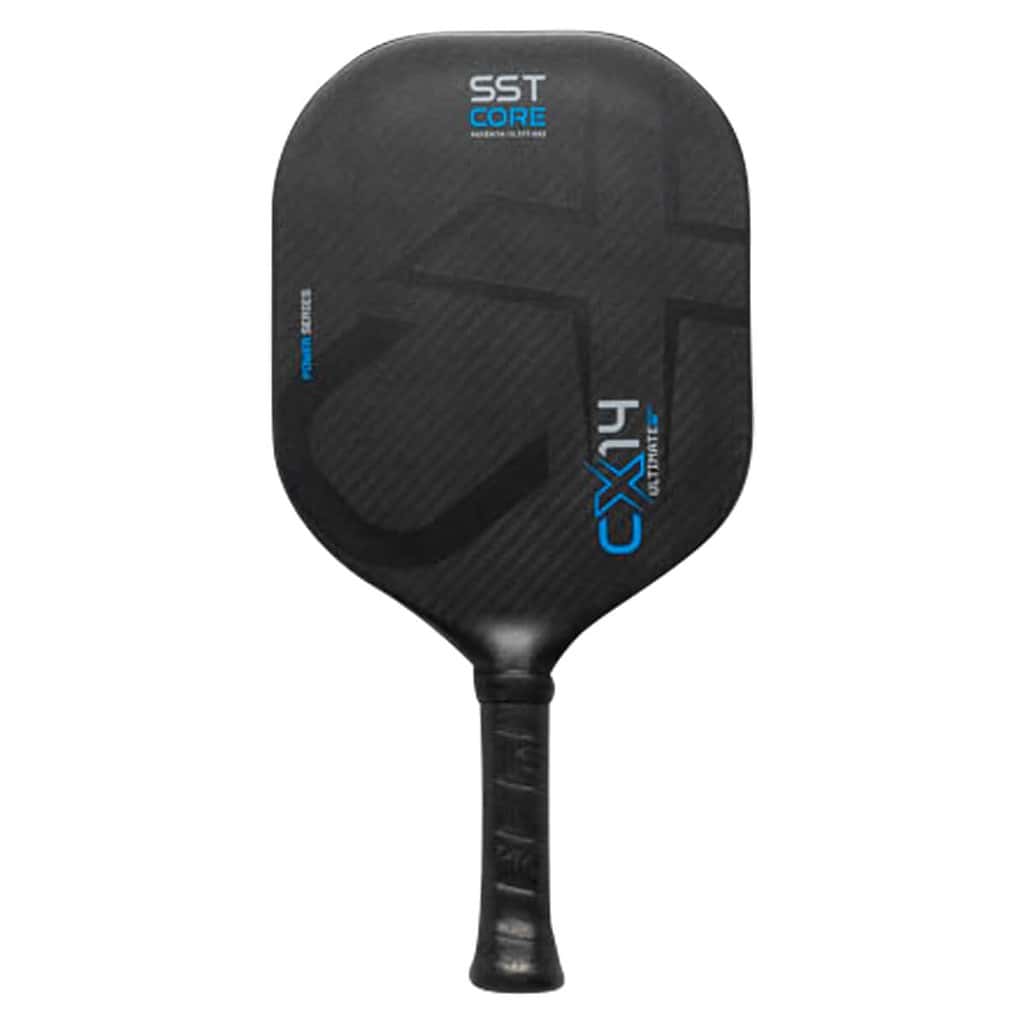 The consensus among users is that the CX14H offers excellent power and durability. Users appreciate its edgeless design and thinner core, which allows quicker movement despite its heavier weight.
However, some users have noted that its smaller sweet spot can be challenging for lower-level players.
User Reviews and Opinions on CX14E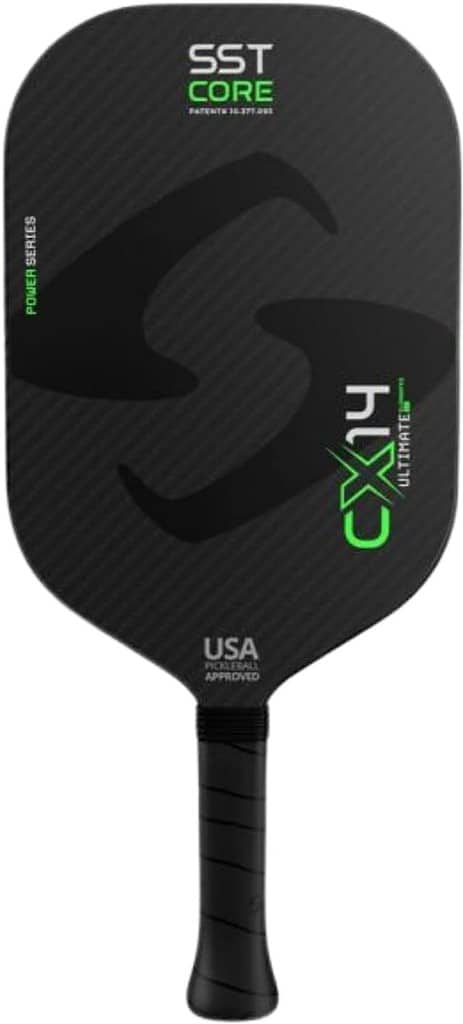 Users have praised the CX14E for its optimal weight distribution and excellent spin generation.
They also appreciate its elongated design, which offers extra reach. However, some users have pointed out that it can take some time to get used to its unique feel and handling.
Common Points Raised by Users of Both Paddles
Both the CX14H and CX14E have been lauded for their durability and solid construction.
Many users have noted that these paddles last much longer than their previous ones, showcasing the excellent build quality of Gearbox paddles.
However, the common issue raised by users of both paddles is their smaller sweet spot, which while manageable for experienced players, can prove challenging for beginners.
Final Thoughts and Recommendations
Summing Up the Strengths and Weaknesses of Each Paddle
The CX14H is a solid choice for players seeking power, speed, and durability. Its heavier weight doesn't hinder its performance.
Instead, it actually adds to its substantial feel and maneuverability. However, its smaller sweet spot can pose challenges for less experienced players.
On the other hand, the CX14E stands out with its excellent spin generation and precise weighting. Its elongated shape provides extra reach, making it an appealing choice for many players. However, its unique feel might take some getting used to, and like its counterpart, it also has a smaller sweet spot.
Deciding Factors: What You Should Consider When Choosing Between CX14H and CX14E
Choosing between the CX14H and CX14E is up to you and your personal preferences and play style.
The CX14H could be a great fit if you value power and speed.
However, if you prefer excellent spin and precision weighting, the CX14E would be an ideal choice. Remember, both paddles require precision due to their smaller sweet spots, so consider your skill level as well.
Personal Recommendation and Suitable Scenarios for Each Paddle
If you're a seasoned player looking for power and speed, we'd recommend the CX14H. It's ideal for aggressive play and can withstand intense gameplay due to its robust build.
If you enjoy control and precision with added reach, the CX14E will serve you well. It's particularly suitable for strategic players who rely heavily on spin.
Frequently Asked Questions
What is the difference between gearbox CX11 and CX14?
The CX14H Ultimate Power offers a little less power in comparison, but the spin is on the same level.
The biggest difference between the two is the sweet spot's feel and size. Thermoformed paddles, such as the Selkirk Vanguard Power Air Invikta and the Vatic Pro V7, are more forgiving, while the Ultimate Power paddles have a softer feel that is easier to control.
Do Gearbox paddles last longer?
They are extremely durable thanks to their carbon fiber SST Core.
Does the weight of the paddle really matter?
Yes. Weight does play a role. See the following table.
Weight Range
Power
Spin
Control
Agility
Lightweight (7-7.3 ounces)
Best for agility and control
Good for spin
Good for touch shots
Beginner
Intermediate
50+
Women
Doubles Play
Midweight (7.3-8.3 ounces)
Good balance of power and control
Good for all-around play
Good for volleys
Versatile
Heavyweight (8.3-10 ounces)
Best for power
Good for blocking
Less forgiving on mis-hits
Singles
Beginner
Intermediate
Advanced
Extra Heavy (10-13 ounces)
Maximum power
Not as good for spin or control
Very unforgiving on mis-hits
Advanced
Paddle Weight Guide
How can you tell if your paddle is bad?
If the surface area near the center of your paddle sounds different than the sound near the edges of your paddle and the center of your paddle has a more hollow sound, as opposed to the edges (which may sound duller), it may be that your pickleball paddle is dead.
Can I use a magic eraser on my pickleball paddle?
Yes, and you can also use a microfiber cloth.
Tips for Getting the Most Out of Your Paddle
To maximize the performance of your paddle:
Ensure that you maintain it properly.
Regularly clean the surface to keep it in optimal condition.
Remember that while these paddles offer excellent durability, they are not indestructible, so avoid dropping or hitting them against hard surfaces.
Where to Get More Information and Updates on Gearbox Paddles
For more information and updates on Gearbox paddles, you can visit the official Gearbox website or follow them on their social media platforms. They often share news about their latest products and innovations there.