Electrum Model E 16MM & Pro 2 Reviews
On the pickleball court, skill, precision, and the right equipment can make all the difference. Electrum, a brand synonymous with innovation in pickleball, has two paddle that have gained considerable attention: the Electrum Model E and Electrum Pro 2.
This review looks at the Model E and Pro 2, exploring their specific characteristics, performance attributes, and standout features. Whether you're an experienced player seeking an edge or a beginner venturing into the world of pickleball, join us as to see if these paddles may be a fit for your game.
Our goal at SportyEscapade is to provide you with the necessary information to make an informed decision about your next pickleball paddle, regardless of your skill level. We research thousands of reviews, so you don't have to.
Who Is Electrum Paddles?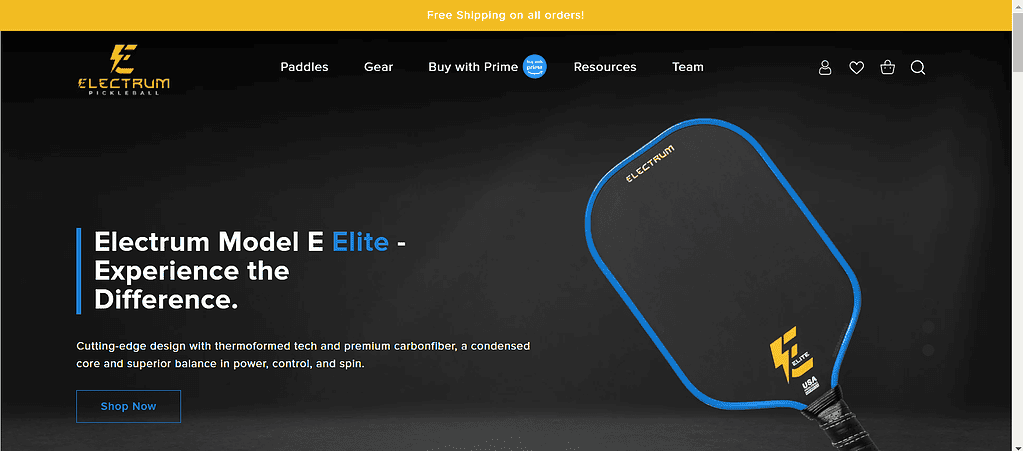 Electrum Paddles is a company that designs and manufactures high-quality pickleball paddles. They are based in Silicon Valley, and their products are used by players of all skill levels, from beginners to professionals. Electrum paddles are made with premium materials.
The Model E and the Pro II are two of their most popular paddles. These paddles offer a variety of features to suit different playing styles.
Electrum Paddles is a relatively new company, but they have quickly become one of the leading brands in the pickleball industry. Their products are known for their high quality, performance, and stylish design.
What are some of the key features of Electrum paddles?
Premium materials: They are made with high-quality materials, including Japanese Toray T700 carbon fiber and honeycomb polypropylene cores. This incredibly strong.
Advanced technology: They use cutting-edge technology to provide players with the best possible performance. Paddle technology is continuing to advance through materials and manufacturing methods.
Variety of styles: They offer a number of paddles to suit different playing styles. They don't offer a huge variety. They do the paddles they do very well.
Competitive pricing: Best of all, their paddles are priced competitively, making them a great value for the money.
If you are looking for a high-quality pickleball paddle, Electrum Paddles is a great option. Their products are well-made, offer a variety of features, and are priced competitively.
What Is the Difference Between Power and Spin Paddles?
Power and spin are determined by the materials used in the paddle's core and surface.
Power
The core material significantly affects the power. Paddles designed for power often feature polymer, Nomex, or aluminum cores. These materials provide a hard-hitting surface, transferring more energy to the ball on impact.
Polymer is the softest and quietest of all materials, offering excellent power with less noise.
Nomex cores are made by dipping a honeycomb framework into polymer resin, creating a hard, durable, and powerful paddle.
Aluminum cores offer a nice blend of power and control but are usually lighter and less powerful than Nomex cores.
The surface material can also contribute to power. Graphite and composite (fiberglass) are two common materials used for power-focused paddles due to their firm structure and responsiveness.
Spin
Spin, on the other hand, is influenced mainly by the surface texture of the paddle. A rougher surface generates more friction on the ball, enabling more spin.
Composite paddles often have a rougher texture and are therefore favored for spin generation.
Carbon fiber is another material used for the surface of spin-centric paddles due to its high friction properties.
Some paddles incorporate unique "spin technology" in the surface design, such as proprietary texturing methods to increase ball bite.
While the core material may not directly impact spin as much, a lighter paddle can provide quicker maneuverability, allowing the player to position the paddle better to add spin.
It's important to note that while the materials and design can lean a paddle towards power or spin, the ultimate performance also largely depends on the player's skill and technique.
What Pickleball Paddles Are We Reviewing?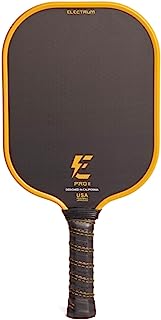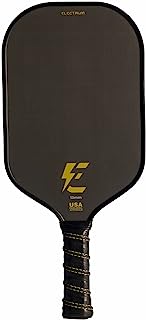 Model E 16MM
Electrum pickleball paddles have maintained a strong reputation for their superior quality.
Since its introduction to the market, this model has consistently topped Electrum's sales charts and is favored by a range of players, from novices to professionals like Collum Johns.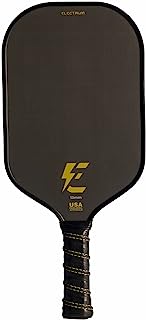 The Model E 16mm is one of Collin Johns paddles of choice. For those new to pickleball, he is ranked #1 in Men's Doubles with his brother Ben Johns ranked #2.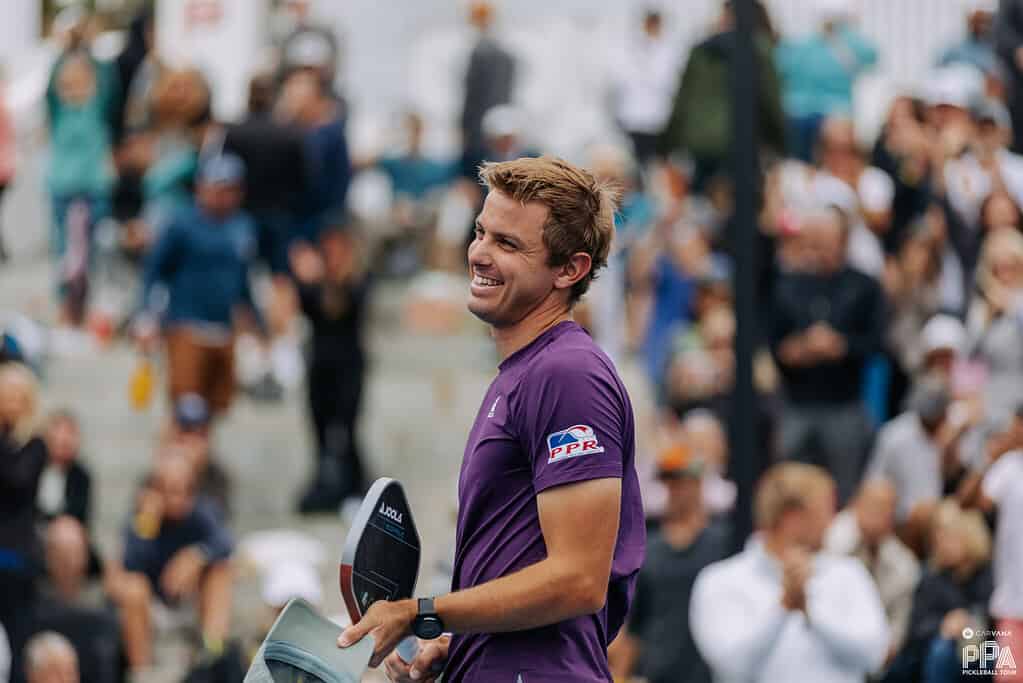 Collin Johns is the #1 ranked Men's Double player on the PPA Tour
Shape
It combines an elongated shape with a raw carbon fiber texture. This unique design gives you awesome coverage and a great feel on the court. Plus, it allows you to achieve some epic spin and control.
The Model E's elongated shape measures 16.5 inches in length. That means some serious reach at the kitchen compared to the Electrum Pro Model. I am not a tall person, and the elongated shape of this paddle definitely improved my shot return and shot-kill ratios.
Spin
It has a raw carbon fiber textured surface which gives it great spin capabilities. This was noticable both on serves and drives.
Weight
The Model E is on the heavier side of the paddle spectrum at 8-8.5 ounces. While the surface provides very good control at the net, the paddle doesn't have as much power during short swings.
Durability
The Model E stands out with the top-notch materials used in its construction. It's made from premium Toray T700 carbon fiber, the same stuff used in the original Electrum Pro paddle. This means the face of the pickleball paddle is very resistant to deformation, making it durable and solid.
Control/Feel
The paddle has a polypropylene core with whole cells, ensuring a consistent feel no matter where you make contact. It feels slightly dampened and doesn't make a 'pop.' Much more muted. But it did have good control and shot placement.
Sweet Spot
This paddle plays like it has an edge to edge sweet spot. Very forgiving and responsive.
Grip
The handle of the Model E is also made from carbon fiber, which adds stability throughout the entire paddle. This gave it a good feel when swinging and very stable throughout.
If you're looking for a paddle that offers the perfect balance of spin, control, and power, you need to try the new Model E. Trust me; you won't be disappointed!
Features:
Paddle Weight: 8.0 – 8.5 oz
Paddle Face Material: Super-Gritty RAW Carbon Fiber
Paddle Core Material: Polypropylene Honeycomb
Paddle Shape: Elongated
Paddle Length: 16 1/2″
Paddle Width: 7 3/8″
Grip Size: Thick – 4 1/2″
Handle Length: Standard – 5 1/4″
Core Thickness: 16 mm
Colorway: Black
Designed in California
The perfect balance of spin, control, and power
USAPA Approved
Model Pro 2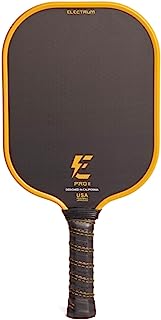 Shape
The shape of the Pro 2 to the Pro 1 is slightly longer and narrower. At 16″ long and 8″ wide it provides a lot of coverage on the court. This definitely improves your reach and that little bit does make a difference when going for those middle or down the baseline shots.
It also makes your swing a bit more aerodynamic. Which is great when you covering the court and trying to make every shot return.
Spin
The Pro 2 is known for its immense amount of spin you can create on the ball. It has the raw carbon fiber textured surface that comes on Electrum paddles.
This 'gritty' texture lets you put spin on the ball with your natural swing stroke. I found that I didn't have to think about putting spin on the ball, my stroke worked fine.
Weight
This is definitely a middleweight paddle at 7.9-8.2 ounces. I prefer midweight to lighter-weight paddles. They give me more of a balance between control and power. The Pro 2, as a midweight paddle, leaned more toward power. I felt this on my drives and at the net.
Durability
The Pro 2 is a carbon fiber paddle with a whole cell polypropylene honeycomb cell core. It is constructed of durable materials. I did notice a some slight edge guard wear.
Control/Feel
This paddle leaned more toward the power side of the spectrum. It was good at the net but not as good at the Model E. The 11mm thin core does give it agility at the net and ability to place the ball well.
Versus the Pro 1, this paddle does provide more finesse and control.
Sweet Spot
It had a reasonable sweet spot but felt dead at the paddle's top. The feel of the dead zone was something that you could definitely tell when the ball contacted it.
Grip
The grip is slightly longer than the Model E. The length of the grip felt comfortable. You could feel the ribbing on the handle, which was sometimes a little annoying during play.
Features:
Paddle Weight: 7.9 – 8.2 oz
Paddle Face Material: Raw Carbon Fiber Face
Paddle Core: Whole Cell Polypropylene Honeycomb
Paddle Shape: Standard
Paddle Length: 16"
Paddle Width: 8"
Grip Thickness: Standard – 4 1/4"
Handle Length: Long – 5 1/2"
Core Thickness: 11 mm
Colorway: Black & Yellow
Electrum offers a 6 MONTH WARRANTY against manufacturer defects on all of our paddles
USAPA Approved
Review of Major Features:
| Feature | Electrum Model E 16mm | Electrum Pro 2 |
| --- | --- | --- |
| Shape | Elongated | Standard |
| Weight | 7.8 oz | 8.2 oz |
| Core | 16mm | 11mm |
| Face | Raw carbon fiber | Raw carbon fiber |
| Grip | Moisture resistant genuine leather | Moisture resistant genuine leather |
| Power | Low-medium | High |
| Spin | High | High |
| Control | High | Medium |
| Forgiveness | High | Medium |
Which Paddle Is Right For You?
The Electrum Model E 16mm and the Electrum Pro II are two high-performance pickleball paddles that offer a variety of features and benefits.
The Model E is a control-oriented paddle with an elongated shape, while the Pro 2 is a power-oriented paddle with a standard shape.
Both paddles are made with high-quality materials and construction, offering a good balance of performance and durability.
Model E 16MM
This is a good choice who want to gain more touch and control.
Electrum Pro 2
This is an excellent choice if you want more power and spin.
Ultimately, the best paddle for you will depend on your individual playing style and preferences. If you are looking for a paddle that offers excellent control and touch, the Electrum Model E 16mm is a great option. If you are looking for a paddle that offers more power and spin, the Electrum Pro 2 is for you.